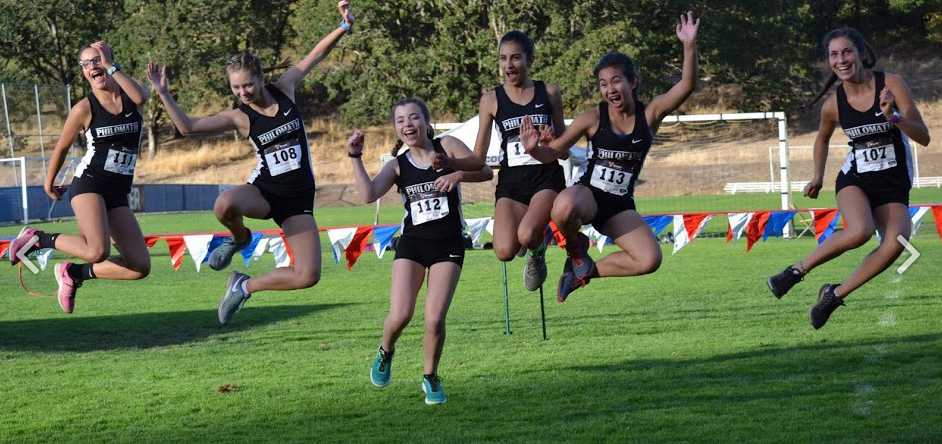 Having fun is a cornerstone of the program at Philomath Cross Country.
"We try to associate distance running with having fun," said Warrior coach Joe Fulton, who has been coaching PHS athletes for nearly four decades. "We incorporate games into our practices. It seems to work."
Indeed, the girls' team has qualified for State in 37 of the past 39 seasons, including 31 straight between 1980 and 2010. Hannah Hernandez, fifth in 4A last year, will lead the PHS girls.
The Philomath boys have made it to state in 34 of the last 35 seasons, including 33 straight between 1984 and 2016. The boys will look strong again this season with the addition of freshman Brody Bushnell, who clocked a 2:00.1 over 800 meters in the eighth grade.
No other school in any division has made it to the state meet for 30 consecutive years or more, Fulton said.
***
Can North Salem supplant 2018 champion Hood River Valley to win the girls 5A title this year? The Vikings return six of seven varsity runners from last year's fourth-place team and adds 800 meter state champion Hailey Lewetag. Lewetag moved into the school's boundary area from South Salem mid-year last year.
"Her addition brings another dynamic of speed and potential to the six returners from last season, including state medalists Abi Swain and Eimy Martinez," said coach Michael Herrmann. Hermann added that both Martinez and Isa Swain suffered health-related setbacks last fall and should improve greatly in 2019. Isa Swain, for instance, already is running a full minute faster in the 5K than she did last fall!
***
Phoenix High School is located in a high poverty area near Medford. With limited transportation options and summer work obligations, participation in summer training is inconsistent. That's why the program schedules its fun for the regular season rather than the summertime.
"We schedule meets which double as team bonding and memorable events," noted head coach John Cornet.
The Pirates' first meet is tied to water slides; their second meet involves a trip to the beach. The team also takes a trip annually to Crater Lake and has a meet in Portland, which is an excuse to explore the waterfalls in the Columbia River Gorge.
***
Burns Cross country is currently at the Steens Mountain High Altitude Running Camp in Harney County in southeastern Oregon. The Hilanders have been summer running and fundraising to prepare for the camp, including a Firecracker 5K over the Fourth and a recent Ice Cream Run.
The camp itself, which runs one week, is designed so that campers enjoy and respect wilderness beauty through running, hiking and exploring at high altitudes. Base camp is at 7,000 feet!
"While I am taking many veterans to Steens this year, there are several newcomers," said coach Andrea Letham. "It's an awesome team experience and creates immense personal growth as well."
***
Franklin High School Cross country is preparing for its 16th annual altitude camp in the Sisters wilderness.
Said coach Jacob Michaels: "This camp was created for Franklin high school kids to get a taste of straightforward running and camping at an affordable price (less than $100 per kid) with transport, tents, food all provided for five total days. Highlights are our 'Ridge Run' where, weather permitting, we get up to over 8000 feet climbing up Tam MacArthur Ridge towards Broken Top mountain. The other big run is our 'Lake Run' of 17 miles with over 3000 feet of elevation gain to Green Lakes and back at the foot of South Sister."
***
Valley Catholic of Beaverton is combining fun and training to prepare for the upcoming season.
"Runners have been meeting several times a week to run on trails around Beaverton and Portland, including classic trails like Leif Erickson Drive and Wildwood Trail in Forest Park," said coach Ian Berge. "Our summer training will culminate with a weeklong team training camp in Sisters in August. There we will run on some amazing trails, play a lot of cards, hike to the top of Black Butte, and bond as a team."
A strong group of returners will lead the Valiants, including sophomore girls Georgia Hicken and Anne-Chantale Gendron-Herndon, who both competed at the 4A State Track Meet as freshmen in the spring; and three boys who competed at the 2018 State Cross Country meet, seniors Nate Hicken and Joel Gonzalez and junior Nicklaus Leong.
***
Fundraising is a fact of life for high school sports programs. Sunset Cross country does it a little differently than most, however, with its sixth annual "Miles That Matter" fundraiser.
Starting Friday, Aug. 23, head coach Dan Neeway, current members of the squad, parents and alumni will run as a team for 24 hours with the goal of putting 1,500 miles on the high school track. They aim to raise at least $15,000 for their efforts, with no less than half going to the Shriners Hospital for Children. In the five years the Apollos have organized this effort, they have donated more than $60,000 to Shriners!
"The young men and women of Sunset Cross Country and their coaches recognize their blessings while they work to reach their potential as competitive distance runners and be part of a team that inspires hard work and self-confidence," notes the team website announcing the fundraiser. "Collectively, we acknowledge that many members of our community fight hard to get the special health care they need so that they can reach their potential and live more fulfilling lives. Recognizing the needs around us, we begin each fall season with a fundraiser that benefits a local charity doing great things for young members of our community."
For more information or to support Sunset Cross country in its endeavor, please visit Sunset's site https://www.sunsettrack.com/miles-that-matter
***
If you have cross country news to share in a future notebook, please email [email protected]