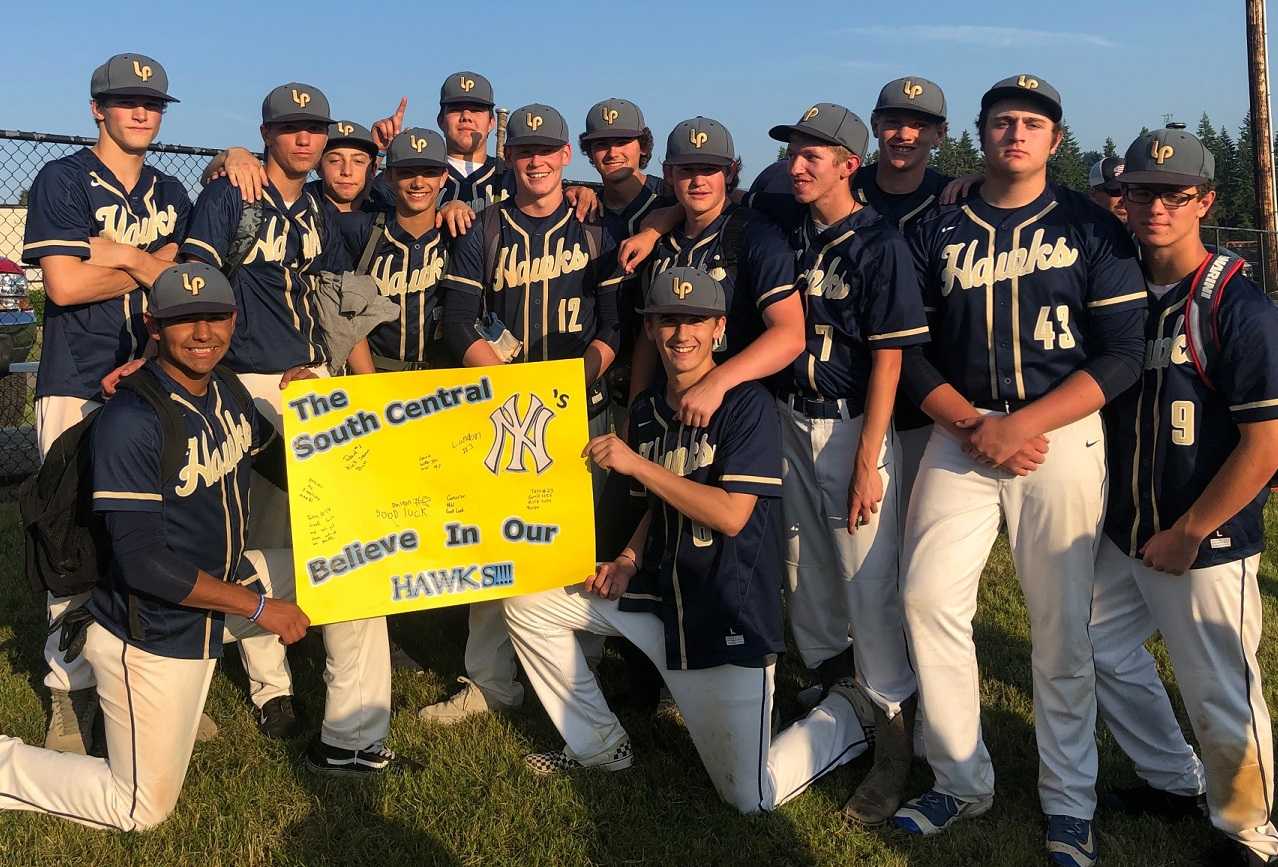 Coming off its first state title, La Pine's baseball team had to find new starters at five positions this season.
Still, coach Bo DeForest believed that a repeat 3A title was realistic.
"I had a lot of people look at me weird when I said that," DeForest said. "I knew that the guys filling in those spots were quality players. I didn't know if we would end it with a state championship, but I knew we had the potential to play for a state championship."
The road has been bumpier this season – La Pine settled for third place in the tough Mountain Valley Conference behind Pleasant Hill and Santiam Christian – but somehow the Hawks still found their way into the OSAA/OnPoint Community Credit Union 3A final. No. 4 seed La Pine (18-7) meets No. 7 Warrenton (19-6) on Friday at Volcanoes Stadium in Keizer.
The Hawks appeared to be reaching the end of the road in Tuesday's semifinal at top-seeded Pleasant Hill, which won all three conference meetings between the teams this season.
But La Pine rallied from a 6-1, sixth-inning deficit to win 8-7. Down to their last out, the Hawks got a two-run double from Isaac Bright to tie 7-7 and an RBI single by Syrus Smith for the lead.
Entering the sixth inning, DeForest had a conference with his team, reminding them to be mentally tough.
"I told them nothing great ever happens to teams that quit," DeForest said. "I asked them to dig deeper and fight for us. And they did."
Despite being outscored 25-9 by Pleasant Hill in the three conference games, the Hawks were confident heading into Tuesday's game.
"We knew that in the playoffs it would be a whole different atmosphere," DeForest said. "That playoff atmosphere gets pretty stressful. There's a lot of pressure there. It got away from us a little bit, but the guys rallied really well, gave us a chance to win it."
La Pine had won only four state titles in all sports before getting championships in baseball last year and wrestling this year. The community has rallied around the team, decorating DeForest's garage doors with posters by the time he returned home Tuesday night.
"It's pretty fun," said DeForest, also the school's football coach. "There was a lot of dancing on the bus."
A look at the matchups for the finals Friday and Saturday at Volcanoes Stadium:
6A, Saturday, 1:30 p.m.
No. 15 Central Catholic (21-10) vs. No. 1 Jesuit (25-5): A rematch from March 21, when Jesuit won at home 6-2 behind Oregon State-bound pitcher Mick Abel, rated as the state's top junior prospect by Baseball Northwest. Abel allowed one run in two playoff wins, beating Wilson 4-0 in the first round and Beaverton 5-1 in the quarterfinals. Central Catholic has allowed 10 runs in an eight-game winning streak since getting swept in a three-game series by Clackamas, including a 1-0 win at Clackamas in the semifinals. Junior pitcher Dylan MacLean (8-0, 0.51 ERA, 54 2/3 innings, 21 hits, 102 strikeouts, 14 walks), a Purdue commit, has not allowed a run in two playoff starts. Rams senior outfielder Christian Cooney, headed for the University of Portland, is batting .453 with four home runs and 27 RBIs. Jesuit is bidding for its second title in four seasons. Central Catholic was runner-up in 1946, 1998 and 2011.
5A, Saturday, 5 p.m.
No. 7 Pendleton (18-8) vs. No. 1 Central (24-4): The Buckaroos, who haven't won a title, are in their first final since 1992. They came from behind in the seventh inning to beat Wilsonville 4-3 in the first round and got a three-run homer from Gabe Umbarger to defeat West Albany 4-3 in the semifinals. Ryan Stahl (6-0, 1.95 ERA) was the Intermountain Conference pitcher of the year. Central's only previous finals appearance was in 1958, when it blanked Myrtle Creek 6-0. Panthers ace Kaleb Kantola (8-1, 0.73 ERA, 111 strikeouts) has tossed two shutouts in playoffs, allowing a combined total of three hits. Senior Ruben Cedillo (6-1, 1.36 ERA) also has excelled on the mound for Central.
4A, Saturday, 10 a.m.
No. 2 Henley (24-4) vs. No. 1 Banks (26-3): Banks has a shot to become the first school to sweep football, basketball and baseball titles in the same school year since North Valley in 1984-85. Senior pitcher Hayden Vandehey (7-1, 0.62 ERA, batting .446 with 32 RBIs), the quarterback on the football team and a guard on the basketball team, did not allow a run in two playoff starts. He leads a staff that has combined ERA of 1.61. The Braves have never won a baseball title, but Henley has nine championships, including three in the last six seasons. The Hornets have a dominant pitcher in senior Hayden Rasica (6-1, 1.49 ERA, 89 strikeouts, 54 1/3 innings) and a powerful slugger in Oregon State-bound junior first baseman Heith Rasica (.459, 10 home runs, 42 RBIs), who has three homers in the playoffs.
3A, Friday, 5 p.m.
No. 7 Warrenton (19-6) vs. No. 4 La Pine (18-7): Warrenton went on the road to beat No. 2 Brookings-Harbor 3-2 in the quarterfinals and No. 3 Santiam Christian 7-5 in the semifinals. Senior lefty Dalton Knight threw a complete game and had two RBIs against Brookings-Harbor and pitched in relief in the other two playoff games. Warriors junior catcher Jacob Morrow is batting .452. Lennie Wolfe is in his 28th season as coach at Warrenton and 35th overall, compiling a 537-275 record. He led the team to a state title in 1994 and second place in 1993 and 1998. La Pine had five first-team all-conference selections in junior utility player Adam Plant, sophomore catcher Alex Farnsworth, sophomore pitcher Bryce Coble and junior outfielders Austin McKittrick and Riley Pinckney. Farnsworth, who moved from second base this season, leads the team in batting (.516) and RBIs (18).
2A/1A, Friday, 1:30 p.m.
No. 4 Umpqua Valley Christian / Melrose Christian (26-3) vs. No. 3 Kennedy (28-2): Umpqua Valley Christian overcame a 9-0 deficit in the semifinals to beat two-time reigning champion Knappa 12-10, ending the Loggers' 59-game winning streak against Oregon teams. Aaron Buechley, one of four fourth-year starters for the Monarchs, drove in four runs in a nine-run fifth inning. Umpqua Valley Christian appeared in four finals from 2002 to 2013 (winning two) but was forced to shut down the program in 2015 when enrollment plummeted due to changes at the school. Kennedy, which won the 2A football title last fall, last won the baseball championship in 2012. The Trojans were semifinalists last year. Junior Josh Valladres pitched a two-hitter in Kennedy's 1-0 win over North Douglas in the semifinals. Trojans junior shortstop Sam Grosjacques (.480, 46 runs) was the Special District 2 player of the year. Sophomore pitcher Dylan Kleinschmidt (8-1, 2.39 ERA, 84 strikeouts, 52 innings) was first-team all-district.