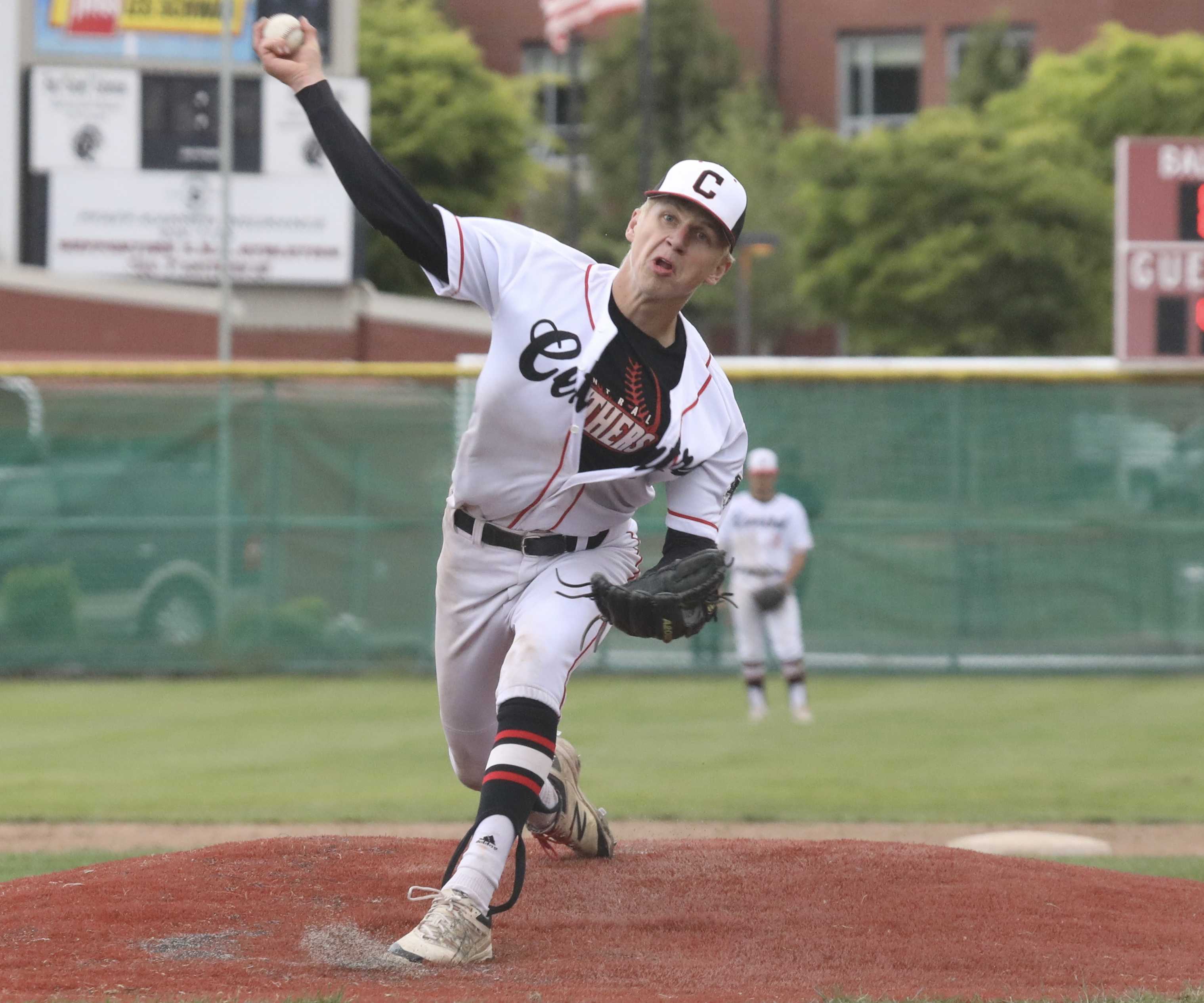 INDEPENDENCE — Brendan Lesmeister didn't have time to think when Central baseball coach Tom Roberts handed him the baseball in the top of the sixth inning Friday evening and told him to get the Panthers out of a big jam.
He didn't have the time to dwell on how a relief pitcher is supposed to work. He couldn't waste any time wondering about how he used to be a starter.
All the big Central senior could see were bases full of La Salle Prep Falcons, two runs in and the Panthers in danger of blowing a six-run lead.
What Central needed was something the No. 1 Panthers don't need very often: A save.
Lesmeister got it for them. It wasn't clean, but it was sufficient, and Central held on for a 6-4 victory in the quarterfinals of the OSAA 5A baseball championships.
The Panthers (23-4) play host to No. 4 Thurston in a Tuesday semifinal.
"I just wanted to go in there and pitch," the big blonde said as the Panthers and their fans celebrated second baseman Brandon Lopez's 18th birthday around him. "I knew it was going to be loud, and I knew I just had to keep my composure and not try to do too much."
The situation Lesmeister faced was critical, but not yet dire. The Panthers had built a 6-0 cushion in the first three innings against the unranked Falcons — two on a single by Lesmeister himself. And senior Ruben Cedillo was gassing hitters with his impressive fastball for five innings.
Who needs relievers, anyhow?
Turns out Central did. The circumstances of the game changed in a finger snap in the top of the sixth. Cedillo gave up a single to first hitter Nolan Grogan, then got a case of the wilds and walked the next two hitters to load the bases.
La Salle Prep hadn't mounted much of a threat before — just two singles in the first five innings — but suddenly the Falcons were lashing at everything. And connecting.
Cedillo yielded a run-scoring single to Patrick Raschio and Roberts had seen enough. He went over to first base and got his old starter.
It took Lesmeister a bit to adjust. Jace Norton drove in another run with another single. Sean MacNeela plated yet another with a sacrifice fly for the first out, and Lesmeister alertly intercepted the relay throw and got Raschio in a rundown for another critical out.
But the Falcons weren't through. Liam Gwynn beat out an infield single to score another run, and two walks later the Falcons were down only 6-4 and had the bases loaded again.
"I told the kids to at least give us a chance," La Salle Prep coach Nate Fogle said. "It was just a matter of building up some confidence. One guy gets on, then another guy gets on, and we have a chance to make something happen.
"Just a single here and there, one at a time. And we get it to the bases loaded and our No. 3 hitter at the plate. You can't ask much more than that."
That would be center fielder Grogan. Lesmeister got him to ground out to shortstop and the threat was dead.
The Falcons couldn't mount anything against Lesmeister in the seventh. He got Spencer Paugh and Gavin Gately on swinging strikeouts, then got Raschio on a deep fly ball to end the game.
Lesmeister in the relief role is the result of an early decision this year to bring Cedillo in as the No. 2 starter behind splendid Kaleb Kantola. This relegated Lesmeister to first base. The closing role went to sophomore Justin Girod.
"We were in a big spot," Roberts said. "They're a gritty team and they had made a couple of things happen.
"Worried? No. We had done our jobs with those early runs. I wasn't pleased with the walks that got us in that position, but I never thought our guys would fold."
And, "Branden has been good about this all year."
Lesmeister took the change not as a demotion, but an opportunity to help his team.
"I wasn't going to let that bring me down," he said. "I have great confidence in Ruben. I'm happy to do this for the team."
It helps when you do it well.