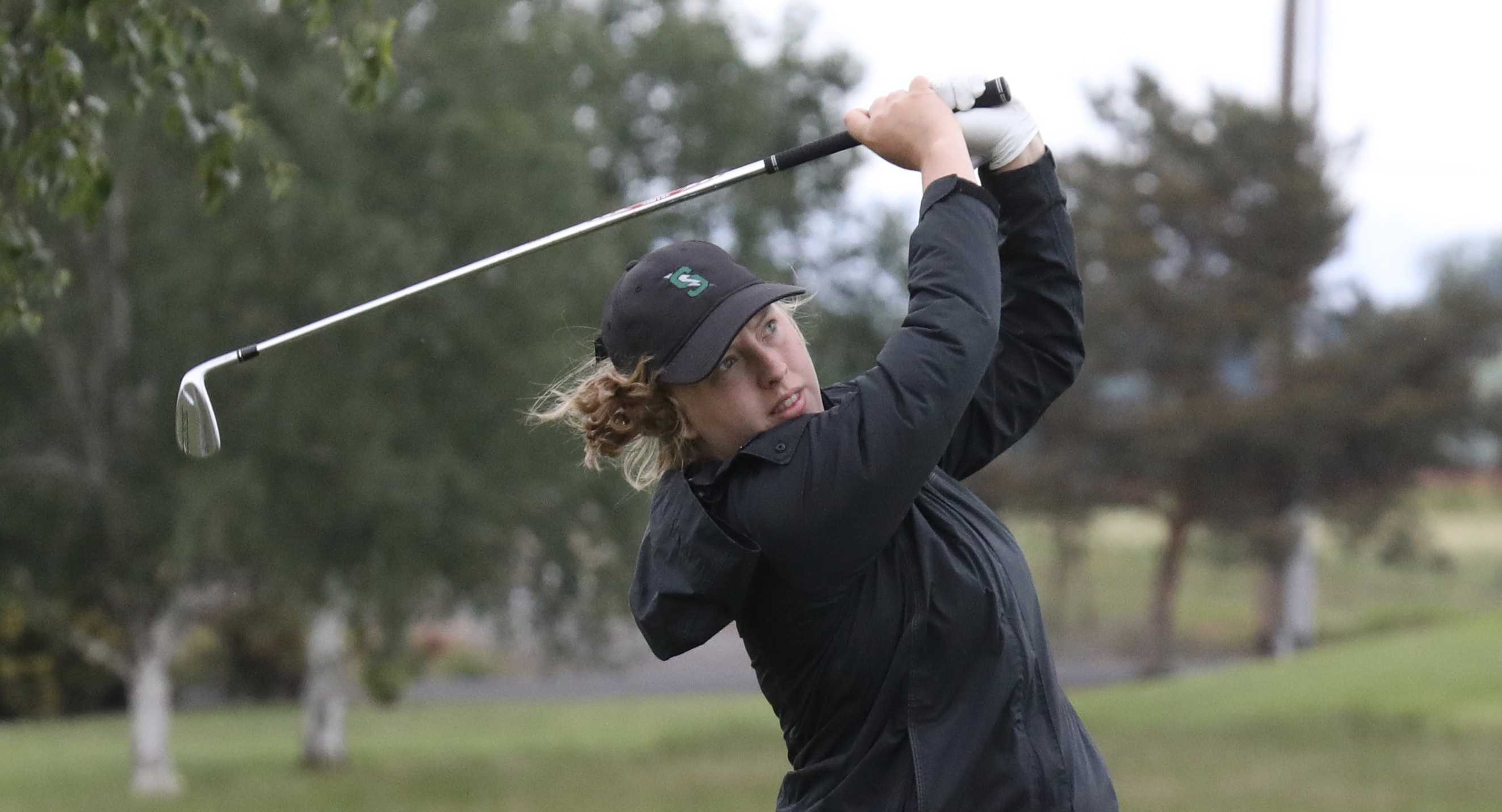 BANKS — Summit senior Olivia Loberg negotiated a difficult obstacle course of circumstances at Quail Valley Golf Course on Tuesday afternoon and did what she knows how best to do: Win a championship.
Loberg batted back the threats of morning cold, wind and rain to turn in a 36-37 — 73 to go with her first-round 68 and win the 6A girls title by five shots with a two-day total of 141.
OK, the whole field had to face the same elements. But Loberg had yet another wall to climb: A field of 6A players. She won the last two 5A championships at Emerald Valley in Creswell and Trysting Tree in Corvallis, but the Storm moved up into the bigs this year.
Loberg beat all of them, too.
But she was the only player in the field who could overcome the indomitable courage of Westview junior Alexa Udom.
On Sunday, Udom was in a hospital bed dealing with a mysterious blood disorder. On Monday, she fought her way through the circumstances to become only the eighth player in OSAA history to score 67 or better with a 30-37 — 67. That was good for a one-shot lead over Loberg after the first day.
She managed to fight off fatigue and the effects of a new medication to birdie three of the first four holes Tuesday and actually had a four-shot lead.
But the fatigue was irresistible. Udom faded to a 36 on the front side and still had a one-stroke lead; she kept scrambling on the back side, and stood on the 17th tee tied for the individual championship.
But two unplayable lies cost her a quadruple bogey 9 on the treacherous par-5 17th hole and the feel-good story of the decade vanished.
Udom finished with a 43 on the back side for a 79; her 146 was good for second place.
Nothing, however, got in the way of Jesuit's second straight team championship. While the rest of the field shivered, the Crusaders started a fire of their own and stormed back from a 15-shot deficit against Westview after one day to win by eight.
Jesuit posted a remarkable 301 total for the second day. Westview, which led after the first day, had the day's second-best team total with a way-back-there 324.
Crusader senior Haley Hummelt led the way with the day's only sub-par round, a 34-37 — 71. Mary Scott Wolfe had a 75, Tabetha Kang a 76 and fifth player Clara Ganz a 79.
Loberg demonstrated with her first-round 68 that she wasn't the least bit intimidated by a 6A field, which is twice as big as the ones she's fast the last three years. Nor was she bothered by Quail Valley's bumpy and meanly bunkered 5,603-yard layout.
But she, like everybody else, had to adjust to the weather elements. Showers hit the course early, the temperatures dropped into the low 40s and an unpredictable breeze swirled around the track.
"At the start of the round it was pretty cold," she said, "and the wind was a bit of a factor. But I've played in the rain plenty of times (in Oregon — imagine that) and played in tournaments in the rain."
As for the competition, she was familiar with a lot of the people she faced.
"I've played against Olivia Venderby (West Linn, tied for seventh at 151), Mary Scott Wolfe (Jesuit, also tied for seventh at 151) and Jessica Ponce (Westview, third at 147)," she said.
Has she played with Alexa Udom? "No." Would she like to? "I'd love to."
Loberg's Tuesday battle with Udom was already a doozy. The two slugged it out shot by shot eight groups apart — Loberg went out at 8:06, Udom at 9:18.
Udom, who tied with Lake Oswego's Tya Seth for the 6A title at Trysting Tree last year, wasn't talking about her affliction — didn't want it as an excuse — but it was affecting her game on Tuesday.
"I just got out of the hospital on Sunday," she said. "It's something that feels like the flu, and it usually takes about a week to recover."
Udom isn't quite sure what she has yet. Her parents said that doctors ruled out leukemia, but may yet deal with her bone marrow.
"They think it might be ITP," Udom said.
That would be Immune Thrombocytopenic Purpura, an autoimmune bleeding disorder indicated by a drop in platelet count. Platelets are what make the blood clot, and with ITP the immune system attacks the platelets.
The big word her is "might." Udom played through it anyhow.
"Yesterday I was tired, but I played well," she said. "Today my body was weak and tired all day."
Udom, who is being recruited by BYU, hung on as long as she could. After the three early birdies and the four-stroke lead, she bogeyed the seventh and then doubled the par-4 eighth to give away three of her four-shot lead.
Eight groups ahead, Loberg was at war with Quail Valley herself. She lost a shot to par with a bogey on the par-5 third hole, but turned it around quickly with birdies at the two short par 3s on No. 4 and No. 6.
A double-bogey at the tricky par-4 seventh cost her, but didn't kill her. That's because she pitched in with her 56-degree wedge for a birdie on the ninth.
All things considered, Loberg was thrilled with the 36.
"I was kind of surprised," she said. "After shooting the 36 on the front, I was pretty satisfied."
Her back nine was about as smooth as you can make it. The only glitch on the side for Loberg, who will play golf at Eastern Michigan University next year (she has kinfolk back there) was a three-putt bogey on the par-3 16th. She finished off the 73 and retired to the clubhouse to wait.
Back on the course, Udom's last glory was a birdie on the domed green on the short 11th.
After that, it all caught up with her.
"(The fatigue) started kicking in on the back nine," she said, "around the 13th."
That was a double bogey. A bogey followed on No. 14, but after a six-foot par saving putt on the 15th and a short saver on the 16th, she still had a chance.
But she hit shots into two impossible situations, took unplayable lie penalties on both, and staggered in with a nine. It was over.
'It had to be one of the most frustrating days of my life," she said later.
Loberg sympathized.
"I can feel what she's feeling," she said.
But still, Loberg proved that the 6A hill was not too big to climb.
"It's a much bigger field than 5A," she said. "There are a lot of talented players at 6A. (To win) means a lot to me."
5A
Pendleton outshot Crater in Tuesday's second round at Quail Valley to win its first 5A title.
The Buckaroos, who finished second in 2016 and 2017 and fifth last year, trailed Crater by one stroke after the first round but emerged with a nine-stroke victory, 767-776. West Albany was third at 803.
Willamette junior Tannica Porter edged Pendleton senior Megan George by one stroke – 157 to 158 -- for the individual title. Porter, who tied for sixth in the 6A tournament last year, entered the second round one shot behind George.
George, fifth in 2018 and fourth last year, led Pendleton's winning lineup. It also featured senior Rylee Harris (tied for ninth-181), senior Makenzie McLeod (tied for 16th-201) and sophomore Gracie Broadfoot (tied for 28th-217).
West Albany senior Anna Schweitzer (161), Crater junior Haley Brown (165) and Crater senior Caitlyn O'Connor (174) placed third through fifth.
4A/3A/2A/1A
St. Mary's of Medford rolled to its fourth consecutive title in the small-school tournament at the Eagle Crest Ridge Course in Redmond.
Crusaders sophomore Baylee Hammericksen led the way, repeating as champion by shooting a 5-under-par 139. She followed her first-round 69 with a 70 on Tuesday.
Riverdale sophomore Yvonne Vinceri placed second at 146. St. Mary's freshman Riley Hammericksen was third at 151 and Wallowa / Joseph senior Tori Suto and St. Mary's senior Kaylee Wu tied for fourth at 156.
St. Mary's outscored runner-up Valley Catholic 638-705. Heppner / Ione (741) was third.