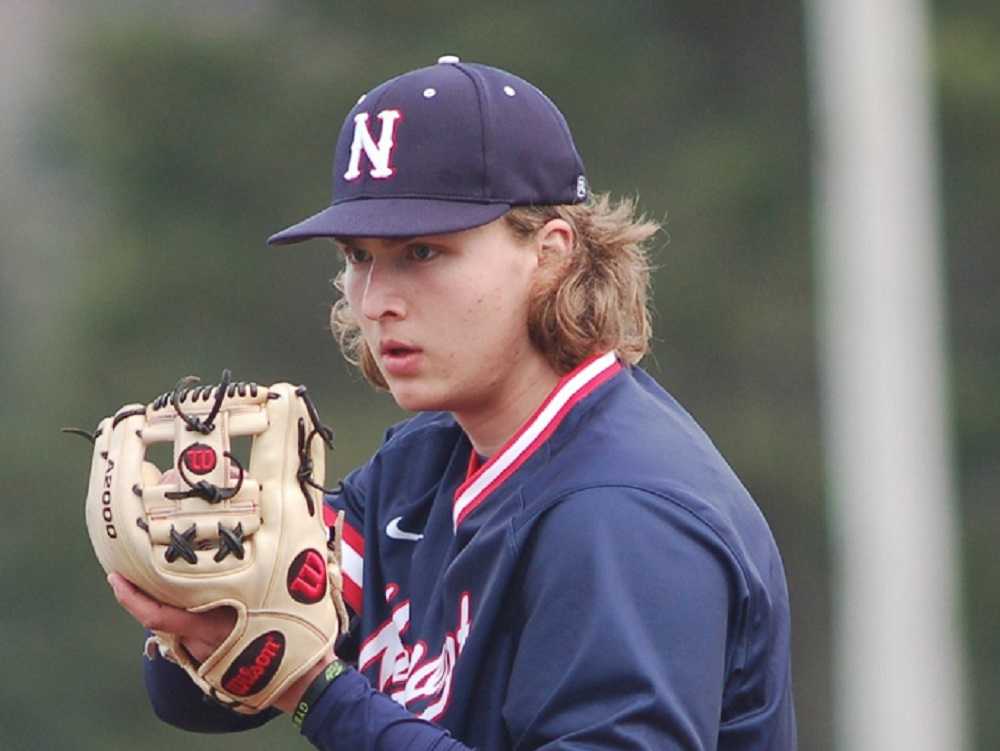 Well before he threw his first pitch for Newport High School, big, burly, hard-throwing Jacob Dobmeier was a fearsome figure on the mound.
"Kids were just scared to death," Newport baseball coach Taylor Plesha recalls. "You kind of didn't know where it was going. He'd airmail one, and you've got kids in there, 13 years old, with their knees knocking."
The 6-foot-5, 240-pound senior right-hander has become more of a technician throughout his high school career. And as his velocity has risen, he has become nearly untouchable.
After getting the win Monday over Philomath, he is 9-0 with a 0.48 ERA this season. In 59 innings, he has given up 32 hits, struck out 98 and walked nine. He has not surrendered a home run.
Coming off a junior season in which he had a 2.10 ERA and 104 strikeouts, Dobmeier set goals of an ERA under 1.00 and 120 strikeouts. He's well on his way to meeting those.
"After last year's season, it was kind of an eye-opener to me of what I'm capable of," said Dobmeier, who has signed with UC San Diego. "Going into the season, I had high expectations for myself. After the summer, being recruited and committing, and getting the attention of the pro scouts this year, it's definitely made my goals and standards for myself to be a lot higher."
Dobmeier, who walked only 18 as a junior, said he is attacking batters even more this season.
"I'm getting ahead earlier, not pitching scared," he said. "I'm pitching confident in knowing what I have."
Plesha said that Dobmeier is "incredibly efficient and he pitches to his strengths. He's the true definition of an ace, both on and off the field. The way he attacks his preparation, it shows in his performance."
Dobmeier threw in the low 80s mph when he joined Newport's varsity staff as a freshman. Now, he typically sits at 83-88 and tops out at 89-92.
The fastball is enough for Dobmeier to dominate, but he continues to add to his repertoire. He has made big gains with his changeup in the last two years, is throwing his curveball for strikes and has an "absolutely wipeout slider," according to Plesha.
"He's got a nice four-pitch mix," Plesha said. "The curveball is a work in progress, and the changeup, he still struggles with his confidence in it every once in a while. I think that's just kind of a product of not needing more than two pitches in high school baseball."
Dobmeier is a big reason why the No. 6 Cubs (16-3, 12-1) are on top in the 4A Oregon West Conference. He pitched a five-inning no-hitter with 11 strikeouts against Sisters and had a season-high 14 strikeouts in a two-hit shutout against Stayton. Opponents are batting .149 against him.
"He's just trying to figure out how good he really can be," Plesha said. "It's exciting to watch."
Dobmeier also is batting .418 with team highs in doubles (seven), home runs (five) and RBIs (32). A former basketball player, he showed his athletic versatility last fall when he turned out for football for the first time and became an all-league punter, averaging 40 yards per kick.
Dobmeier, who has a 3.93 GPA and is student body president, plans to study engineering in college. Things could change, though, depending on the Major League Baseball draft June 3-5.
He could be in a situation where he is weighing how much money it would take for him to put off college. He said scouts from six different teams have watched him this season.
"If all of them had come and watched me, I'd know it was something big," Dobmeier said. "I don't know that I'd go very high. The hopes are that I'd go high enough to go straight to the pros. I'd probably say top 10 rounds are when I'd start really considering it. Probably 1 through 15, I'd consider it, and top 10 I'd really think about it as an option."