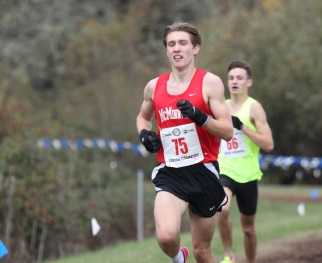 McMINNVILLE -- Stanford-bound senior Zane Fodge of McMinnville put down a strong early-season time of 8:39.52 on Thursday in the 3,000 meters at the Jim Barks/Grizzly Bear Open.
The state-leading time was a personal best by 14 seconds and an indication that he is coming into the outdoor season healthy and ready to compete for 6A titles in late May.
Fodge intends to compete in the invitational 3,200 meters on April 6 at the Arcadia Invitational in California and his effort on Thursday gave him a chance to see where he's at in a race distance he has rarely run.
"It was a chance to preview Arcadia and see where I'm at," Fodge said. "I want to go sub-9 (minutes) at Arcadia. I'm not super-familiar with 3K racing yet, but I'm going to focus on that instead of the 800 this (season)."
As he prepares to make the jump to college, Fodge is shifting from the 800/1,500 to the 1,500 and 3,000 meters.
It was only his third attempt at the 3,000. He ran it once as a freshman and again, just once, last year as a junior.
"The 15 and 8 finals are so close together (at the state meet)," Fodge said. "If you want to win more than one championship, it's better to do them on two separate days."
Fodge said he is pursuing state titles in both events.
Last year, he finished fifth in the 6A 800 meters and was third in the 1,500.
Already, Fodge is feeling better about the outdoor season.
"It's my first season in a while with an actual preseason (component)," Fodge said. "Lately, I've been using this part of the season for rehab or getting healthy (again). But I haven't had too many problems with my shin injuries this year. I have a (training) base going into the season and hopefully I'll be able to build on it."
Doug Binder is the editor of DyeStat.com