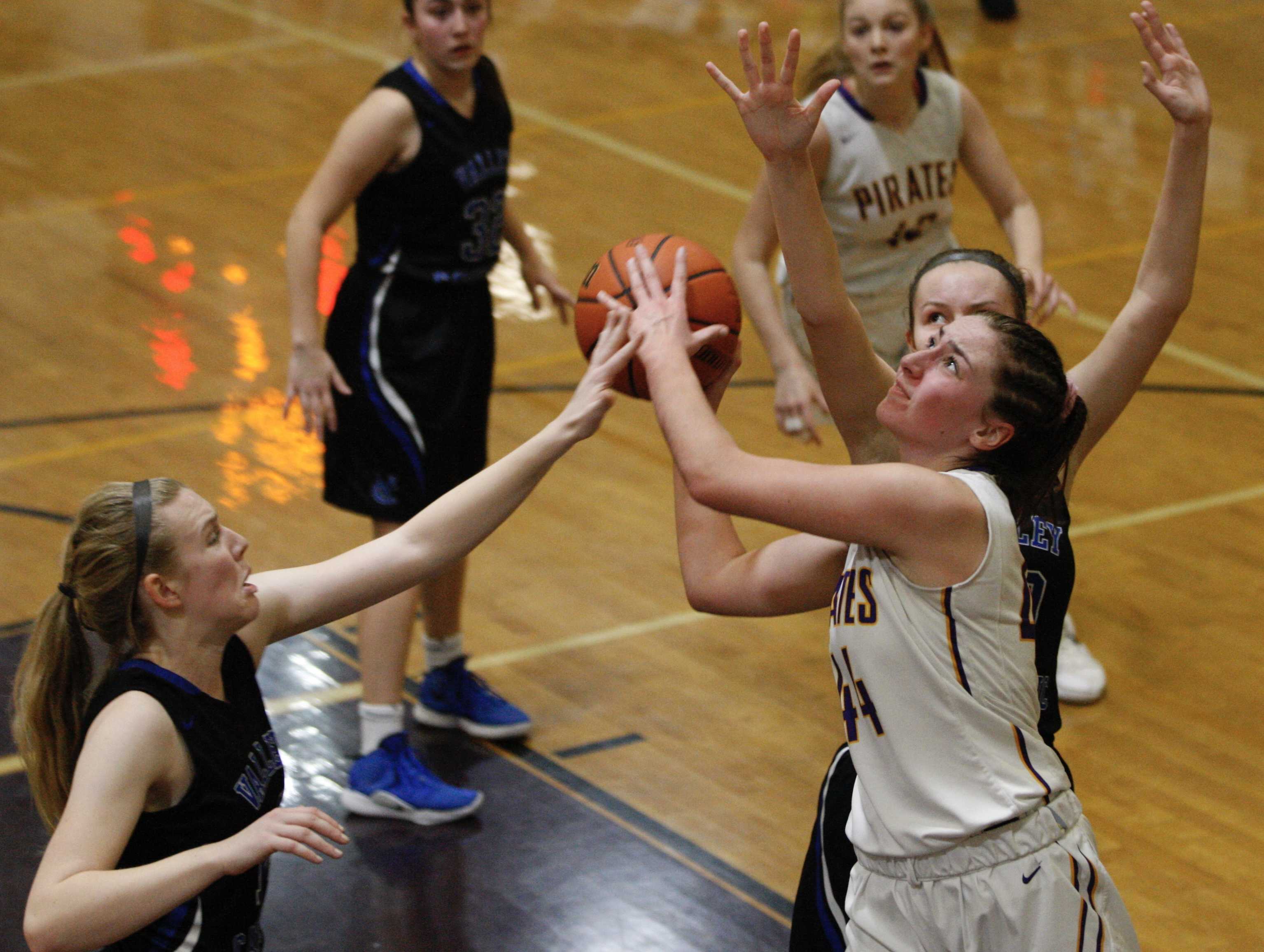 COOS BAY — The defending state 4A champion Marshfield girls didn't see anything from Valley Catholic on Saturday afternoon that they haven't seen over and over and over again in so many games over the last three seasons.
The Pirates, then dictate when they adjust to … whatever … and drop the hammer.
Against the Valiants, Marshfield picked the middle of the second quarter. They stopped playing at Valley Catholic's pace, went on a 20-point sprint and coasted to a 55-30 victory.
Then, for the third straight year, they packed for Forest Grove. There, the Pirates, 25-1, will open defense of their OSAA/OnPoint Community Credit Union tournament championship.
They open the tournament at 1:30 p.m. Wednesday at Forest Grove High School against the winner of Saturday night's clash in Astoria between the Fishermen and Marist Catholic of Eugene.
To get that far, the Pirates had to get rid of Valley Catholic, which arrived — like everybody else — game to take a shot at the defending champs. And for the first 12 minutes, they put up a respectable.
When Vals senior guard Callie Kawaguchi stole the ball at midcourt and roared past Marshfield's Tess Garrett for a layup, the Valiants were up 17-13 with 4:27 left in the period — and Marshfield had seen enough.
"We knew Valley Catholic was well-coached," Pirates coach Bruce Bryant said. "We expected them to press us the earlier. They didn't press us until later in the game, but we thought they'd do it for the whole time.
"We just got caught up in doing what they wanted us to do. The last thing I told the players was to not get caught up in their way of doing things."
Pow.
Alex Locati got the fun started with a contested shot in the key. Then Hailey Browning followed her own miss in for a layup. Then she swished a three-ball from the right side.
Now Marshfield was up 20-17 and just getting started. By the time the Valiants scored again, it was the middle of the third quarter and the Pirates were up 33-19.
"They wanted us to come out there jacking up threes," said Garrett, "and for awhile we were doing what they wanted us to do. But, yes, we adjusted."
All the Valiants and in response was Kawaguchi, but it was a pretty good response. She's the Fearless Fly of the team — 5-4 and all heart. Time after time she took outlet passes on the defensive end of the court and dribbled right at whoever was standing around the basket. Crash. Layup.
She scored every point for Valley Catholic (13-14) in the second half and finished with a game-high 18 points. Browning had three three-point baskets and led the Pirates with 17. Garrett had 16.
One last good thing about the game: The Pirates knocked a little rust off their game.
"It seems like we haven't played in forever," Bryant said. "We played at Crescent Valley (last Saturday), but it seems like longer than that."
Now it's a four-day wait, a five-hour bus ride, and another grab at the brass ring.
Other games from the 4A round of 16:
Philomath 50, Madras 32: Freshman guard Sage Kramer scored 30 points to show the way for the Warriors, who led 26-14 at half. Jiana Smith-Francis had 10 points for Madras.
North Marion 48, Henley 45: Down by 10 points late in the third quarter, the Huskies rallied to overtake the visiting Hornets. North Marion took a one-point lead on a three-point play by Raymee Boese with 21 seconds left, and added two free throws by Mya Hammack after she was fouled on a breakaway steal.
"It just shows their dedication to finish things off," Huskies coach Trevor Bodine said.
Hammack scored a game-high 22 points and Katie Ensign and Boese contributed 13 and 10 points, respectively. Jessica Northcutt had 21 points for Henley.
Banks 55, La Grande 30: Leading 26-23 at half, the Braves held La Grande to seven points and one field goal in the second half to pull away.
Aspen Slifka scored 33 points for Banks, including back-to-back three-pointers in the third quarter to extend the lead to 10 points. Camryn Collman had 18 points for La Grande.
"I'm really proud of the way the girls responded," Banks coach Brandon Begley said. "We did not play well in the first half and our communication on defense was awful, but the girls came out the second half focused and really dominated the game on both ends of the floor."
Stayton 31, Junction City 30 (Friday): The Eagles came back from down four points with 40 seconds left to edge the Tigers.
Stayton's KJ Nyquist made a three-pointer to cut the lead to one, and after a Junction City turnover, reserve Holly McGill was fouled tracking down an offensive rebound. She hit both free throws with four seconds left for her only points of the game. The Tigers were unable to get off a shot before the final buzzer.
Nyquist scored 16 points and Marri Martinez added nine points for the Eagles. Fallon Hanson had 10 points for Junction City.
Marist Catholic 48, Astoria 39: The visiting Spartans trailed by three points with three minutes left but finished the game on a 12-0 run. Ruby Vlahov and Madison Ficek scored 16 and 11 points, respectively, for Marist Catholic.
Newport 37, Hidden Valley 31 (OT)
Baker 67, Seaside 31