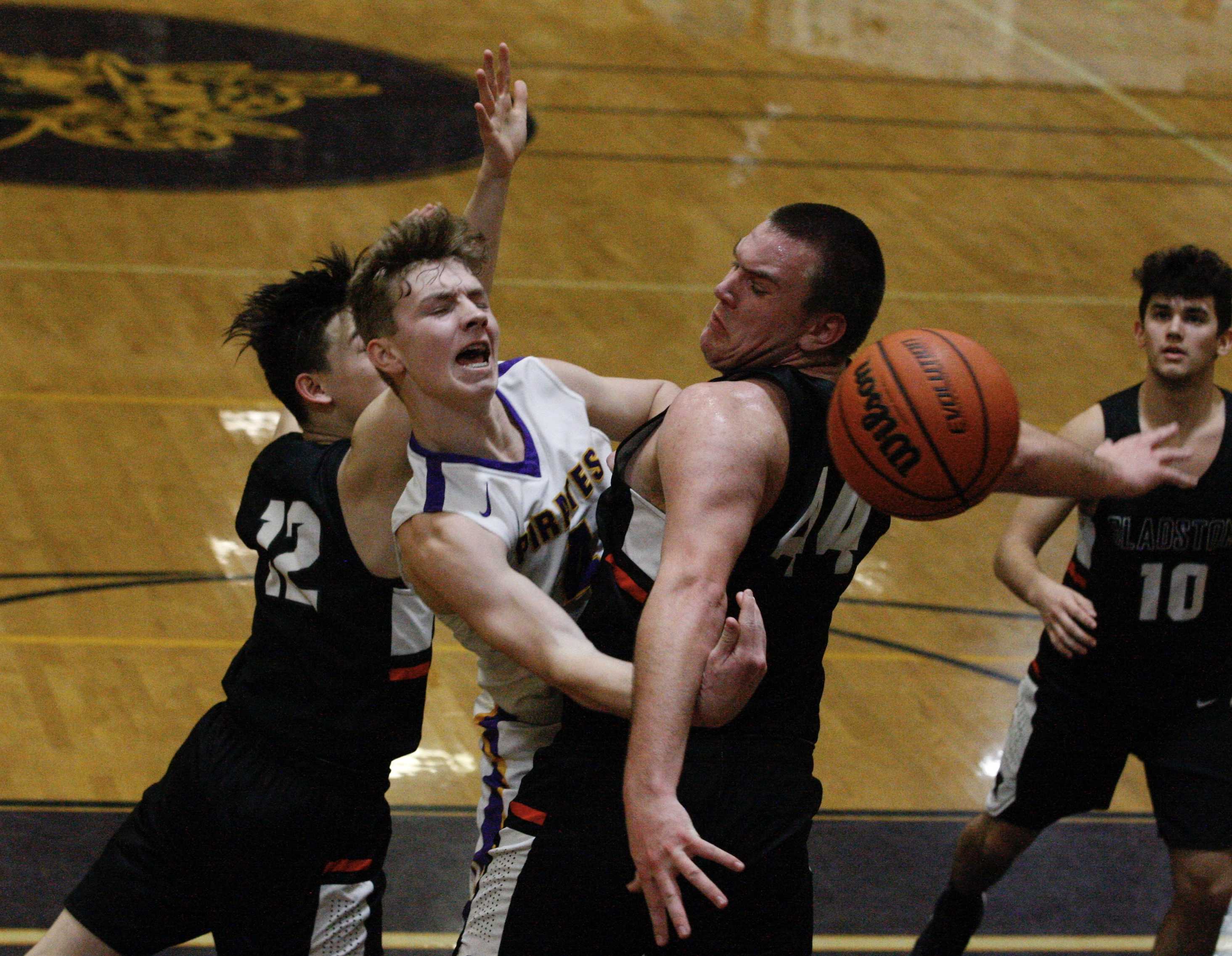 COOS BAY — Marshfield got the only thing it wanted out of Friday night's 42-35 victory over Gladstone at the Pirate Palace: A ticket to Forest Grove for the 2019 OSAA / OnPoint Community Credit Union 4A basketball tournament.
And no more. If anyone wants to see the video of the game, well, it might accidentally get deleted.
That's because it was a Marshfield kind of win. The SkyEm League champion Pirates scrapped and hustled and overcame when they had to in order to get rid of the Gladiators (17-8) and get on with things.
The Pirates squandered leads, threw the ball away, missed routine shots and sometimes couldn't even get out of their own way.
But they won. And it turns out that Marshfield's biorhythms are all out of whack.
"We knew that might be the kind of game we'd have to win," Pirate coach Doug Miles said. "We haven't played in a week and a half, so we were pretty rusty. Plus there's a cold running around the team.
"And then this (3A) tournament being here has given us some scheduling problems.
"Man, this was hard to watch."
But however the Pirates got to crunch time, they responded to it well.
Crunch time started with 4:26 left in the game, when Gladstone sophomore Jeremy DeVoe stole a ball and went coast to coast for a layup. That put the lid on an eight-point run that gave the Gladiators a 35-29 lead.
It was a heck of a time for Marshfield to be playing its C game, so the Pirates chucked it and went into grind mode. Sure enough, good things started happening — and Gladstone started coming apart.
Corey Stover hit a layup, Grant Webster cruised for a layup, and Jordy Miles sliced inside Gladstone's zone for a layup to tie it up with 2:57 to go.
On the other end, the Marshfield defense closed on Gladstone shooters. The Gladiators wouldn't score again — and the Pirates scored their last seven points from the free throw line.
Typical of the night was the moment Miles let Gladstone's Mitchell Kuhn crash into him to draw the charge with 56.4 seconds left. With 13.5 seconds remaining, when the Glads absolutely had to have a basket, Kuhn was called for shoving Miles off.
Gladstone was finished.
"All season long," Miles said, "that was one of the things we stressed — take the charge and be physical. Somebody had to step up. I was happy to do it.
"It's our last home game of the season. We had to win this one."
They did. It wasn't anything that will wind up in an art museum, but all it had to do was wind up in Forest Grove.
The Pirates will open the tournament at 3:15 p.m. Wednesday at Pacific University against Woodburn.
Grant Woolsey had 12 points for the Pirates; Mason Ainsworth added 10. Thomas Tacha led Gladstone with 9.
Friday's other games in the 4A round of 16:
Woodurn 53, Mazama 26: The Bulldogs raced to a 27-8 lead at half on their way to the rout of he Vikings. RJ Veliz scored 17 points and Tyson Doman added 10 points for Woodburn. Javon Hall had eight points for Mazama.
Banks 57, Newport 42: The Braves opened the second half with a 13-2 run to open a 40-22 lead and coasted past the Cubs. The decisive third quarter included a breakaway jam by Blake Gobel off a Newport turnover.
Gobel had 19 points and Hayden Vandehey and Jacob Slifka added 11 and 10, respectively for Banks. Justin Plechaty scored 19 points and Matt Beaudry added 12 for the Cubs.
Henley 59, Philomath 49: The host Hornets closed the game on a 12-4 run to oust the Warriors. Dale Fenters scored 22 points and Andrew Reynolds added 19 for Henley. Marshall Brattain had 17 points and Ethan Manning 13 points for Philomath.
Marist Catholic 52, Baker 46: Nick Stice had 12 points, including a layup and four free throws late, as the Spartans won on the road. Marist Catholic made eight consecutive free throws in the final minute to seal the victory.
Max Whittaker also had 12 points for the Spartans. Kaden Sand had 15 points for Baker.
Stayton 52, McLoughlin 37
North Marion 56, Valley Catholic 48