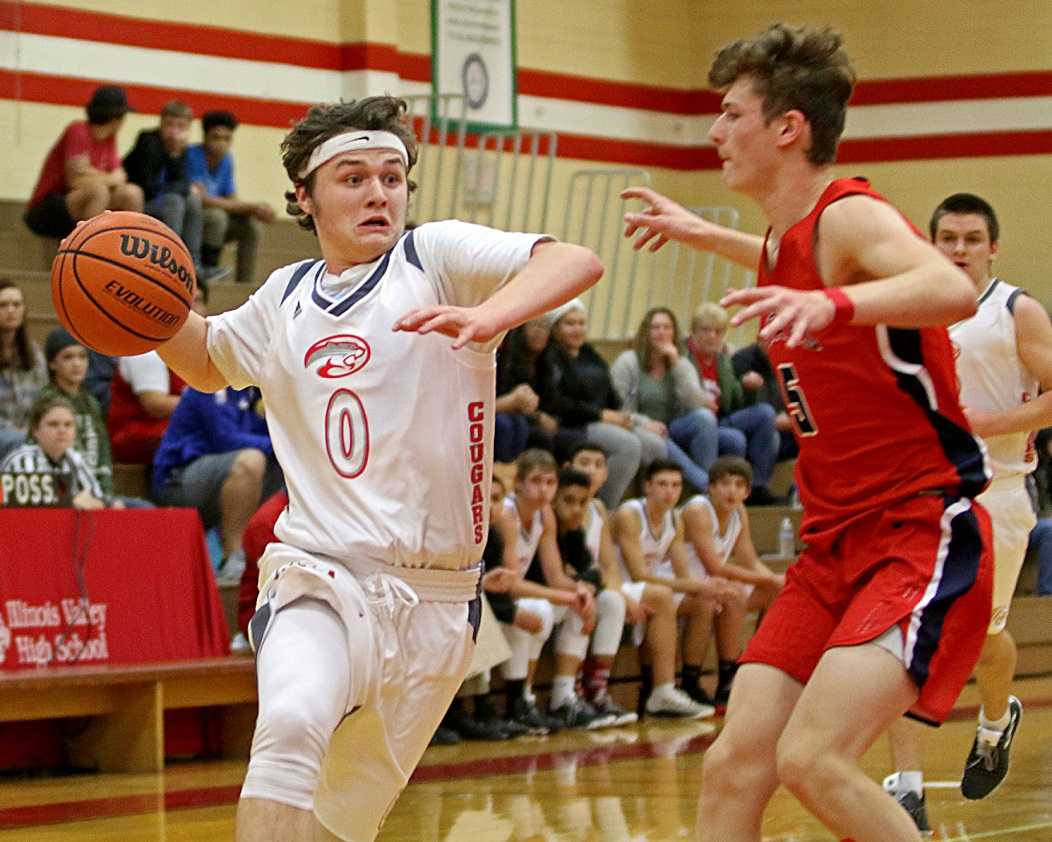 One month into the season, things didn't look too promising for Illinois Valley's boys basketball team.
The Cougars finished their nonleague schedule 2-8, and with unbeaten Butte Falls paying a visit for the 2A Southern Cascade League opener, the task looked daunting.
But Illinois Valley rose up for a 68-59 win that became a turning point for its season. It was the start of a 12-game winning streak for the Cougars (14-8, 11-0), who have clinched their first league title in eight years.
"Knowing that they were ranked pretty high, and us being able to compete at home against them, that really got things going," Illinois Valley coach Tony Hess said of the win over Butte Falls. "We were just trying to pick ourselves back up. Our starters came through, and it was awesome. We've been maintaining it ever since."
The Cougars have three fourth-year starters in guards Bryce Bruner (19.3 points per game) and Caleb Hess (13.5 points) and forward Tyi Brummett (8.0 points). As freshmen, they were on a team that finished 2-21 overall, 0-8 in the 3A Southern Cascade League.
"Hard times," said Tony Hess, Caleb's father. "They took their lumps, having to play two of the private schools in Cascade Christian and St. Mary's. I think some of the mental toughness that I see now in the guys is a result of that."
Illinois Valley improved to 10-13 and 13-11 the last two years, and with the Cougars dropping down to 2A this season, they had expectations of contending with Lost River and Butte Falls for league supremacy.
"We put in a lot of time during the summer, playing in various AAU leagues, just getting the guys ready," said Tony Hess, who took over as coach this season after four years as an assistant. "We went in hoping that the hard work would pay off."
Illinois Valley opened by losing eight of its 10 nonleague games, but it was misleading considering that four of the losses came against 4A teams and another against 3A Cascade Christian. Also, Caleb Hess missed nearly three full games with a knee injury and junior guard Elijah Polk (10.0 points) missed time while nursing a groin injury from football.
"No one could really get a good gauge on us, how we'd be fully healthy," Tony Hess said.
Polk, a returning starter, rejoined the lineup and became an effective complement to Bruner and Caleb Hess.
"The locals have nicknamed us as the three-headed dragon," Tony Hess said. "And it's because you don't know which one of our guards is going to go off. You stop one, and the other one goes off."
The Cougars seem to be picking up steam down the stretch. In the second round of league play, they defeated 10th-ranked Butte Falls 64-42 and Lost River 62-51. They scored a season high in a 96-65 win at Rogue River on Friday.
"Everyone's got a big smile on their face," Tony Hess said.
So can Illinois Valley, shooting for its first state playoff berth since making the 3A quarterfinals in 2011, make some noise in the postseason?
"I'm a realist," Tony Hess said. "It depends on if we can get more out of our post play, as far as help defense and maybe decision making."
Hess, who grew up in Long Beach, Calif., and played football at El Camino College before moving to Oregon with his wife in 1999, said he is excited about the future at Illinois Valley.
"That's kind of a big secret that I'm keeping. I know what's coming around the corner," said Hess, whose freshman son, Samuel, also plays for the Cougars. "We should be able to maintain being able to always compete for the No. 1 or No. 2 spot in league."