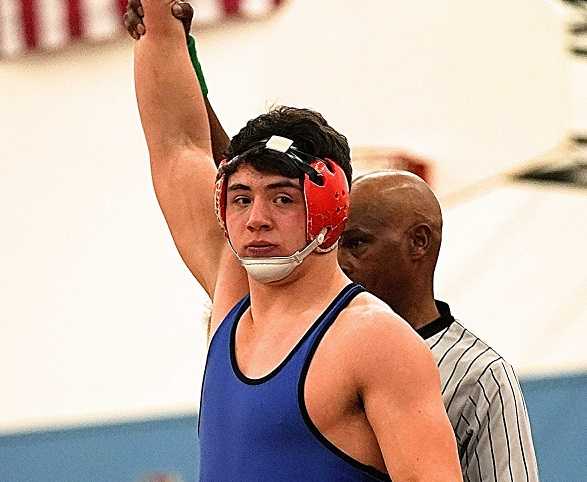 One year after Newberg's loss to Roseburg in the 6A final of the Oregon Classic dual meet tournament left the Tigers with a sour taste, they settled the score.
Newberg scratched out a 32-31 win over the Indians to win the 6A title Saturday at the Deschutes County Fair & Expo Center in Redmond. The teams split the 14 weight classes, but the Tigers owned a 2-1 edge in major decisions and got a clinching win from heavyweight Connor O'Bryan, who beat Roseburg's Hunter Blix 6-4.
"Last year was a crazy dual meet in the finals with them," Newberg coach Neil Russo said. "We had a couple things that were unfortunate and unexpected. I think it was a little bit of redemption, especially for those kids that were involved in that dual meet last year."
In that dual meet last year, Newberg had a wrestler disqualified while leading, resulting in a 10-point swing that was crucial in Roseburg's 36-28 win. So knocking off the Indians, the five-time reigning 6A champions, was especially satisfying for the Tigers.
Newberg and Roseburg are ranked first and second, respectively, in the OSAAtoday 6A coaches poll.
"Roseburg has set the standard here for the last few years," Russo said. "We thought we could make a little run at them this year. We were fortunate to come out on top."
The Tigers got pins from Nicky Olmstead (106), Christopher Strange (120) and Oliver Myers (195) in the win over the Indians, who won the tournament the last two years. It didn't come without drama, though, during O'Bryan's heavyweight victory.
"He said he thought we needed a pin to win the dual," Russo said. "He did a couple things he probably shouldn't have been doing with a lead. It was dramatic, for sure, but it was exciting."
Special dual: Newberg's appearance at the Classic also featured an unusual "special dual" with Culver, in which all 14 matches were wrestled simultaneously. The Tigers beat Culver 45-27 in a dual that took seven minutes, 40 seconds.
"As far as we know, it's never been done before," Russo said. "The venue in Redmond is the only place in Oregon that you can get 14 mats on the floor. It was a novelty, for sure. The kids enjoyed it, and I think the fans kind of enjoyed it."
The idea was hatched around a decade or so ago when Russo and Roseburg coach Steve Lander were preparing for their teams to meet in the finals of the Classic.
"We were sitting in the hospitality room, and one of us joked, 'We ought to stay in here and let the kids wrestle and then come and tell us how they did,'" Russo said. "Then it evolved into, 'Well, yeah, we could just get it done in 10 minutes and just wrestle it on all 14 mats.'"
Russo and Culver coach J.D. Alley agreed to try it this year and organizers created a break in the schedule for it. The dual was sensory overload for the coaches.
"Do you stop and watch one match and not get to somebody else's?" Russo said. "So we just kind of stood in the middle and let it happen."
The other finals at the Classic:
5A: Dallas, the reigning 5A champion, got five pins in a 38-29 win over Crook County, the reigning 4A champion that has moved up one classification this season. The Dragons' pins came from Cael Morrison (113), Kadin Thorsted (138), Jacob Jones (160), Jared Coxen (170) and Jaxson Rhoden (220). … In the third-place match, Crater handled Pendleton 46-18.
4A: Tillamook won nine divisions to upend Sweet Home 51-23 to take the title. The Cheesemakers pulled away with pins in the last five divisions from Caleb Warner (170), Fabian Niemi (182), Zeke Coon (195), Michael Horton (220) and Brian Rieger (285). … La Grande won third place with a 45-30 victory over Cascade.
3A: Willamina/Falls City won three matches by forfeit, including heavyweight, to beat Scio 42-39 for first place. Willamina/Falls City got pins from Elias Scholten (113), Moses Mercier (126), Michael Fox (132) and Kaleb Reid (145). … Burns defeated Dayton 42-30 for third place.
2A/1A: Culver won 10 weight classes to roll over Glide 54-24 for its 14th consecutive title at the tournament. Culver's pins came from Lorenzo Vasquez (126), Lane Downing (145), Isaiah Toomey (16) and Cylus Hoke (220). … Reedsport dominated Vernonia 60-6 in the third-place match.
Girls: Hood River Valley won 30-18 over Bend in the final, getting pins from Aryn Dahlstrom (105), Elena Kroll (135), Grace Miller (145) and Emily Mitchell (155). … Thurston Black edged Century 25-24 for third place, winning a tiebreaker on criteria.