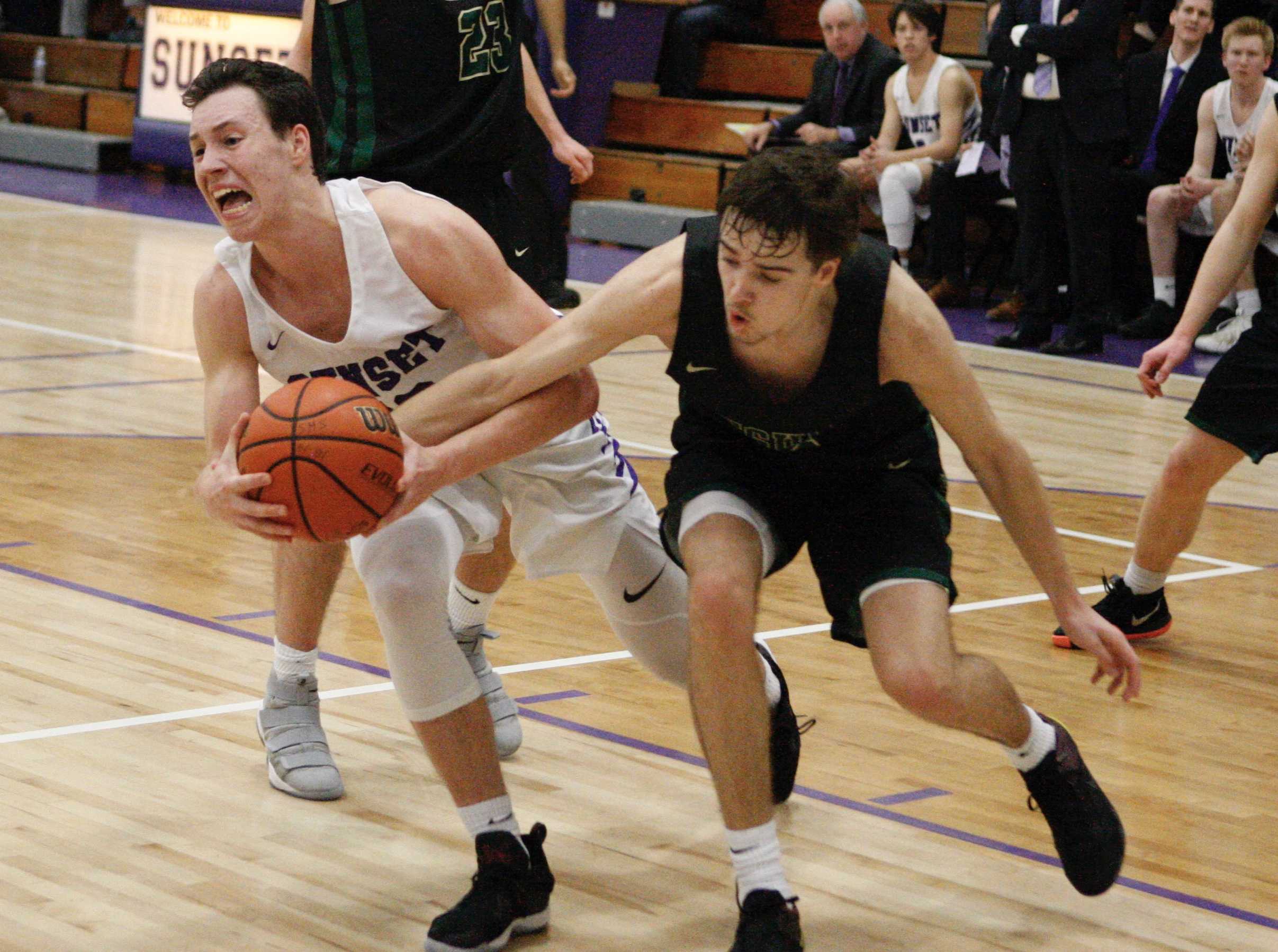 BEAVERTON — There isn't much that will make a basketball feel heavier than trying to shoot it with Metro League boys supremacy on the line.
In the third overtime.
With an enemy defender in your grille.
With the seconds ticking away.
But Sunset, mysteriously a non-consideration in Oregon basketball polls, summoned enough of its fading energy in the third overtime Tuesday night to hit the clutch shots it absolutely had to have to stop third-ranked Jesuit 89-84.
Can't ignore the Apollos now. They're 11-4 and all by themselves on top of the Metro standings. Okay, it's only 3-0, and there are still nine Metro games left in the season — including a rematch at Jesuit on Feb. 8.
So anything can happen. But for now the Apollos have said what they wanted to say:
"We're the best team in the Metro League," said junior wing Colby King, 21 of whose 27 points came after halftime, including a what-the-heck three-pointer that gave the Apollos a five-point lead in the third overtime. "Now they've got to come beat us."
It was a flawed game — the big ones sometimes are — that saw both teams fail on chances to win it in the in the fourth quarter and the first two overtimes. It also saw Jesuit establish an efficient 12-point lead in the third quarter, then whiff the knockout punches that would have won it then.
It had turnovers at all the wrong times, and it seemed as if nobody on either team could hit two free throws in a row.
But it also had its share of heroes, like …
X — Apollos junior gunner Braeden Sato, who put all of his 140-pounds behind a controlled 30-foot shot — NBA guys not named Steph Curry don't even take those very often — and sank it cleanly with four seconds left in the second overtime to tie it up at 77. His last two free throws, with 4.8 seconds to go in the last OT, gave him 30 for the night.
Y — King, who looked everywhere for a teammate to whom to pass the ball, couldn't find one, then turned and fired a three-ball that put the Apollos up 84-79 in the third OT and put them on the path to the win.
Z — Junior Reece Arenz, who ignited Sunset's third-quarter 14-5 rally by harassing Jesuit's very good guards and forcing back-court turnovers.
The Crusaders had their heroes, too. Aiden Williams hit five three-pointers and six overtime points to finish with 24. Justin Bieker had 18 of his 23 points after halftime and made driving the Jesuit key risky on defense.
But of all the moments that defined the night, the one that pinpointed Sunset's destiny was Sato's extraordinary bomb.
The situation was dire for the Apollos when it happened. Bieker's free throw with 9.6 seconds left put the Crusaders up 77-74 and gave Sunset only one option.
Everybody knew what it was — Sato and his freaky shooting range. Jesuit put its best defender, Will Sheaffer, on him. That's like having your pit bill guarding your wallet.
Sato took the inbounds pass straight up court, with the wary Sheaffer waiting for him at the 25-foot mark.
Sato pulled up and let it go from 30. Bam! And the Sunset bench emptied in his direction.
"I knew if I waited for a ball screen I might not have a chance," he said. "I just decided to take it. I take them from there."
Sunset coach Todd Sherwood has seen Sato go lights-out from unusual distances before.
"In a situation like that you want the ball in Braeden's hands," he said. "It's funny, but during the week we brought out an old film of (assistant coach) Wade Moyer doing the same thing to Westview back in 2008. And Wade coached Braeden (as a freshman).
"But to tell you the truth I don't know what I was thinking."
The shot not only tied the game, but gave Sunset some critical momentum going into the third overtime.
Tristan Rainbolt drew first blood for the Apollos with a layup, then Williams tide it up with a rare pair of made free throws for Jesuit.
Sato wiggled past Sheaffer into an open spot in the key and hit a 15-footer that gave the Apollos their last lead at 81-79, then after a Jesuit miss King grabbed the rebound and fled downcourt. He stopped just beyond the three-point line and spun on his pivot foot looking for somebody to pass the ball too.
Jesuit had them all covered. But they didn't have anybody on King, who turned and fired an uncontested three-ball. Splat!
"I was definitely looking for some teammates," King said. "But they weren't guarding me, so I shot it. I know I'd make that shot."
That put Sunset up 84-79 with 2:20 to go in the game. Sato noticed a shift in the mood on the court.
"That was a game-changer," he said. "Our bench went crazy, and they kind of went quiet."
It was all downhill from there. Jesuit went cold for the rest of the game — Matt Levis' three-pointer with 26 seconds left was its only basket of the final four-minute period — and the Apollos were home free.
Jesuit, tied for third in the state 6A polls with Grant, fell to 10-5 and into a second-place tie with Beaverton at 2-1.