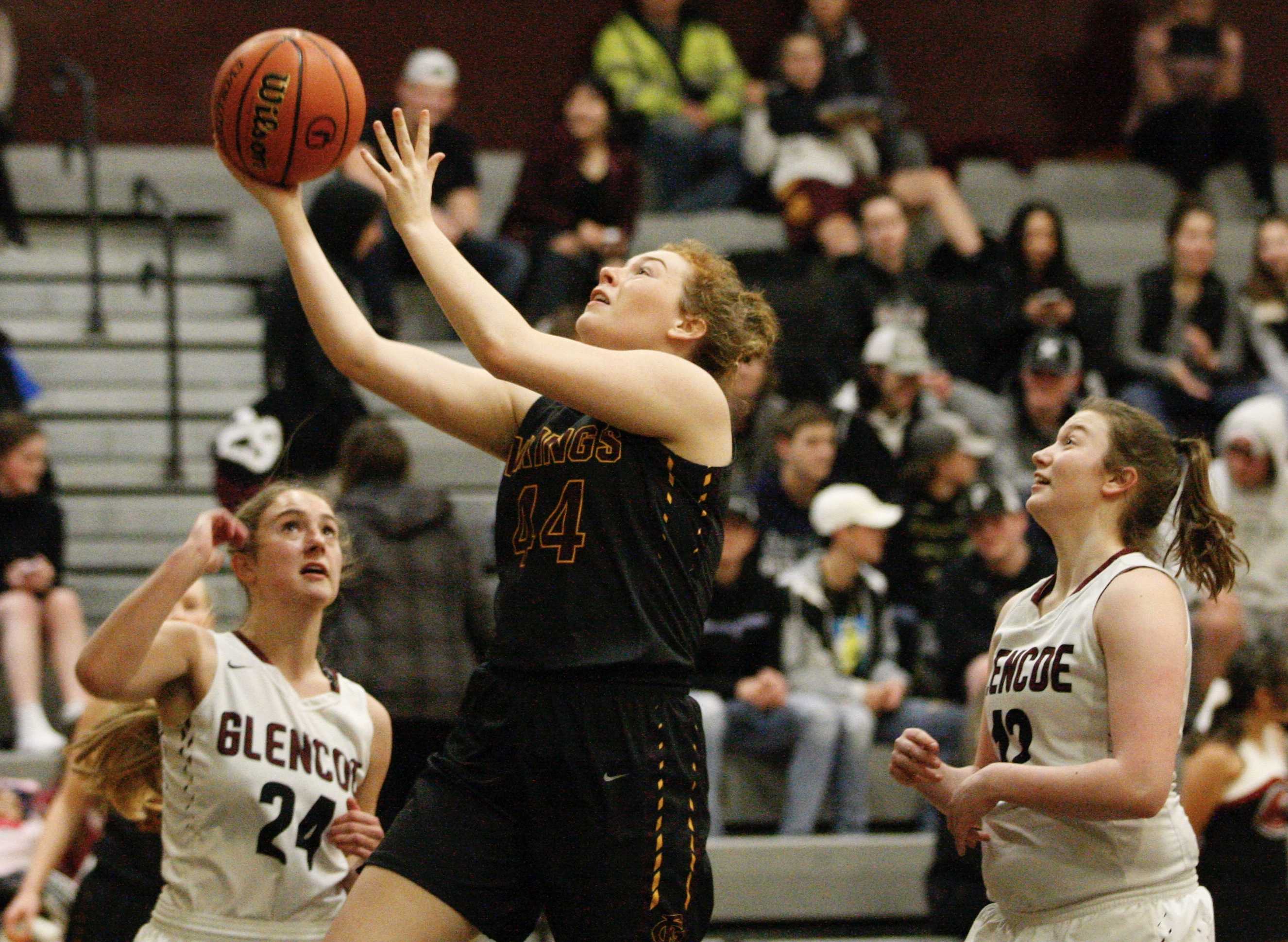 HILLSBORO — Forest Grove's girl basketball players will be the first to tell you they aren't there yet.
They lost three all-league players from last year's Greater Valley Conference champions, so in a sense they're starting over. They only have three seniors on the roster. They're still adjusting to each other and their new roles. They don't always put teams away the way they're supposed to.
But so far this season, they do understand how do one thing: Win.
The Vikings (11-2) won their 11th straight game Wednesday night at Glencoe (6-7) with a 51-44 decision in their opener in the reborn Pacific Conference.
Not even last year's Greater Valley champs did that. Their high-water mark was 10 straight at mid-season, which was pretty impressive by any standards.
But three conference all-stars — first-teamers Katie Rebsom and Emily Huson and second-teamer Kinsey Barnett — picked up their diplomas at commencement.
"I'm very happy with how we're playing," Vikings coach Dan Lumpkin said. "We lost three first- and second-team players and we were the league champs.
"So coming into this year we knew we were young, with a lot of new faces filling important roles. So every game we've been trying to get a little bit better."
They were good enough against the Crimson Tide and its splendidly kinetic guard Morgan DeBord. They strangled Glencoe's offense in the first half with an effective zone defense that held Glencoe to 14 points and established a nine-point lead. All things considered, it wasn't too much to ask.
The did it by spreading the wealth: All five starters scored in the first quarter. Kendal Thrush came off the bench in the second quarter for back-to-back baskets that gave the Vikings the lead for good at 16-13. By the half they were still up nine points and getting close to cruise mode.
But they aren't ready for that yet.
"We came in here knowing Glencoe had a seasoned team," Lumpkin said, "with lots of seniors and juniors who have played. They're battled-tested — they were in the Metro League."
Then there was the DeBord factor. The 5-4 Tide guard may have the highest RPM engine in the state — and she hates to lose.
"She is everywhere," Lumpkin said. "You have to be mindful of her. She's going to try for steams, go for loose balls and she's going to attack."
DeBord can also lead with the best of them, and beginning with the late third quarter, with the Vikings up 34-23, her teammates started following her into the lions' den.
Glencoe scored the last eight points of the third quarter and the game was on.
But Forest Grove responded every time. Sophomore Amanda Rebsom stiff-armed Glencoe with three quick points, and when the Tide rolled back in again Olivia Grosse and Ashlynn Dawson got back-to-back layups.
DeBord, who finished with 19 points, hit a three-pointer, then made a steal and fed Mallory Confer for another three-pointer, and with 1:50 left, Glencoe was within 45-44. A Kayleen Dominguez free throw added to the tiny lead, then Glencoe's last good chance to tie the game disappeared when Dawson deflected an interior pass to Rebsom.
The Vikings hit five of six free throws in the last 53.8 seconds to nail down the win and keep the streak alive.
Ah, the streak. The Viking players don't like to talk about it.
"We don't want to jinx it," said Rebsom, whose 12 points were the only double-figure performance on an evenly balanced team. "At the start of the season we talked about the new season as a team. Being undefeated wasn't realistic. We wanted a league championship."
Added Dawson, "We're still trying to transition and work with each other. We still think we're learning and growing."
The imperfect part of the perfect streak is that the Vikings haven't been blowing people out. Only five of the 11 games have been decided by double figures, but in that little fact is a silver lining: The Vikings have learned how to play in tight games — like on Wednesday night at Glencoe.
"We've had to battle a lot," Lumpkin said, "and because of that we've been able to play in those situations. Every game is a battle for us."
And for the last 11 games, they've all been wins.