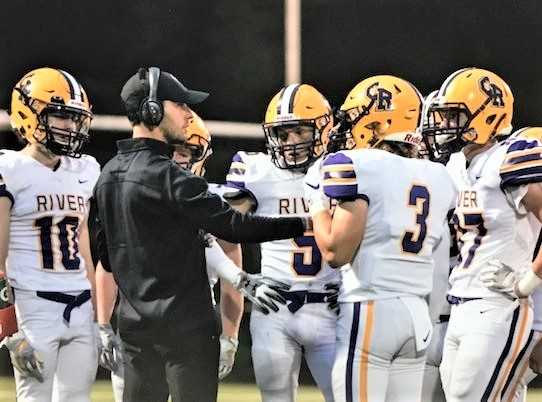 As a high school football coach who has spent his career in Washington, Nic Shular has much to learn about the landscape in Oregon.
But Shular, hired as the coach at 4A St. Helens this summer, didn't need much time to figure out the most important game on the Lions' schedule.
"I don't think I've had an interaction yet where someone hasn't brought up the Scappoose-St. Helens 7-Mile War," Shular said. "So I'm becoming very familiar with it. I'm definitely excited to experience that rivalry and just the passion that's going to come with it."
The rivalry has been decidedly one-sided in recent years. Since St. Helens won in 2016, Scappoose has taken the last six meetings by an average margin of 41.2 points.
Shular is tasked with making the Lions competitive, not just against Scappoose, but in the Cowapa League. St. Helens was a state power a few decades ago, winning state titles in 1992 and 1996, but has posted just three winning records this century. The Lions have won a combined seven games in the last four seasons, finishing 3-6 last year.
But Shular, who will teach math at the school, sees potential in the Lions.
"We have talented juniors and seniors, so I don't feel like I'm stepping into a position where it's a rebuild," he said. "There's going to be a learning curve for them because we're going to be doing a lot of different things, especially on offense. But I feel like we have the talent to be competitive."
Shular played at Prairie and went on to a college career at NCAA Division III Cal Lutheran, where he was a receiver. He has been an assistant coach at Kings Way, Coupeville, Prairie and Columbia River, where he spent the last four seasons as the offensive coordinator under coach Brett Smedley.
When Smedley stepped down, Shular began looking for a head coaching job. St. Helens had an opening after the resignation of Cory Young, who went 26-43 in eight seasons.
"The fact that it's one high school, one town, those places are always very passionate," Shular said. "Also, it's pretty close to where I grew up.
"From an infrastructure standpoint – as far as the weight room, the field, financial support – I believe St. Helens is in a really good spot. So that was appealing. It's just a matter of changing the culture into one where there's an expectation of winning games."
Shular has been running the Lions through workouts since late June, including 7-on-7 competition at Astoria. He said about 60 players have participated, including about 40 incoming freshmen and sophomores.
"We have a really solid base to build with," he said. "And the older kids have been great to work with. Character-wise, they've been awesome. They've bought in since Day 1."
Shular will serve as the offensive coordinator, a position he held at his last three jobs. As a player, he ran the spread offense, and he has built off those principles as a coach.
"When I got into coaching, I was still living in that world," he said. "As time has gone on, I've definitely learned how important it is to adapt your offense to fit the personnel you have."
The Lions averaged a respectable 26.4 points per game last season, but must replace starting quarterback Tyler Tolles, who is heading into a college career at Lewis & Clark. Senior Aaron Liebelt and sophomore Andrew Waite are the leading candidates to start for St. Helens.
"I'm really excited about Andrew's potential. I think he has a pretty high ceiling," Shular said. "He's definitely going to push Aaron and make that a competitive battle."
St. Helens faces La Salle Prep, Centennial, Parkrose and Gladstone before opening Cowapa League play Sept. 28 at home against Astoria. The Lions go to Scappoose for the 7-Mile War on Oct. 13.
The season will be Shular's initiation into Oregon high school football.
"Being in Vancouver, of course I hear about Central Catholic and Jesuit, and West Linn, because Jon Eagle was the head coach at Camas," Shular said. "I'm familiar with the big dogs, so to speak. But the 4A classification, that's going to be all brand new for me."