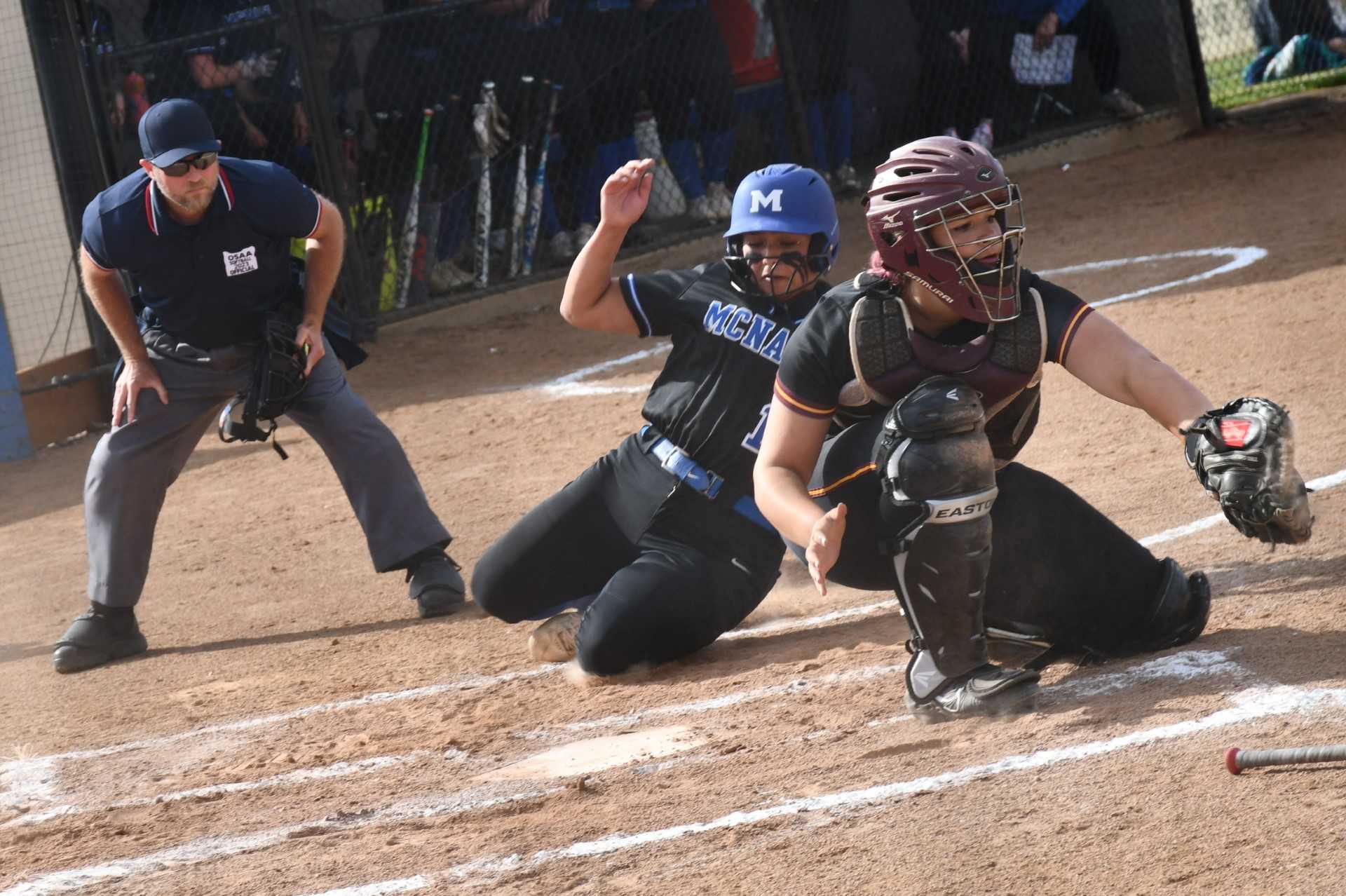 KEIZER – No. 12 seed McNary built an 11-0 lead after three innings and held on to defeat No. 21 Forest Grove 12-7 in the first round of the 6A softball playoffs Monday.
Junior Ali Martinez, the Central Valley Conference player of the year, had three hits for the host Celtics (19-7), including a two-run homer in the second inning. Aspynn Westby had three hits and Natalie Macik drove in two runs in the onslaught.
"I feel like we got our confidence back with our bats this game," Westby said. "We jumped on it from the beginning and we didn't wait to hit the ball. … We just need to carry what we did in this game into the next game and clean up some of the errors …"
Jackie Lang went 2 for 4 with two RBIs for Forest Grove, which also got two hits each from Jordan Ingram and Katelyn Peterson. The Vikings ended their season with a 12-15 record.
McNary, which reached the semifinals last year, will play at No. 5 Sherwood (20-6) in a second-round game Wednesday.
– Jeremy McDonald
Monday playoff highlights:
6A
Payton Burnham pitched a no-hitter with 13 strikeouts and had five RBIs, including a grand slam, to lead Sheldon past Central Catholic 24-0 in five innings. Avery Coffin hit a three-run homer for the Irish, who also got two hits each from Kinley Pappas, Brooke Peterson and Ashlyn Martin. … South Salem blanked Roseburg 10-0 in five innings behind Rowan Thompson, who tossed a one-hitter with 11 strikeouts. Mackenzie Scott had a double and home run and scored three runs for the Saxons. Ashlie Orr went 3 for 4 with two RBIs and Hallie Olson went 2 for 3 with a home run and two RBIs. … North Medford collected 18 hits in beating Nelson 9-3, taking control with a four-run first-inning. Presley Lawton, Calleigh Raines, Rhyan Hamlin and Araseli Guerrero each had three hits for the Black Tornado. Guerrero drove in three runs. ...
Westview freshman Ana Fifita threw a one-hitter with 14 strikeouts and one walk in a 9-0 win over Glencoe. Addi Garrison went 3 for 3 with a double, triple and an RBI and Jules Hayes went 3 for 4 with a double and an RBI for the Wildcats. … Jesuit edged West Linn 8-7 on a walk-off bunt by Paisley Rhyne in the bottom of the eighth inning. The win comes three days after Jesuit rallied from a 14-5 deficit to beat the Lions 15-14 in a nonleague game. The Crusaders have won seven in a row. … Abby Carsley went 4 for 4 with a home run and two RBIs to lead McMinnville past McDaniel 9-1. It was Carsley's 19th home run of the season, giving her the big-school state record. The Grizzlies also got a two-run homer from Ava Fleischman and a double and two RBIs from Kaylee Dinger. McMinnville held McDaniel hitless, with Mackenzie Roberts pitching the first five innings and Mackenzie Bekofsky going the final two. ...
Lakeridge rapped 19 hits in an 11-1 win at Barlow, getting four each from Delaney Hoyle and Lauren Beach and three from Livia Safranski. Hoyle struck out 19, giving her 305 for the season. …Lily Riley threw a one-hitter with nine strikeouts as Oregon City dropped Sprague 10-0 in six innings. The Pioneers had 13 hits, led by Allyson Nordling, who went 3 for 4 with a home run, double and five RBIs. Lily Castor hit an inside-the-park home run and Riley and Chloe Stromme had two hits apiece. Chloe Grimmer hit a walk-off triple to cap a five-run sixth inning. ... Sherwood had 14 hits, getting three each from Maisy Schindler and Abby Gibson, in an 11-8 win over Sunset. Faith McHill and Destiny Cornwell shared time in the circle for Sherwood, giving up nine hits. ... South Medford blanked Liberty 6-0 behind Kaycee Hudson, who threw a three-hitter with 17 strikeouts and four walks. Hudson, Sydney Boren and Bri Turrey hit home runs for the Panthers.
3A
Elmira/Mapleton rallied with four runs in the bottom of the seventh inning to overtake Santiam Christian 8-7. Trailing 4-2 in the top of the seventh, the visiting Eagles scored five runs to take a 7-4 lead. In the bottom half, Elmira loaded the bases with two outs and Dayshah Conklin, the No. 9 hitter, delivered with a bases-clearing triple to tie 7-7. Layla Burgess followed with a walk-off single. Victoria Juge had three hits and two RBIs for Elmira.
2A/1A
Knappa handled Oakridge 11-3 as Taylor Pass went 3 for 4 with two doubles and a triple and Lily Simpson went 3 for 4 with a double. Mylie Lempia had two hits and played outstanding defense in center field. Pass pitched a five-hitter with four strikeouts, walking five.