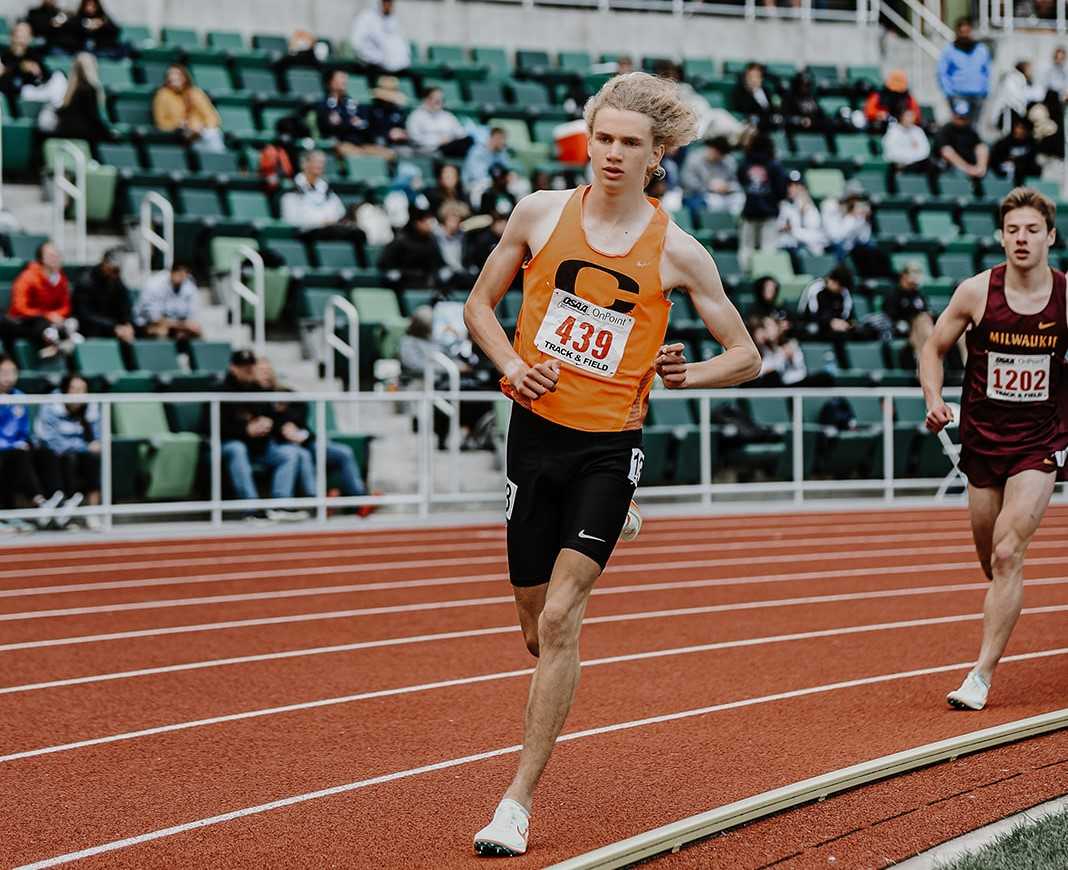 If Crater's Tyrone Gorze hadn't already created a buzz for his senior track season with his record-breaking performance in cross country, he generated plenty of hype this month with his final race of the winter indoor season.
Gorze broke the national high school record for the indoor 5,000 meters by finishing in 13 minutes, 56.82 seconds at the New Balance Indoor Nationals on March 12 in Boston. For perspective, the previous record-holder was former University of Oregon standout Edward Cheserek, a 17-time NCAA champion.
"I felt really good going in, but I knew I had to close out really fast to get it," Gorze said. "The field was really good, so I knew it almost took the national record to win it. I felt prepared, so I felt confident in myself. But it was still surreal when it happened."
Crater cross country and distance coach Justin Loftus said the race was "incredible, very emotional. We didn't talk about the record at all. It just kind of all came together perfectly."
So now, as Gorze gets started on his last high school season before heading off to a college career at Washington, he appears primed to push his boundaries.
"We're set up nicely for whatever we decide to do for track," Loftus said. "He never stops kicking it up. He keeps me going. He's on top of it 100 percent. … He's super fit. He's ready to transition to college, for sure."
Coming off a summer in which he won a national title in the 5,000 in the USATF U20 Championships at Hayward Field and competed in the World U20 Championships in Colombia, Gorze tore up the trails in the cross country season.
In repeating as the 5A champion, he set a state meet course record (14:37.9) at Lane Community College, breaking the mark set by Summit's Matthew Maton (14:45) in 2014. He added a title in the NXR Northwest Regional Championships and placed third at NXN Nike Cross Nationals, but he was more gratified by the state meet.
"Going into the season, I was just looking at giving my all at the state meet because I feel like that's a truly special meet," Gorze said. "To finish out my last race in a Crater singlet, I really wanted to do something special."
Gorze carried the momentum from cross country into the indoor season. On Jan. 14, he ran the 3,000 in 8:05.17 at the UW Preview meet, the No. 5 indoor time in high school history. He beat his outdoor best of 8:11.60, which ranks No. 5 all-time in the state.
At the national meet in Boston, he got started by anchoring Crater's distance medley relay (1,200-400-800-1,600) to first place by nearly three seconds.
"I wasn't 100 percent satisfied with the leg that I ran in general," Gorze said. "I just used that as motivation for the next day."
Loftus said that Gorze was "super focused" heading into the 5,000 meters.
"We pretty much laid out the race that morning, and he executed perfectly," Loftus said. "When there was 1,000 to go, we just talked about trying to hit between 2:33 and 2:35. As far as 5K goes, it's an out-of-control, blow-your-mind kind of pace. But I knew it was something that he'd probably handle. He took off."
Gorze led by 5.5 seconds with 200 meters left and held on to beat Daniel Simmons of American Fork, Utah – the Gatorade National Boys Cross Country Runner of the Year – by 3.14 seconds.
Gorze now turns his attention outdoors, where he will be looking for a 5A double. As a sophomore, he won the 1,500. As a junior, he won the 3,000 but finished second in the 1,500 to teammate Josiah Tostenson by 0.3 seconds, a loss that he took hard.
"I was definitely super happy for him. For myself, though, I don't think it was the best race tactically for me," Gorze said. "I think I made moves at the wrong time and just came up a little bit short at the end."
Said Loftus: "That state meet was definitely a learning experience for him."
Gorze's 5A competition includes Tostenson, a sophomore, as well as Milwaukie senior Logan Law, Wilsonville seniors Carter Cutting and Mason Weisgerber and Ashland senior Nathan Stein.
Gorze and Tostenson, runner-up in the 3,000 last season, help keep each other sharp.
"I don't think there's a rivalry there," Loftus said. "Maybe there's an unspoken rivalry. It's not like they're enemies. They feed off each other in workouts. Those two are fierce competitors. There's no bad blood. Josiah wants to win just like Tyrone does."
Gorze's time at the UW Preview shows that he isn't far off the 3,000 state record of 8:03.67, set by Central Catholic's Galen Rupp in 2004. His best of 3:50.31 in the 1,500 ranks him No. 18 in state history, well of Rupp's top time of 3:45.3.
The strong field at the UW Preview – Gorze finished 11th, 22 seconds behind the winner – elevated his performance. But Gorze said he believes he has the ability and fitness level to run faster than 8:05.17 during the high school season.
"I definitely can run faster. That's the goal," he said. "I want to PR in the outdoor season and get better. I was running in January and only did a couple of track workouts before that. I've done many more track workouts since, so I definitely feel like I'm capable of running faster."
Which means he could push Rupp's record.
"I've been thinking about it since I ran that 8:05 and saw how close I was to Galen Rupp," Gorze said. "I'm not going to get too hung up over the times. I just want to improve and try to get as close to eight minutes as I can, or how far under it I can get. I'm looking forward to running more 3Ks."
Loftus, who is in his 22nd year of coaching at Crater, isn't putting anything past Gorze. He raves over his approach.
"He's the best I've seen in any high schooler I've coached," Loftus said. "It's been the case for two years, that when we show up to a race, I know he's ready. I feel like he's more ready than anybody else there.
"He's like no athlete I've seen as far as preparation and recovery. He gets so ready for the next workout. Not even close to a typical high-schooler."