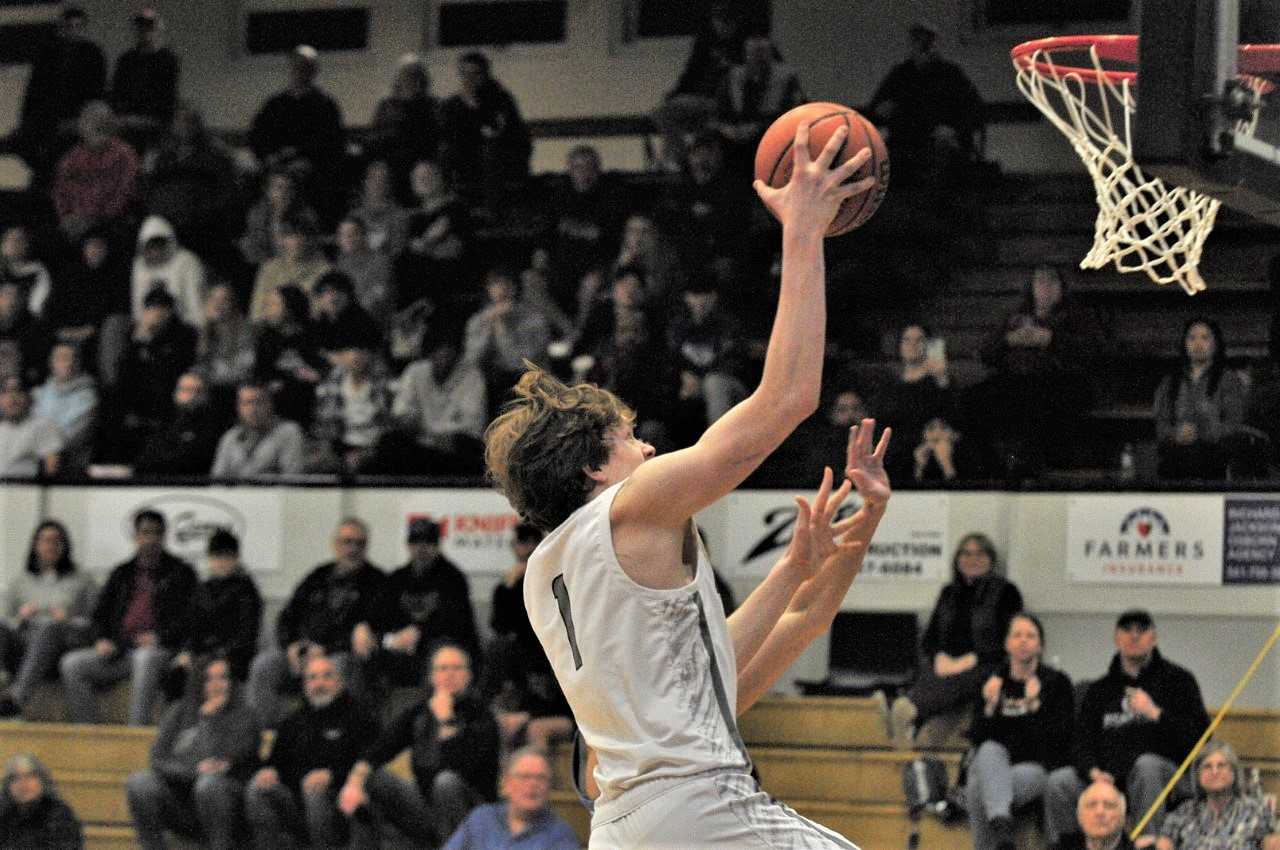 By JOHN GUNTHER/for OSAAtoday
COOS BAY — Westside Christian has had a goal of making it to the state championship game all season. Standing in their way Friday in the semifinals of the OSAA/OnPoint Community Credit Union 3A boys basketball tournament was an Oregon Episcopal squad the Eagles had beaten three times during the regular season.
They made it four in a row over the Aardvarks, but it wasn't easy, as Westside Christian prevailed 62-55 to advance to Saturday's final against defending champion Cascade Christian. The Challengers beat a third Lewis & Clark League foe, De La Salle North Catholic, 52-51 in a rematch of last year's championship game to earn their shot against the hungry Eagles.
"It's what we've been talking about all year," said Westside Christian's Jonah Jones.
The berth in the finals didn't come easy. OES gave the Eagles a push all the way, leading by two heading to the final quarter and five two minutes into it.
"They played great," said Westside Christian coach David Henry. "We just made a couple more shots down the stretch."
Jones had a fabulous game with 29 points and 13 rebounds before being sidelined by an injury in the final six minutes, with OES in front.
Wesley Chandler stepped in and scored five points to help the Eagles pull even and they put it away with free throws in the final minute.
"That's our boy," said Jones. "He deserves everything. He works harder than anyone in practice."
Henry noted that Chandler was a swing player last year, getting more time in junior varsity games as a sophomore, but that he has really stepped up in the past few weeks.
That's the case with a pretty good portion of the roster.
"A lot of our kids didn't even dress for state last year," Henry said. "They stepped up to the challenge."
Last year, Westside Christian lost a tough semifinal to eventual champion Cascade Christian, but the group has been aiming for a spot in the final all season.
Jones wasn't part of last year's group, transferring in from Ida B. Wells.
He said he planned to be ready for the championship, which tips at 8:30 p.m. at Pirate Palace, even though his hip was sore after the semifinals.
One of the big keys in the Eagles' win was getting it inside to Jones and Dax Hanzlik, who had 12 points. Between them, they also had several big dunks, which Jones said pumps up the team.
"It builds momentum," he said.
OES also focused on getting it inside, attacking the Westside Christian posts.
Levi Edelman had 19 points for the Aardvarks, while Cyrus Forney added 13 and Henry Gewecke 10.
OES will face De La Salle North Catholic in the third-place game Saturday.
Cascade Christian 52, De La Salle North Catholic 51: The Challengers held off the Knights in another classic battle, getting a couple of key plays after De La Salle North Catholic had erased a lead that at one point was 11.
"They kept fighting and coming back," Cascade Christian coach Brian Morse said. "It's a good thing there wasn't another minute on the clock."
The Challengers still led by five with two minutes to go, but Jordan James and Jaylen Hill each hit a pair of free throws to pull the Knights within one.
Up to that point, the foul line was not a friend to Cascade Christian, but Jaron Fronckowiak hit a pair to put the Challengers back up three.
Then Elliot Ball-Dowling tied the game with a 3-pointer with 1:16 to go, thrilling the big crowd that included far more fans than the two schools brought.
The Challengers didn't panic, and Austin Maurer found a cutting Drew Hall for a go-ahead hoop at the basket with 36 seconds to go.
"He kept his composure and made the right play," Maurer said.
Morse said it's something the Challengers have been working on.
"The play worked to perfection," he said.
Cascade Christian then got a huge defensive play forcing a five-second violation as De La Salle North Catholic was trying to inbound the ball on the sideline after a timeout with 26 seconds to go and Fronckowiak and Hall each hit one free throw that provided just enough cushion when Ball-Dowling nailed one more 3-pointer in the final second.
Now Cascade Christian has a chance to repeat as champs.
"It's awesome," Maurer said. "That was a great game."
He wasn't surprised De La Salle North Catholic kept fighting to the end.
"They wanted to win," Maurer said. "Their players made plays. It came down to free throws at the end."
Maurer had 18 points, 17 rebounds and four assists for the Challengers and Hall added 13 points.
Quincy Aranda had 12 points and Hill added 10 points and 10 rebounds for the Knights.
Cascade Christian now has taken down two Titans, Dayton in the quarterfinals and De La Salle North Catholic. Now comes Westside Christian, which is the top seed.
"We are going through the gauntlet," Morse said. "Every game is tougher.
"Tomorrow is the championship game. Just being there will bring us a lot of energy."
The Challengers topped the Eagles early in the regular season.
"They're a great team," Maurer said. "We've got to bring it."