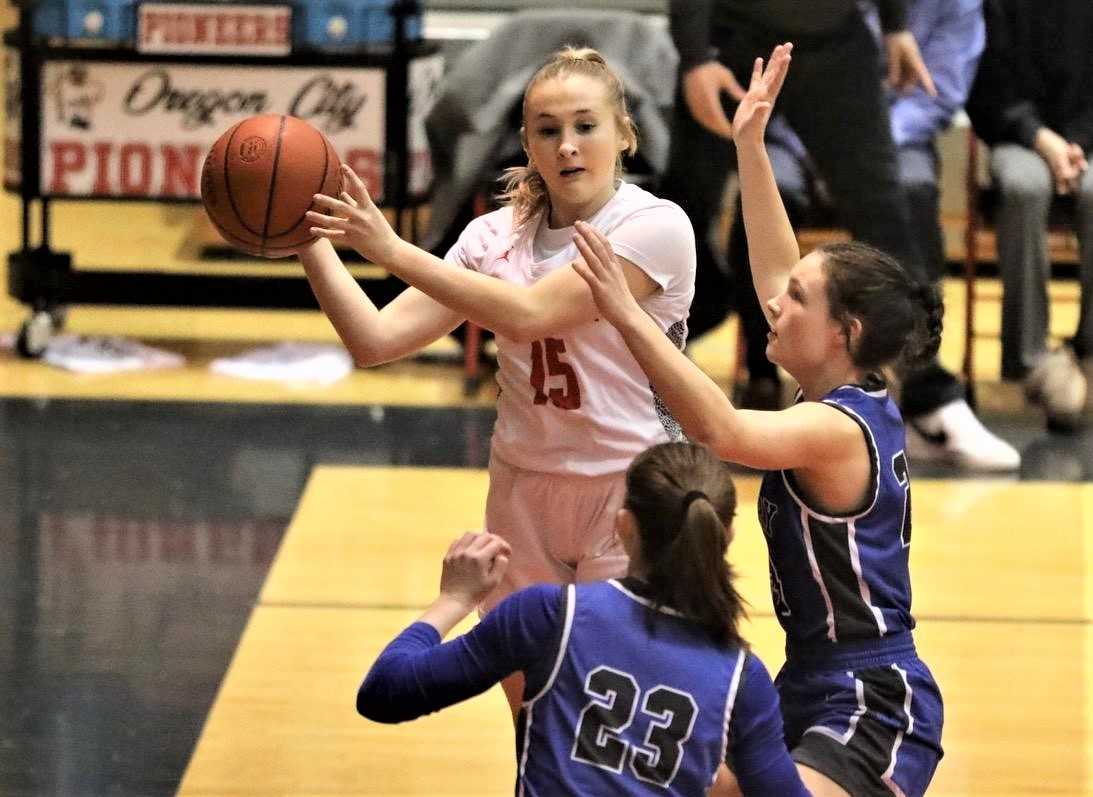 OREGON CITY – Playing in the state tournament used to be an annual rite of passage for Oregon City girls basketball, which has a record 12 state championships.
Since finishing as 6A runners-up in 2017, though, the Pioneers haven't made it to the Chiles Center, coming up one win short in 2018, 2020 and 2022.
Tuesday night, Oregon City arrived back at the doorstep once again by beating visiting McNary 65-34 in a 6A first-round game. The ninth-seeded Pioneers (16-8) can earn a spot in the eight-team state tournament with a win Friday at No. 8 Willamette (16-7).
"It would honestly be just an amazing experience because we haven't been there in so long," junior guard Mollie Miller said. "And with this team, we deserve it."
After going 17-9 last season, expectations were modest for Oregon City this year.
"We graduated five seniors that played a lot of minutes, and some all-conference players, and a lot of leadership," coach Tiffani Traver said. "I wasn't really sure what we were going to get. It's probably the easiest team I've coached because they all get along so well. We could build on that. And that's kind of what we've done."
Traver said the leadership of players such as Miller, junior guard Megan Craig and sophomore guard Kaylee Wiese has helped point the team in the right direction.
"Every kid knew where they wanted to go, and our goal is playoffs, our goal is Chiles Center," Traver said. "We just have to get through Friday night, and we know that's going to be a challenge."
Oregon City bounced back from Three Rivers League losses to Tualatin and West Linn at the end of the regular season by handling the No. 24 Celtics (16-10). The Pioneers jumped to a 10-2 lead and were up 14-7 after one quarter and 27-15 at half.
Craig and Miller opened the second half with back-to-back three-pointers to make it 33-15. McNary was within 42-28 early in the fourth quarter, but the Pioneers blew the game open with a 13-0 run that extended the lead to 60-30.
Miller made three three-pointers and finished with 17 points. Craig added nine points on three three-pointers for Oregon City, which shot 10 of 23 from three-point range.
The strong performance was much needed after a disappointing 49-40 home loss to West Linn on Saturday. In that game, the Pioneers shot an uncharacteristic 11 percent from behind the arc.
"It wasn't the best shooting game we've had," Miller said. "So this game we came back extra strong, which is giving us better momentum into the next game."
Traver wasn't sure what to expect after having one practice in the last five days because of inclement weather. Also, tip-off was moved up from 6:30 p.m. to 5 p.m. to accommodate McNary, which canceled classes Tuesday due to snow.
"It's nice that we got this one on our court and we didn't have to travel anywhere," Traver said. "Once we picked it up, and kind of settled back down, it was really good. We needed this one."
The good vibes were flowing for Oregon City in the fourth quarter as the team's reserves fueled the late rally.
"We have amazing bench energy, which carries onto the court, which makes everyone play better as a team," Miller said. "Just the environment we're in, it's so positive. There's no negativity at all."
Miller, a reserve last year, continued her breakout junior season. The first-team all-league point guard is averaging 14 points, three assists and three steals and shooting 42.7 percent on three-pointers (64 for 150).
"I think our league now respects her," Traver said. "It took a little bit for her to be recognized because she didn't start for us last year. She was a scorer, but kind of a silent scorer. Now she's circled on their scouts as a shooter. Hopefully she'll be respected here soon by everybody, but she's definitely respected in our conference now."
Miller starts the game at point guard and slides over to wing, which makes it easier for her to spot up.
"She's a really efficient player," Traver said. "Her potential is so high. Just the amount she's grown over the last nine months is drastic."
For McNary, the loss marked the end of a season of progress under first-year coach Mike McShane. After going 8-16 last season, the Celtics finished as runners-up to West Salem in the Central Valley Conference.
Tuesday was their first playoff game since 2018, when they also lost at Oregon City in the first round. Juniors Ava Rubio and Avery Bass led McNary with 13 and 11 points, respectively.