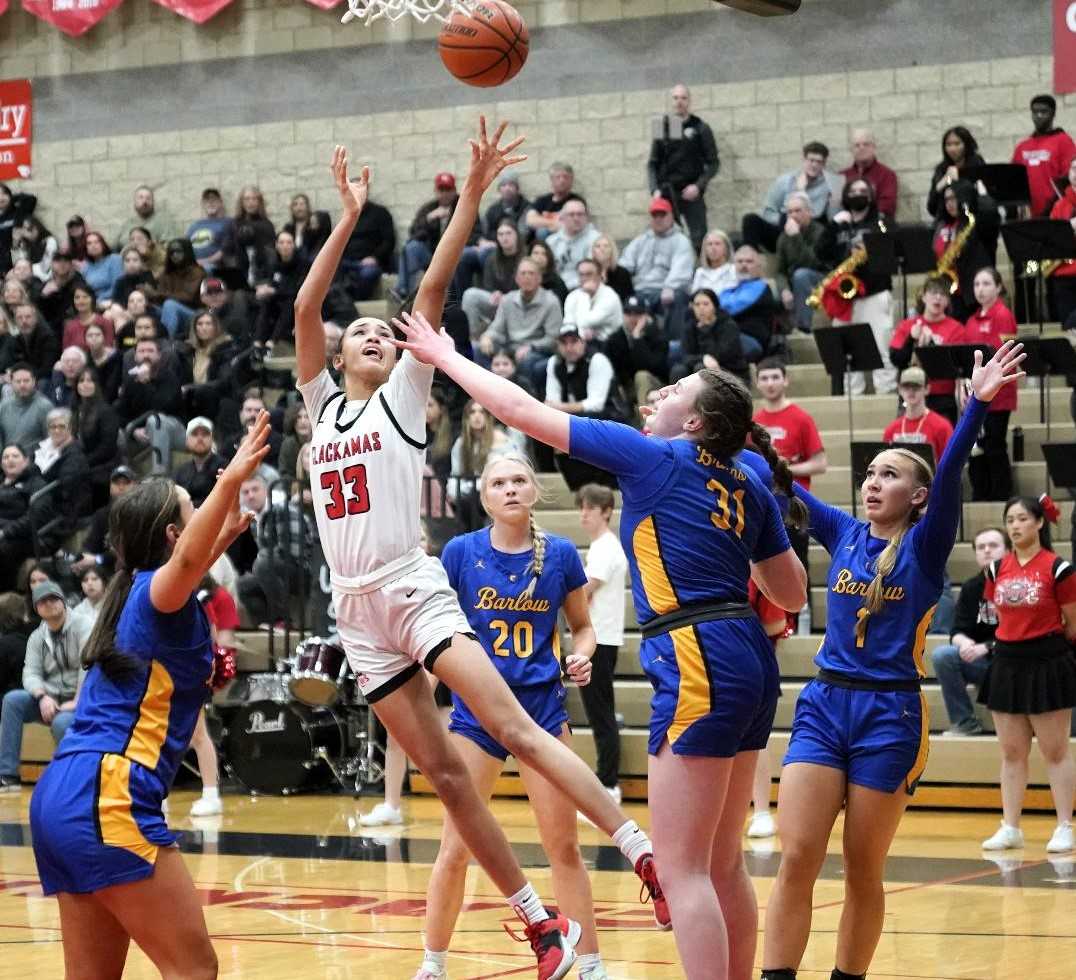 CLACKAMAS – Sure, the No. 1 ranking in the coaches poll is flattering, but the Clackamas girls basketball team has much more important things in mind for this season.
The Cavaliers accomplished one of their main goals Tuesday night, routing No. 5 Barlow 75-48 to clinch the outright title in the 6A Mt. Hood Conference. After sharing the title with the Bruins last season, Clackamas was single-minded in its purpose Tuesday night.
"Co-champions aren't really a thing, in our book," senior forward Eliza Buerk said. "It's either you win or you don't. We all knew what we had to do in order to win.
"There's a lot of people kind of talking about us now, but this is a statement win. It's kind of like showing us, if we stay true to ourselves, we can succeed, no matter what."
Sophomore guard Jazzy Davidson once again showed the way with 19 points, eight rebounds, three assists, five blocks and two steals. Senior guard Rhyan Mogel chipped in with 15 points, seven rebounds, six assists and two steals as the host Cavaliers (20-4, 13-0) opened a two-game lead over Barlow (19-5, 11-2) with one game left.
"It's a huge deal to us," Davidson said of the outright title. "It's really good to have something for ourselves."
The 6-foot-1 Davidson played outstanding defense on explosive Barlow senior point guard Kennedie Shuler, holding her to 12 points, tied for the team high with senior Annie Koenig. Davidson used her length and athleticism to keep the Oregon State-bound Shuler from getting good looks on the perimeter and finishing inside.
"She's so locked in," Clackamas coach Korey Landolt said of Davidson. "She's so long, she's hard for anyone to play offense against. She has an advantage, too, because her and Kennedie have played together and against each other for so long."
In the first meeting between the teams, Clackamas' 50-42 win at Barlow on Jan. 27, Davidson held Shuler to 11 points.
"It's always fun getting to guard a really good player like Kennedie," Davidson said. "It's always fun taking on that challenge."
Buerk started the game by hitting a corner three-pointer and Clackamas never trailed. The Cavaliers used an 11-0 run to open a 31-18 lead late in the second quarter and were up 34-25 at half. They scored the first nine points of the second half, extending the lead to 43-25 on a three-pointer by sophomore guard Allie Roden.
"They're super talented, and deep," Barlow coach Nick Hudson said. "It doesn't help when they're shooting at a very high percentage like they did tonight. I told the girls, 'Tip our hats to them, and we have a lot more to play for, and a lot of basketball left in us. Try not to dwell on it for too long.'"
In the game at Barlow, the Bruins held Clackamas in check with a zone defense, leading by eight points in the third quarter before the Cavaliers rallied behind Davidson. This time, the zone wasn't as effective as Clackamas hit 10 three-pointers, getting three from Roden, two each from Buerk and sophomores Avery Peterson and Dylan Mogel and one from Rhyan Mogel.
"They're kind of a pick-your-poison type of team for us," Hudson said. "We went to the zone the first time, and it slowed them down. And tonight, they shot really well, and it's like, all right, now we've got to go man. They've got a lot of weapons who can get downhill and cause us to rotate."
Davidson said the Cavaliers were "super focused."
"The last time we played them, our zone offense is what killed us," she said. "We just worked on that, and kept locking down on defense."
Peterson finished with 10 points and five assists and Roden came off the bench for 13 points to spark the Cavaliers, who were balanced and efficient on offense. It was the kind of performance that strongly hints that the Cavaliers, semifinalists last year, could make a run for their first state title.
"We talked about it in the beginning of the season, and every once in a while when we need it, a reminder, we do use that as motivation," Buerk said. "But ultimately for us, it's doing the best best can at this moment in time. And hopefully that ends up with a state title."
Clackamas won't be lacking for confidence.
"I think we can go all the way this year," Davidson said. "I think we have a really good, special team. I think if we just stay within ourselves, I think we can do it."