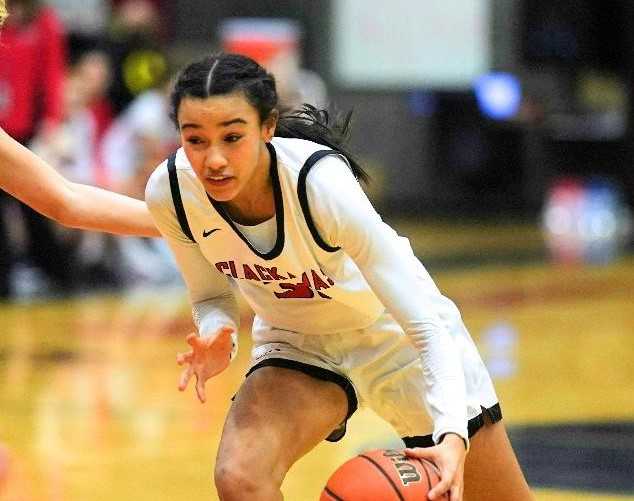 PORTLAND – Less than 24 hours after suffering its most disappointing loss of the girls basketball season, Clackamas bounced back with perhaps its most impressive win Friday.
Led by sophomore Jazzy Davidson, the No. 2 Cavaliers (5-4) locked down No. 1 Jesuit (6-2), pulling away in the second half for a 47-29 win in the Diamond bracket third-place game of the POA Holiday Classic at Franklin High School.
The win helped ease the sting of Thursday's 70-68 defeat to Camas (Wash.), a game in which Clackamas couldn't hold a 17-point lead and lost on a last-second shot.
"We kind of choked in the fourth quarter," Davidson said. "In my opinion, we had that game, we just kind of gave it to them. This win definitely feels really good because we corrected everything we did wrong last night."
Clackamas coach Korey Landolt, whose team went 1-3 against elite competition in the Nike Tournament of Champions in Arizona last week, was impressed by how the sophomore-dominated Cavaliers responded to Thursday's loss.
"Those losses are hard to swallow," Landolt said. "This team is really unique and special. We're still pretty young, and to fail and be able to come back the next day and right the ship, it felt really good."
The 6-1 Davidson made 8 of 13 shots and finished with 18 points, 11 rebounds, three steals and three blocks. All three of the blocks came against Oregon-bound Jesuit senior guard Sofia Bell, who had difficulty shaking Davidson and finished with five points on 2-for-13 shooting.
"I was trying to take away her three-point shot," Davidson said of Bell, who scored 40 points in the first two games of the tournament. "She's a knock-down shooter, and she can hit it off the dribble. I was trying to get through screens and cut her off on the drive. Just make it harder for her to score. She's an amazing player, so it's always hard to guard her."
Davidson produced once again on offense, finishing the three-game tournament with 65 points. But it was her defense against Bell that stood out Friday.
"Jazzy loves challenges like that," Landolt said. "It's amazing the stuff that Jazzy can do when we find cool ways to challenge her. She's so talented, but sometimes defensively she kind of floats. So it was really cool to see her take the challenge and lock in and really defend one of the top players in the state. Sofia Bell is a great player."
The Crusaders, who entered averaging 67.0 points per game, finished with their lowest total since a 43-28 loss to Westview in the COVID-shortened season. Jesuit shot 19.6 percent (10 for 51).
"We had struggled the past two games coming out in the third quarter, and I think that's really where we fell behind," Crusaders senior guard Emma Sixta said. "Credit to them, they went on a roll and didn't look back. The first half, we played really good defense, we just couldn't get a good look.
"They're all really good defenders. I think we didn't compete as much as they did."
The Cavaliers cut off Jesuit's drives and got a hand up on every shot.
"We were just connected," Davidson said. "We were talking to each other. That's what we need to do. Help side was huge tonight."
Clackamas led 15-14 late in the second quarter before taking control. The Cavaliers led 19-14 at half and scored the first eight points of the third quarter, pulling ahead 27-14 on back-to-back three-pointers by Davidson and sophomore Sara Barhoum.
The Crusaders got to within 28-21 before Clackamas went on a 17-1 run to lead 45-22. Davidson punctuated the surge by blocking Bell and driving for a layup.
The dominance over Jesuit was reminiscent of last season, when the Cavaliers won at home 55-32 to hand the Crusaders their worst loss of the season. That was before Bell transferred to Jesuit from St. Mary's Academy.
"I think we kind of did the same thing this time," Davidson said. "Obviously them having Sofia, it made it a little bit harder. But I think we executed what our plan was."
It was the type of performance that Clackamas can reference as it goes forward.
"This is kind of like the bar we're setting," Davidson said. "We just need to consistently play like this to do what we want to do."
Barhoum had eight points and sophomore point guard Avery Peterson added six points, two assists and four steals for the Cavaliers, who shot 45.2 percent (19 for 42).
Sixta made three three-pointers and scored 17 points and junior forward Kendra Hicks had four points and 15 rebounds, including 11 offensive boards, for Jesuit.
The defeat came a day after Jesuit put up a game fight in a 64-53 semifinal loss to Sierra Canyon, the reigning California champion and ranked No. 2 in the nation by MaxPreps and ESPN.
Also at the POA Holiday Classic:
La Jolla Country Day (Calif.) 65, No. 4 Beaverton 42: The Torreys, ranked No. 4 in the nation by ESPN, broke away in the second half to defeat the reigning 6A champion Beavers (6-6) in the Platinum bracket final.
Beaverton led 28-26 when senior Zoe Borter made two free throws with 3:40 left in the first half, but La Jolla Country Day scored the next 16 points to open a 42-28 lead with 3:05 remaining in the third quarter.
Tajianna Roberts had eight points during the decisive run, which included three-pointers by Naomi Panganiban and Sumayah Sugapong. The Torreys led 50-33 after three quarters as Sugapong and Erin Sicari added three-pointers.
Breya Cunningham led the La Jolla Country Day with 23 points, eight rebounds and four blocks, making 10 of 13 shots. Sugapong added 16 points, four rebounds and four assists.
Beaverton got 19 points from Madison Naro, who made all five of her three-point attempts, and 11 points and eight rebounds from Lainey Spear.
Sierra Canyon (Calif.) 58, Camas (Wash.) 53: Sierra Canyon, ranked No. 2 in the nation, held off Camas behind MacKenly Randolph (24 points, 13 rebounds, four steals) and Judea Watkins (23 points, 12 rebounds, three steals) to win the Diamond bracket.
Addison Harris led the Papermakers with 23 points and 10 rebounds.
No. 3 South Medford 71, No. 6 Benson 28: Donovyn Hunter made 13 of 19 shots and had 28 points and five steals as the Panthers (9-2) dominated the Techsters (2-6) in the third-place game of the Platinum bracket.
South Medford led 37-23 at half and outscored Benson 34-5 the rest of the way. The Panthers forced 22 turnovers, collecting 19 steals.
Mahogany Chandler-Roberts and Samarah Massey each scored nine points for the Techsters.