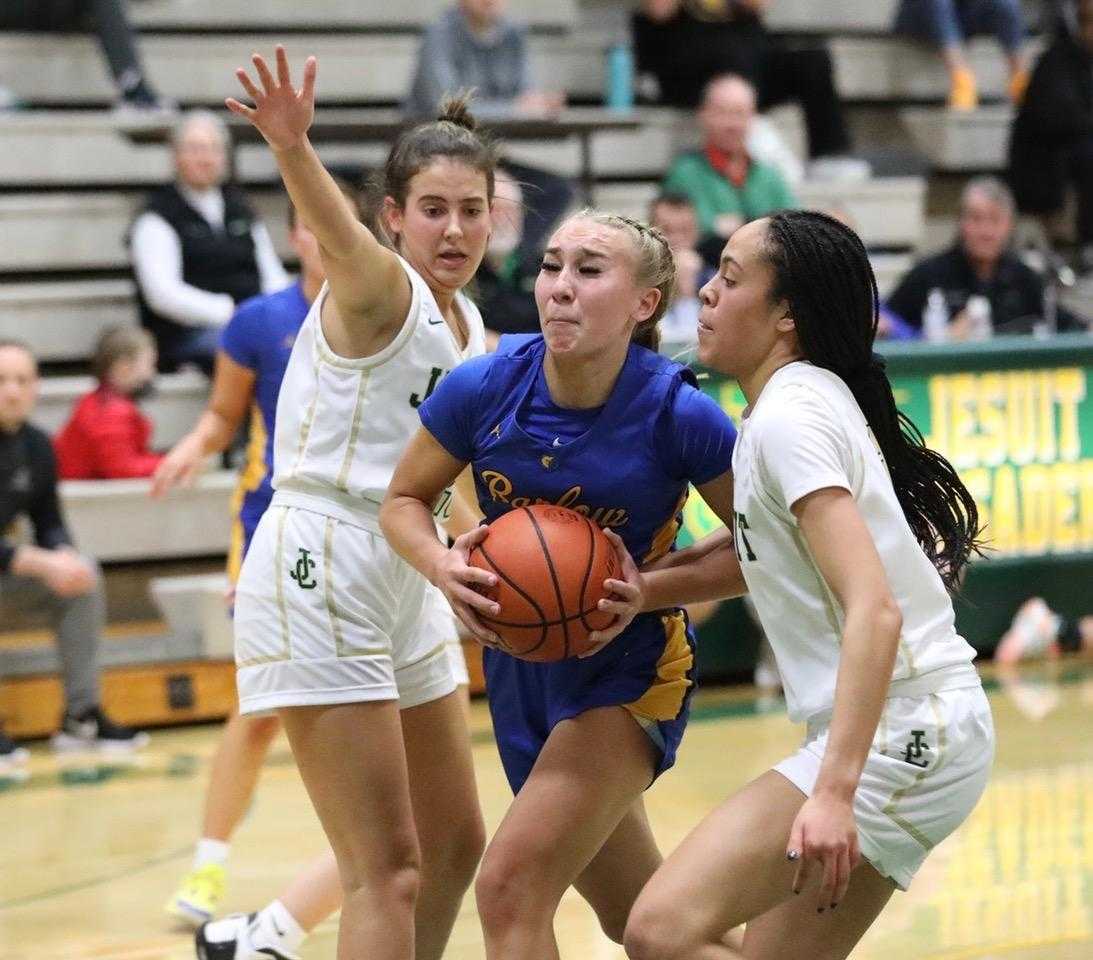 PORTLAND – The stifling man-to-man defense of senior guards Sofia Bell and Tessa Randall sparked No. 2 Jesuit to a 55-39 home win over No. 5 Barlow in a battle of 6A girls basketball powers Tuesday night.
The 6-foot-1 Bell, an Oregon commit, held Oregon State-bound senior point guard Kennedie Shuler to 11 points, well off her 21-point average. And the 5-10 Randall limited senior sharpshooter Annie Koenig to 13 points, below her 19-point average.
"Sofia and Tessa are two of the best defenders in the state, so they're going to see the two best non-posts every game," Jesuit coach Jason Lowery said. "They gave us exactly what we needed."
Randall said the performance reflected the Crusaders' defense-first approach.
"That's the main thing that we do, we take each and every possession personally," Randall said. "If your girl scores on you, that's on you. And the next one, you're going to have to work harder."
Bell scored 15 of her game-high 21 points in the second half as the Crusaders (5-0) broke away from a 24-20 halftime lead. She also had seven rebounds, three assists and four steals.
Junior post Kendra Hicks had 11 points and 15 rebounds and senior guard Emma Sixta added 11 points and eight rebounds.
It was the first big test of the season for Jesuit, which won its first four games by an average of 40.3 points. Bell, who sat out most of last season after transferring from St. Mary's Academy, has helped the Crusaders reach another level after returning most of their quarterfinal team.
"We're starting to really progress," said Bell, who is averaging 20.4 points, 4.5 rebounds, 5.0 assists and 5.3 steals. "With each game, we've had tougher opponents, but we're just learning to step up to their level and still excel."
Beating Barlow, which defeated Jesuit 52-36 in the quarterfinals last season, was an important marker for the Crusaders. Tuesday was their last game before the playing in the power-packed POA Holiday Classic Dec. 28-30.
"It shows us we're on track," Bell said. "But we still have a lot to work through, lots of ways to improve. It's a really good time to have a game like this and kind of show where you are, especially moving into the PIL tournament."
Barlow averaged 67.5 points in winning its first six games, but with Shuler and Koenig under wraps, the Bruins could not get untracked against the suffocating defense of the Crusaders.
"They were really good defensively," Barlow coach Nick Hudson said. "Our legs looked tired, but give them a lot of credit. Defensively, they got after us."
Bell's defense on the 5-10 Shuler set the tone. Shuler had difficulty getting good looks at the three-point line, and when she got past Bell off the dribble, the Crusaders were there to help.
"It's a tough match-up," Hudson said. "Sofia's obviously got some good height, and she's a good athlete, good athleticism. It caused some problems for us. And (Randall) did a really good job of staying attached to Annie."
Randall said that Bell, ranked as the No. 26 senior prospect in the nation by ESPN, is a "great addition."
"She fits in nicely with our team," Randall said. "It's awesome having her. She sees the court really nicely, and especially her defense, being able to lock down on a player."
Lowery said of Bell: "Sofia can guard. You forget that she's 6-1, and that wingspan. She's smart, she competes and she's tough. She's impactful."
Jesuit scored the last seven points of the third quarter to open a 38-27 lead. Bell stole a pass intended for Shuler and converted it into a layup for make it 36-27. The next time down the court, Randall stripped the ball from Koenig and fed senior Avery Edwards for a layup at the buzzer.
Bell scored 11 points in the fourth quarter as Jesuit built the lead as high as 51-33.
"We defended well, and then we started finding the basket," Lowery said. "I'm a defensive-minded coach – this program is built on defense – so it was good to need our defense to win a game tonight."
Canby rolling
Canby is off to an 8-0 start after sweeping three games in the White bracket in the Nike Interstate Shootout at Lake Oswego High School.
The 5A No. 4 Cougars defeated Reynolds 74-29, Southridge 53-44 and Century 39-37 to win the bracket title.
"The great start is due to our roster allowing us to get scoring contributions from at least seven players every game," coach TJ Fronius said. "We have a group of unselfish girls that play for each other and play together."
In the final against Century, Canby trailed 16-4 after one quarter before rallying behind its defense. The Cougars outscored the Jaguars 15-3 in the third quarter, getting seven points from senior guard Allie Mead.
Junior post RayAnne Schedler had 12 points and 12 rebounds and senior Willow Conroy added nine rebounds in the championship game.
Schedler scored a team-high 41 points in the three games, including 25 against Reynolds. Mead had 38 points in the tournament, putting up 21 against Southridge, including four late free throws to seal the win.
Mead leads Canby in scoring at 14.9 points per game, followed by Schedler (8.0) and senior wing McKenna Kraft (7.3).
In the other finals at the Nike Interstate Shootout, Mountainside defeated Lake Oswego 42-34 to win the Navy bracket and South Albany held off McNary 35-34 to take the Red bracket.
Panthers upend CV
Playing without Oregon State-bound senior guard Donovyn Hunter, who was ill, 6A No. 4 South Medford went on the road to hand reigning 5A champion and top-ranked Crescent Valley its first defeat Saturday.
The Panthers (6-1) won 58-49 behind 19 points from senior guard Tatum Schmerbach. They also got 17 points from freshman guard Taylor Young and 15 points from sophomore guard Sara Schmerbach.
Sara Schmerbach and Young had seven and five steals, respectively, for South Medford, which led 26-25 at half and 43-40 after three quarters. Senior guard Gabby Bland had 25 points for Crescent Valley (4-1).
South Medford was coming off a 68-52 win at 5A No. 8 Corvallis the previous night. Young had 25 points, seven steals and five assists and Hunter added 21 points and six steals in limited duty.
The Panthers played both games without senior guard Kendall Fealey, a starter who averages double figures in scoring.
Astoria takes tourney
Astoria survived a fourth-quarter comeback by Philomath to win 51-43 in overtime in the final of the South Coast Les Schwab Tournament at Marshfield High School on Saturday.
Sophomore guard Shelby Bruney sparked a third-quarter run as 4A No. 2 Astoria outscored 4A No. 8 Philomath 13-0 to lead 35-20 entering the fourth quarter. The reigning state champion Warriors (3-4) rallied to take the lead, but Fishermen sophomore post Malory Dundas made two free throws to force overtime at 39-39.
Bruney finished with 17 points for Astoria (5-1), which outscored Philomath 12-4 in the extra session.
"They came out and played with a purpose and created turnovers and finished the game," Astoria coach Mike Jacobson told the Daily Astorian.
The Fishermen advanced to the final by beating 4A No. 7 Marshfield 44-36 in a semifinal, their second win over the Pirates this season. Junior guard Maitlin Young scored 27 points and Bruney added seven points, seven steals, six rebounds and four assists for Astoria.
Notes: Top 10 Oregon 6A teams struggled in the Nike Tournament of Champions on Monday and Tuesday in Mesa, Ariz. No. 1 Clackamas fell to Lone Peak (Utah) 44-40 and Sage Hill (Calif.) 57-47. Sophomore Jazzy Davidson had 40 points and 16 rebounds in the two losses; No. 3 Beaverton lost to Bishop McNamara (Md.) 60-34 and St. Mary's of Stockton (Calif.) 52-48; No. 6 Benson lost to Folsom (Calif.) 64-45 on Monday and rebounded to defeat St. Mary's (N.Y.) 75-73 on Tuesday. Springfield, No. 2 in 5A, fell to Christ the King (N.Y.) 52-46 and Salpointe Catholic (Ariz.) 38-33. … Colton junior Izzy English averaged 17 points and five steals and shot 58 percent in three wins last week. The 2A No. 6 Vikings are holding opponents to 20.3 points per game in a 7-0 start. … Century freshman guard Mia Brownson (5-4) had 31 points, three rebounds and four steals in a 52-49 win over West Albany on Saturday at the Nike Interstate Shootout. She scored 19 points Dec. 13 against Hillsboro.