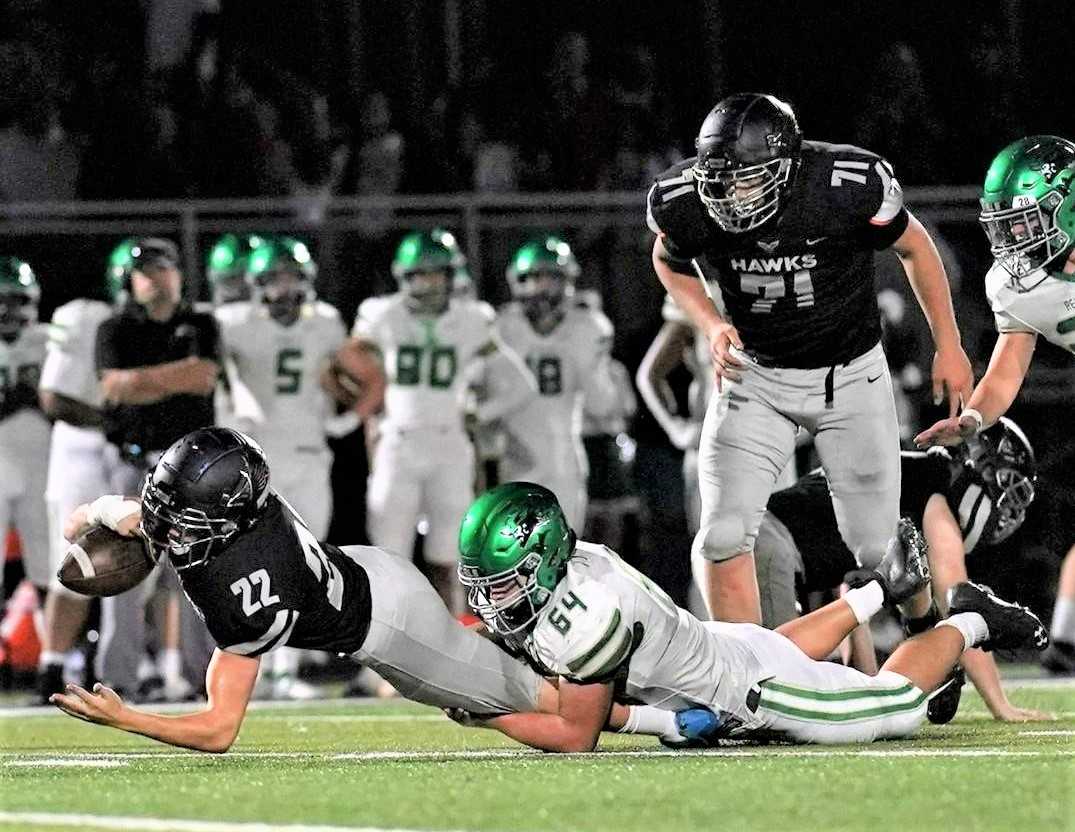 In the spring, Nelson football coach Aaron Hazel sensed a tangible belief building in his players.
It was an attitude that belied the 2-7 record from the program's varsity debut season in 2021.
"I think they might've had an unwarranted confidence," Hazel said.
As this season has progressed, however, the Hawks have validated that belief. They completed the regular season 7-1, losing only to two-time reigning 6A champion Central Catholic, and earned the No. 11 seed to the 6A playoffs. They will visit No. 6 Mountainside (8-1) for a first-round game Friday.
"We've had some moments … beating teams that really took it to us physically the year before, and their confidence has grown," Hazel said. "Now they feel like they belong on the field with anybody."
The Hawks, who split from Clackamas when the Happy Valley school opened last year, have come a long way in a short time. Hazel, who left the job at La Salle Prep to start the program, said he often is asked how the team has made such a leap this year.
"Everybody's back, and they're an inch or two taller and about 20 pounds heavier and stronger," he said.
Nelson's physical maturation has allowed the Hawks to go toe-to-toe in the trenches with 6A programs.
"We knew we had to improve running the ball when we got to the scoring zone, and not give up big chunks on the ground defensively," Hazel said. "Those guys up front h
ave really done a great job this year. As soon as we saw we were able to start running the ball, we started getting a little excited."
Juniors Boone Standley (6-5, 245) and Noah Julison (6-2, 280) anchor the offensive line. They also stand out on the defensive front along with senior Rene Silva Herrejon (6-4, 220) and massive sophomore nose guard Dominic Macon (6-4, 285).
Macon takes on double-teams, freeing up his teammates to make plays.
"He makes things go for us," Hazel said.
Nelson got a breakthrough win in Week 5 when it defeated Clackamas 42-35 in overtime, and followed that with a clutch 37-34 victory at Barlow. The Cavaliers and Bruins defeated the Hawks by a combined 93-0 last season.
"Winning those close games back-to-back really paid off," Hazel said.
In Week 8 at Sandy, Nelson started slow and appeared to be in trouble, but stabilized and pulled out a 28-16 win.
"Their confidence never wavered," Hazel said. "The kids felt good the whole game. They knew we had a slow start, but they were going to turn it on and be ready to go in the second half."
Sophomore quarterback Avirey Durdahl, who became the starter in the second half of last season, has completed 61.8 percent of his passes for 1,616 yards and 18 touchdowns with two interceptions. He is showing growth in working through his progressions.
"His confidence in all the guys on the field is pretty high right now," Hazel said.
Senior running back Jaidon Siler, a transfer from Virginia, has rushed for a team-high 527 yards and 11 touchdowns and caught two scoring passes.
"He's really turned it on since the Barlow game," Hazel said. "We said, 'Hey, not every play has to be a home run. He's really improved in that area, just moving the chains, not taking negative plays."
Senior receiver Reid Gray is another big-play threat. He has 35 catches for 587 yards and 10 touchdowns and has returned a kickoff and blocked punt for scores.
"He's just so dynamic," Hazel said. "He's faster than anyone else when it comes to going full speed and changing directions."
Mountainside, in its fifth varsity season, posted its best regular-season record. The only blemish on the Mavericks' record is a 40-10 loss at No. 4 seed Jesuit.
Junior quarterback Alex Ingalls has passed for 14 touchdowns, seven to 6-4 sophomore basketball standout Brayden Boe. Senior AaronRey Simpson has rushed for 502 yards, including a season-high 167 last week against Aloha.
"They're so disciplined," Hazel said. "They're not going to beat themselves. We're going to have to beat them."
It's a big week for Nelson sports. Not only is the football team in the playoffs for the first time, but the volleyball team, which knocked off reigning 6A champion West Linn in the playoffs, will make its state tournament debut.
"The vibe around the school has been awesome," Hazel said. "It's a fun place to be right now."
Other notable matchups from the first round of the playoffs:
Friday
6A
No. 9 South Salem (8-1) at No. 8 Sherwood (7-2), 7 p.m.: Sherwood ran the table in the Pacific Conference, including a 20-19 thriller over Liberty last week to clinch the outright title. The Bowmen now must contend with prolific South Salem quarterback Daschel Smith, who has passed for 2,783 yards and 33 touchdowns.
No. 13 Tigard (6-3) at No. 4 Jesuit (8-1), 7 p.m.: Tigard was riding high at 6-0 before falling to West Linn, Lake Oswego and Tualatin in Three Rivers League games. The Tigers have been exposed to top-end teams, but haven't seen a running attack like Jesuit, which features senior Payton Roth, who had 6A highs of 1,637 rushing yards and 20 rushing touchdowns through eight games before sitting last week.
No. 10 North Medford (6-3) at No. 7 Lake Oswego (6-3), 7 p.m.: Lake Oswego made the final four in three of the last four postseasons, and although the Lakers appear to have slipped this season, it would be a mistake to count out a Steve Coury-coached team. North Medford, which outscored McNary and South Medford 87-6 in its last two games, has lots of momentum.
Columbia Cup (6A)
No. 27 Sandy (4-5) at No. 22 Lakeridge (3-6), 7 p.m.: Lakeridge, which started the season hopeful of contending for a state championship, has been relegated to the inaugural Columbia Cup, a 16-team secondary bracket. The Pacers are toughened up after playing in the Three Rivers League, and must come ready to face the physical Pioneers.
5A
No. 12 Dallas (5-3) at No. 5 Putnam (8-1), 7 p.m.: It's a big event for Putnam, which is having its best season since 1986, the last time it won a playoff game. The Kingsmen are making their first playoff appearance since 2012, when they lost to Silverton 49-0 in the first round. Dallas is coming off a 79-71 win over Crescent Valley in a game that set the modern-day state record for points in a game.
No. 10 Springfield (6-3) at No. 7 Silverton (6-3), 7 p.m.: Promising young Springfield, which has made progress after posting only six on-field victories in the last six seasons, appears in the playoffs for the first time since making the quarterfinals in 2015. The Millers take on the reigning 5A champion Foxes, who are coming off losses to West Albany and Lebanon.
4A
No. 9 Marshfield (6-3) at No. 8 Scappoose (7-2), 7 p.m.: Marshfield, which had to replace starters at 20 positions from last year's state champion team, meets the explosive Indians, who have lost only to Estacada and Tillamook. Scappoose is back in 4A after four seasons in 5A, where it made the quarterfinals twice.
No. 11 Woodburn (7-2) at No. 6 Tillamook (7-2), 7 p.m.: A rematch from Week 3, when Tillamook won at Woodburn 28-7. The Cheesemakers went on to win their first league title in 23 years, taking the Cowapa League crown with a 17-14 overtime win over Scappoose. Woodburn features a crop of impactful sophomores, including quarterback Cruz Veliz.
3A
No. 11 Coquille (6-3) at No. 6 Dayton (7-2), 7 p.m.: Coquille won the 2A title last year, its first state championship since 1970, and made a respectable showing in moving up to 3A this year, finishing tied for third in Special District 3 behind powerhouses Cascade Christian and South Umpqua. Dayton, which took third in Special District 2 behind state powers Kennedy and Santiam Christian, has a potent ground attack with Nate Arce and Zach Smith.
1A-8
No. 10 Cove (5-4) at No. 7 Enterprise (6-3), 6 p.m.: Enterprise, with its most wins since going 6-4 in 2012, is going after its first playoff win since 1998, when it lost to Amity in the 2A final. Of Cove's four losses, three came against No. 1 St. Paul, No. 4 Crane and No. 6 Adrian.
Saturday
2A
No. 13 Monroe (5-3) vs. No. 4 Heppner (7-2) at Morrow County Fairgrounds, 12 p.m.: Heppner, which won the state title in 2019 and fell in the semifinals last year, has lost only to 3A Warrenton and 1A-8 Lost River. Monroe, with junior running back Nate Young, is averaging 39.0 points per game.
1A-6
No. 5 Siletz Valley (7-2) vs. No. 4 Spray/Mitchell/Wheeler (7-1) at Wheeler HS, 3:30 p.m.: The quarterfinals kick off the start of the first official six-man playoff. Siletz Valley has made dramatic improvement after going 0-5 last season. Spray/Mitchell/Wheeler, which went 10-0 and won the unofficial six-man title last year, has lost only to Joseph in a 34-33 thriller.