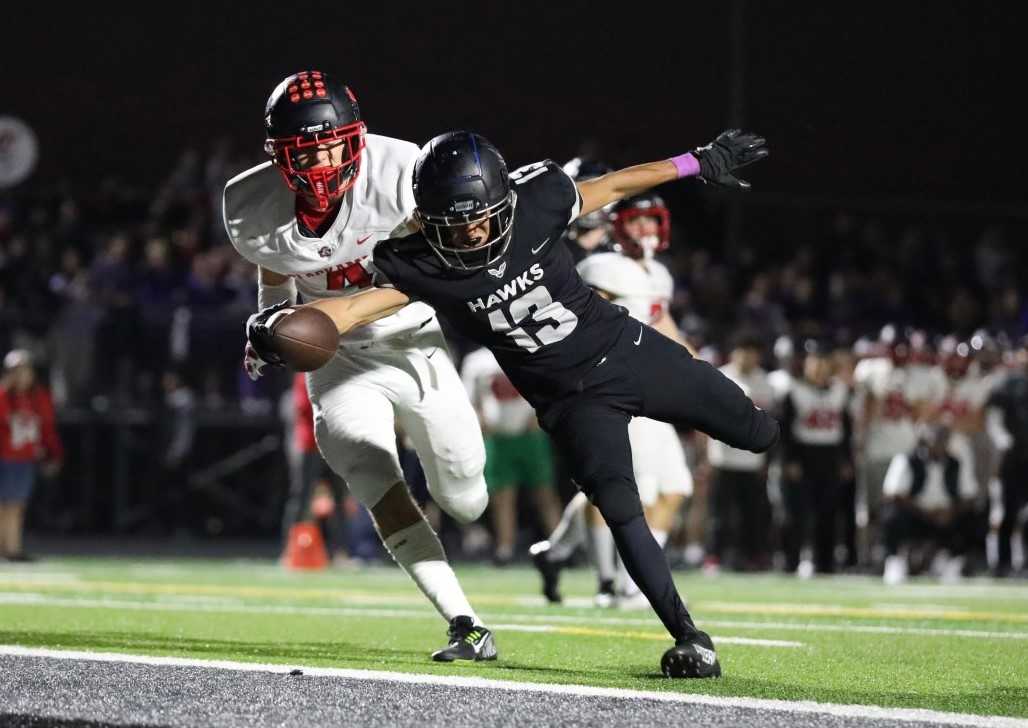 HAPPY VALLEY – Little brother is growing up fast.
In its second season after splitting off from Clackamas, Nelson took down the neighboring Cavaliers in dramatic fashion Friday night, winning 42-35 in overtime in a pivotal Mt. Hood Conference football game.
Senior Max Kirsch caught a 25-yard touchdown pass from sophomore Avirey Durdahl on the first play of overtime and junior Lucas Womack ended Clackamas' series with an interception to give the upstart Hawks (3-1, 2-1) the breakthrough win.
"It feels great, man," said Durdahl, who completed 23 of 32 passes for 276 yards and four touchdowns. "Our second year as a program, and we've gotten a lot better since last year. I'm not surprised at all. We've worked our butts off."
The penalty-filled, emotionally charged game was much different than last year, when Clackamas dominated a young Nelson team 52-0. This time, the Hawks jumped on the Cavaliers early and made it clear they weren't going away.
"It means everything to us, especially our seniors," Kirsch said. "This is the only time we can get back at them. This is going to last for the rest of our lives when we beat them. They're all our friends over there, so we'll let them know."
Kirsch, who also returned a punt for a touchdown, drew inspiration for the game from his brothers, Hayden and Kyle, former Clackamas standouts.
"They were firing me up the whole week," Kirsch said. "They're the biggest Nelson fans I have. Big support. We respect everyone over there. They're all our friends, but it feels good, for sure."
The Cavaliers (2-3, 1-2) knew the Hawks would be coming after them.
"There's been chatter since last year, the last time we met," Clackamas senior receiver Cooper Beltz said. "We all knew this day was coming. This game was highly anticipated. It was a fun one, for sure. I know we didn't win, but I had a lot of fun playing against my childhood friends."
It marked the second overtime loss in a row for the Cavaliers, who fell to Barlow 21-14 last week.
"We just came up short. Nelson played well," Clackamas senior quarterback Blake Baker said. "Those are all our buddies, this is their night, and good for them. But we're just going to go back to the drawing board and do better."
The teams traded touchdowns in a first half that ended with Nelson up 21-19. Clackamas took its first lead midway through the third quarter when Baker's 45-yard touchdown pass to senior AJ Perez, and ensuring two-point conversion, made it 27-21.
But on the touchdown pass, Baker was flagged for unsportsmanlike conduct, his second of the game, resulting in his ejection.
"After we scored, I cursed on the way down the field, and I got thrown out of the game," said Baker, who completed 17 of 24 passes for 307 yards and three touchdowns.
Freshman Dylan Brower subbed for Baker on the two-point conversion, throwing a scoring strike to Beltz, and finished off the game. Brower played beyond his years, going 11 of 18 for 96 yards, but lost a fumble and had two interceptions.
After falling behind, Nelson got the jolt it needed when Kirsch returned a punt 70 yards for a touchdown to put the Hawks ahead 28-27 late in the third quarter.
"Great return by Max," Womack said. "That return changed everything. It brought up all of our momentum."
On Clackamas' next play, Brower fumbled while trying to escape a heavy pass rush. Nelson senior Alex Nita picked up the ball and ran four yards into the end zone to push the lead to 35-27.
Brower deftly directed an 80-yard drive that ended with a nine-yard touchdown run by Beltz, then threw a two-point conversion pass to Perez to make it 35-35 with 5:39 left.
Neither team threatened to score in the final minutes, sending the game into overtime, where Durdahl threw a perfect strike to Kirsch for the go-ahead score.
"We drew up the play perfectly," Kirsch said. "They put me on a post, and I knew I could beat them. Avirey threw a dime."
Brower was called for intentional grounding on Clackamas' first overtime play, a loss of 21 yards. On third-and-18 at the Nelson 33, Brower threw deep for Perez, but Womack caught it inside the five-yard line to end the game.
"It's a great win, great feeling," Womack said. "We've grown up with these kids through youth ball, and the split was really tough. I just transferred from Clackamas last year, and to get that win, it means the world.
"Bragging rights are until next year, next time we play. We play them at their home turf."
The game-ending interception was the second pick of the game for Womack, who ended a Clackamas drive near midfield with 1:07 left in the fourth quarter when junior defensive back Sam Lewis saved a pass that was sailing out of bounds into his hands.
"Great play, 100 IQ play," Womack said. "That's going to be on ESPN. That helped us so much."
Said Lewis: "I've seen it in college once. I just saw Luke so I tipped it back."
Clackamas finished with a 493-299 edge in total yards. Perez had 15 catches for 219 yards and two touchdowns. Beltz had eight catches for 130 yards and one touchdown and ran for 68 yards and two scores on nine carries.
Nelson senior Reid Gray had seven catches for 66 yards and two touchdowns and Womack had six catches for 101 yards. Hawks senior running back Jaidon Siler had zero rushing yards on 10 carries but turned a screen pass into a 47-yard touchdown in the first half.