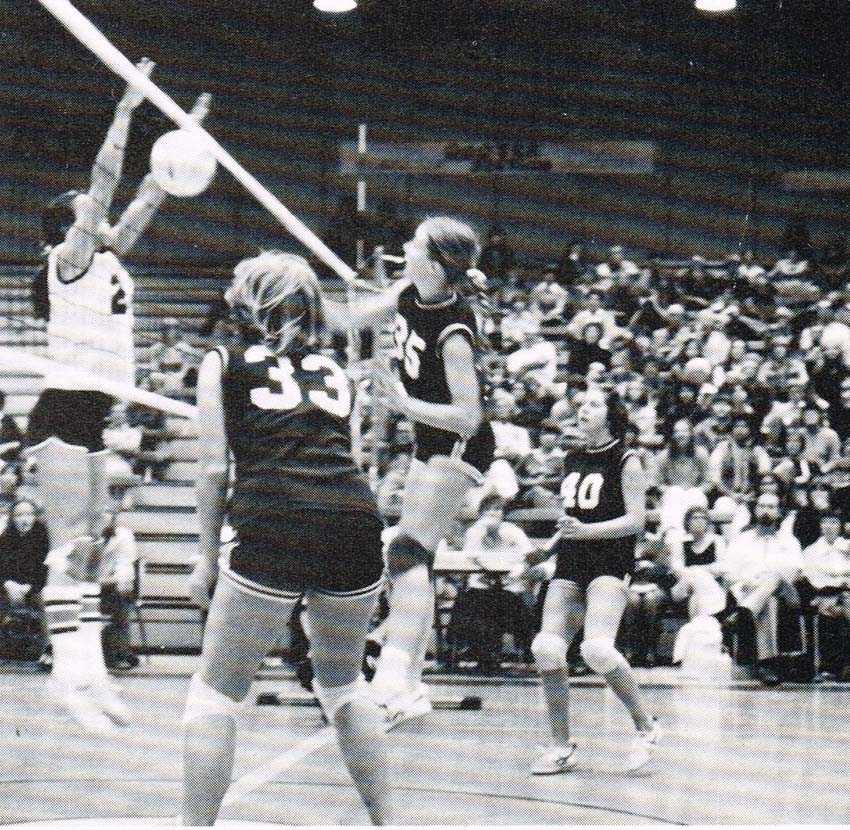 Anna Maria Lopez was a freshman at St. Mary's Academy when she played in her first OSAA state tournament in 1974, held at Portland State University. It also happened to be the first state volleyball tournament ever run by the Oregon School Activities Association. Churchill defeated Clackamas for the AAA title, 15-3, 15-7. St. Mary's placed third.
"You walk in and it's this huge gym and there are lots of other teams," said Lopez. "I had no idea."
Later today, for the 45th consecutive year, the OSAA will crown state volleyball champions, now in six classifications in tournaments held at three separate locations around the state. Successful teams will serve tantalizing jump floats, block at the net with impunity, hit unstoppable slides behind the setter and look to their liberos to lead the defense.
It's safe to say the game has evolved over the past 45 years…
Lopez, who stands 6-2, was a four-year star for the Blues and was part of two state-championship teams. She went on to play at USC and was part of national championship teams in 1980 and 1981. She returned to St. Mary's as a teacher and coach in 1985 and has served as the school's athletic director for the past 29 years. She has seen the sport change from a front-row seat.
In 1974, teams only scored points on their own serve rather than the rally scoring of today where a point is awarded on every serve. Players served only from right back and there were no top-spin jump serves or jump floats. The serve was not seen as a weapon to score points or put pressure on the defense but rather as a means of starting a rally. If you hit the net on serve and the ball trickled over, that was a side out for the other team not a point for you.
Serves that made it over the net were passed, not by defensive specialists or dedicated defenders, called "liberos," who became part of the game in 2006, but by the players in the back row at the time. If they had to go to the ground to attempt a dig, players dove for the ball; they did not roll like they do today.
Players rotated and played all the way around. When in the back row, they passed and dug. In the front row, they hit. Uniforms were t-shirts and shorts. It was a simpler time.
"We didn't have specific positions," said Lopez. "And we didn't really run plays. The game has become a lot more refined."
"It was basic volleyball," said Carl Neuberger, an Oregon coaching legend and former head coach at Portland State who recently retired after serving as head coach at West Linn for 17 years. "Set it outside or a high ball in the middle. Rarely back set.
"If you had a player like Anna Maria you would set her every ball."
Setters set from the ground. Jump setting was virtually non-existent except as an effort to save a pass that was too high. More sophisticated teams would try to run tempo with short sets to the middle and shoot sets to the left side, but most of the time the set was high and slow. Throw it up into the rafters and let your big hitter go get it. If she was in the back row, set her there. Attacks off of one foot, especially slides where players run to the right behind the setter, were rarer than rare. So, too, was the block on the other side of the net. It wasn't well-formed or coordinated and would-be blockers had not yet perfected the technique of pressing over the net to stop an attack. The best, most athletic hitters dominated in the 70s because there were few hands in their way.
Every team had good athletes but there weren't as many good coaches.
"If you had good athletes and were a good coach you could make hay because it wasn't as competitive," Neuberger said. "Athletes with polish always beat athletes without."
In the 1980s, as club volleyball began to grow in popularity, the quality of volleyball being played in Oregon went up a notch.
"More athletes began specializing in one sport," noted Central Catholic head coach Rick Lorenz, the winningest coach in state history.
"We played every sport that came along back in the day," said Lopez, who also played basketball at USC. "Volleyball is like golf; it's a game of precision. The more you practice the better off you're going to be. Players today have better skills because they play year round."
"The ball control is better now because of the amount of volleyball the athletes are playing," added Melanie Hambelton, the longtime head coach at Concordia University who starred for Estacada in the 70s. "The athletes are bigger, too, so there's a lot more power within the game."
"The biggest change for me over the years has been the growth in parity among teams," noted Lorenz, whose Ram team was upset in the 6A quarterfinals yesterday afternoon. "There used to be 3-4 teams that could win it all. Now there might be six or seven."
"There are so many more athletes playing volleyball year round so it's much more competitive statewide," added Hambleton. "When I played at Estacada I was playing year round because we had a great club program called the LOCOS and we traveled everywhere to play a lot of volleyball. There weren't a lot of high school athletes doing that so we had a definite advantage."
"There were always athletes but the number and quality have improved because of out-of-season opportunities that help them develop," Neuberger said. "Overall the game is better because the depth is better."
This evening in 6A, Jesuit, the only nationally-ranked team in Oregon, will try to win its fourth state title since 2012. The Crusaders field a roster with six players standing six-feet tall or taller. All play but a few play club volleyball. None plays basketball for Jesuit or any other winter sport.
Volleyball has changed since that first OSAA state tournament in 1974. The rules are different, the strategies more sophisticated, the benches deeper with athletes specializing in the sport.
One thing that hasn't changed, however, is the love of the game. It has been one constant for at least the past 45 years.
"I loved my time playing volleyball back in the 70s and I'm grateful for the opportunities in life that volleyball has given me," said Hambelton. "I was able to get a college degree because of this sport and I'm still involved in this game that I love. It's hard to believe it's been a part of my life for 44 years!"