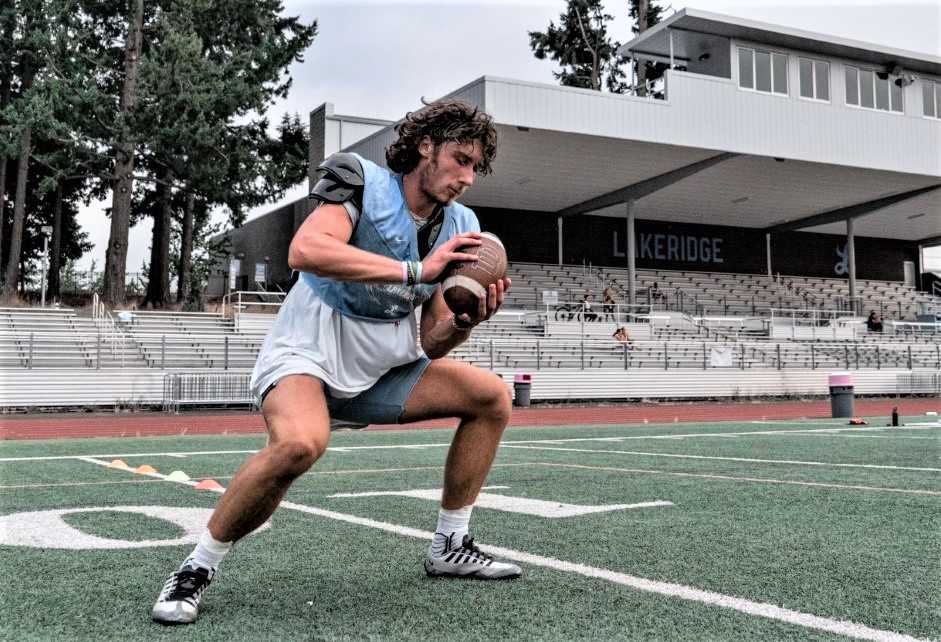 Lakeridge proved that it can go toe-to-toe with the powerhouse programs in Three Rivers League football in recent seasons.
Now, the Pacers appear to be in position to make a big move.
With nine offensive starters back from last year's 6A quarterfinal team – including one of the state's most dynamic threats in junior receiver Joey Olsen and an experienced quarterback in senior Ryan Oliver – and two potential impact transfers, Lakeridge is shooting for its first league title since 1994.
"We've got a great group of kids, top to bottom," third-year coach Spencer Phillips said.
The 6-foot-5, 200-pound Olsen has double-digit Division I offers, including Oregon, Oregon State, Utah, USC, Penn State and Tennessee. As a sophomore, he caught 28 passes for 727 yards (26.0 yards per catch) and seven touchdowns.
"He's incredible," Phillips said. "He's just a super athlete. It's really a special thing when your best player is also your hardest worker and best teammate. I'm lucky that I get to coach him two more years."
The Pacers got a boost with two high-profile transfers in defensive end Tristan Davis (Wilsonville) and running back Donald "Chili" Stephens (Grant). The 6-7, 235-pound Davis has committed to Arizona.
"He's a big kid and kind of a game-wrecker, game-changer," Phillips said. "He's going to do a lot of things for us. He's going to play some offensive tackle for us, and when we have to, we'll switch his jersey out so he can play tight end, catch some jump-balls in the end zone."
Stephens was the starting running back for Portland Interscholastic League champion Grant last year. His addition helps compensate for the graduation of running back Jake Reichle, who ran for 1,975 yards last season.
"He's a very smooth runner," Phillips said of Stephens. "He has excellent feet, great vision, catches the ball out of the backfield well. He's very tough. He's going to be really, really fun to watch this year.
"He definitely brings a different dynamic to our team. Jake Reichle was more of a downhill, power rusher. Chili, he's like 215, 220 pounds, and he can still lower the pads and take you down, but for someone to move around the way he does at his size, it's just a little bit different style of runner."
New 4A contender?
Pendleton, which began playing football in the early 1900s, was a mainstay in Oregon's big-school division until being assigned to 5A in the six-classification split in 2006.
This season, the Buckaroos – who made the 5A playoffs 10 times since 2006 – are dropping to 4A. They will be part of Special District 5 with Baker, Crook County, La Grande, Madras and The Dalles.
"I think it's the right move for Pendleton in general," coach Erik Davis said. "Our numbers were always at the bottom of 5A. I think overall moving forward as a program, I like the idea of being able to continue to be competitive at a statewide level."
In its long history, Pendleton has never played in a state final. The Buckaroos are 0-7 in semifinal games, the most recent a 51-30 loss to Thurston in 2018.
But Pendleton, coming off a 9-2 season, expects to be a contender in 4A this season.
"It's one of the best senior classes I've had," Davis said. "It's the fastest team I've coached in my 11 years. We're not extremely huge up front, but every one of them runs so well. Our skill kids, I've got about six to eight receivers that I feel very comfortable playing. We've got three tailbacks all with a special skill set. The pieces are there."
Senior quarterback Jackson Davis, the coach's son, is back after missing most of the last two seasons following ACL surgeries. The Buckaroos also have an elite athlete at tailback in senior Payton Lambert, who has committed to play baseball at Santa Clara.
"He's extremely fast, quick and athletic," Erik Davis said. "You can move him around to receiver, slot, tailback. He's a special talent, for sure."
Pendleton's nonleague schedule includes games against 5A teams Caldera, Redmond and Ridgeview.
"Hopefully that will prepare us for a deep run," Erik Davis said.
North Salem moves back
North Salem made steady progress in its recently completed four-year run in 5A after dropping down from 6A.
Last year, the Vikings finished 7-4, made their first playoff appearance since 2010 and got their first postseason victory since 2004. They reached the quarterfinals for the first time since being state co-champions in 1963.
The degree of difficulty is about to increase this season, however.
North Salem is returning to 6A, where it will be part of newly configured special district that includes five teams from the Salem area, four teams from Southern Oregon and Sheldon of Eugene.
"We didn't have a lot of choice," Vikings coach Jeff Flood said. "We're playing where they put us. I think our school overall fits the 5A model a little bit better with the number of kids that we have participating every year.
"The leagues we've been in at 5A have been really strong leagues, so I think our kids are up for that competition. Plus we played half of these schools two years ago during the pandemic."
Thankfully for North Salem, they have one of the state's best collections of skill players.
Junior quarterback TC Manumaleuna, senior running back Josiah Davis, senior receiver Erik Gonzalez and junior running back Micah Richter are third-year starters on offense. Junior running back DeMari Thompson won titles in the 100 and 200 meters in the 5A track meet.
"I feel real confident in our skill kids," Flood said. "And they'll play both sides of the ball. Up front, we're trying to figure out who's going to play there. That will determine how successful we are."
Manumaleuna (6-2, 200) has scholarship offers from Oregon, Miami, Florida State and Louisville. Davis (5-11, 205) rushed for more than 1,200 yards and 20 touchdowns in seven games last season.