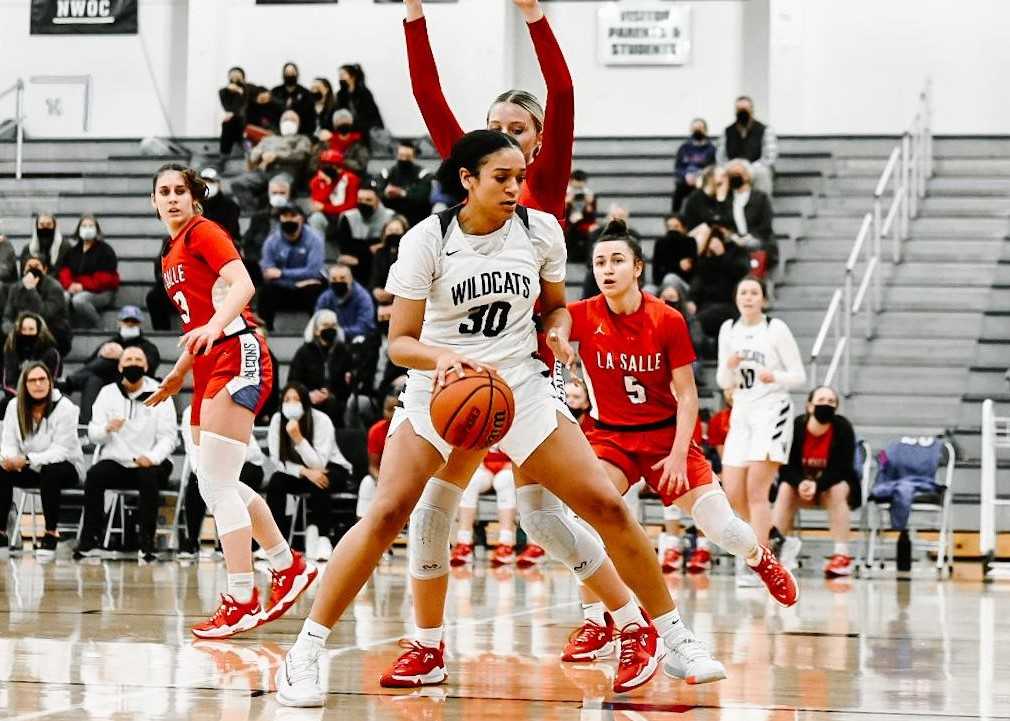 WILSONVILLE – It didn't have the marquee power of recent seasons, but Tuesday night's Wilsonville-La Salle Prep girls basketball game still had a high-stakes feel to it.
So the host Wildcats had a little extra bounce in their step after holding off the Falcons 49-46 in a Northwest Oregon Conference game featuring two perennial 5A powers still trying to find their way after losing key players to graduation.
Zoey Davis, a 6-foot-2 sophomore post, scored 17 points and senior point guard Karina Borgen added 12 points on four three-pointers as No. 9 Wilsonville (9-4, 3-0) extended its winning streak to six by beating the No. 10 Falcons (5-4, 1-1).
"Every day we're just getting better and better," Borgen said. "We had a rocky start at the beginning just because it's a completely new dynamic. Our skill sets are so different and so much more spread out. Every pocket that needs to be filled is filled, but it's filled by someone different."
Wildcats coach Justin Duke likes how his team is progressing after a start that included losses by 19 points to No. 6 West Albany and 23 points to No. 2 Crater.
"The kids have done a fantastic job of not focusing on any one game, and just working on process," Duke said. "We've got a lot of young kids that haven't been in this situation against a La Salle or some of these tough teams, closing out a tough game. I'm really proud of this group. The best is definitely ahead for this group."
La Salle Prep and Wilsonville have ruled the NWOC in recent years. They shared the conference title in 2019 and 2020 and even were set to meet in a 5A semifinal in 2020 before the state tournament was canceled due to the COVID-19 crisis.
The Falcons, who won state titles in 2015, 2017 and 2019, also are trying to put their pieces together.
"We're figuring it out," La Salle Prep coach Kelli Wedin said. "We're right there. We really didn't play well, and we lost by three points. I'm not worried about this game so much, I'm just worried about getting the most out of our kids and getting better. And I think we are."
Wilsonville opened a 22-12 lead late in the second quarter and pushed the advantage to 35-22 late in the third quarter. But La Salle Prep went on a 10-0 run, getting three-pointers from freshman Lindsey Kaponske and junior Ella Wedin, to draw within 35-32 with 5:19 remaining in the game.
The Wildcats responded by going on a 7-0 run – an inside basket by Davis, a three-pointer by Borgen and a jumper by freshman Audrey Counts – to pull ahead 45-35 with 2:10 left.
The lead was 49-40 before La Salle Prep senior Mia Skoro scored on a three-point play and a three-pointer in the last 11 seconds to make it 49-46.
Borgen, a key rotation player on Wilsonville's semifinal team two years ago, is adjusting to switching to point guard this season. Her ability to push the ball up the court, facilitate and make outside shots makes the Wildcats go.
"I hate playing point guard, but I'm having a lot of fun playing with these girls," Borgen said.
Duke said that Borgen's leadership has been "fantastic," helping make up for the graduation of point guard Sydney Burns and post Emilia Bishop.
"We lost a lot not just from a basketball-skill standpoint, but we lost a lot of leadership, too," Duke said. "Karina's really stepped into that role. She won a state championship in soccer, so a lot of those things translate to the basketball team and our expectations. She's done a great job of kind of bringing along the younger kids."
Davis is emerging as an interior force for Wilsonville. Against La Salle Prep, she made 8 of 10 shots from the field and dominated the smaller Falcons on the backboards.
"She's making a ton of progress," Duke said of Davis. "Her best is absolutely still in front of her. We haven't been a low-post oriented team in the past as much, and she's forcing us to change our offense a little bit just because of her skill set and how strong she is."
Davis and 6-1 freshman Payton Ratcliffe, who leads the team in scoring at 8.1 points per game, give Wilsonville a physical front line. The team also has an experienced wing in 5-7 senior Grace Gatto.
Confidence is building for the Wildcats, whose winning streak includes a 47-44 defeat of Skyview (Wash.) in the POA Holiday Classic. Skyview is 9-4 this season.
"I think we definitely could surprise a lot of people," Borgen said. "I think we got the ball rolling in beating Skyview. That kind of set the tone because that was the tournament where we saw what we could do. We could do something special."
Skoro and Wedin scored 15 and 14 points, respectively, for La Salle Prep. Skoro entered the game averaging a team-high 19.4 points, with Wedin second at 13.0.
The 6-1 Wedin – who made 110 three-pointers in her first two varsity seasons, shooting 41.4 percent from behind the arc – has struggled with her shot this season. She is shooting 29.4 percent from three-point range (30 for 102), including 4 of 13 against Wilsonville, which tracked her closely on the perimeter.
"You could see even in their zone, they're not going to leave her," said Kelli Wedin, her mother. "I wouldn't leave her, either. It's tough for her to find a rhythm. A couple shots, she presses a little bit. She wants to score for her team. Second half, she did a nice job and kind of got us back into it."