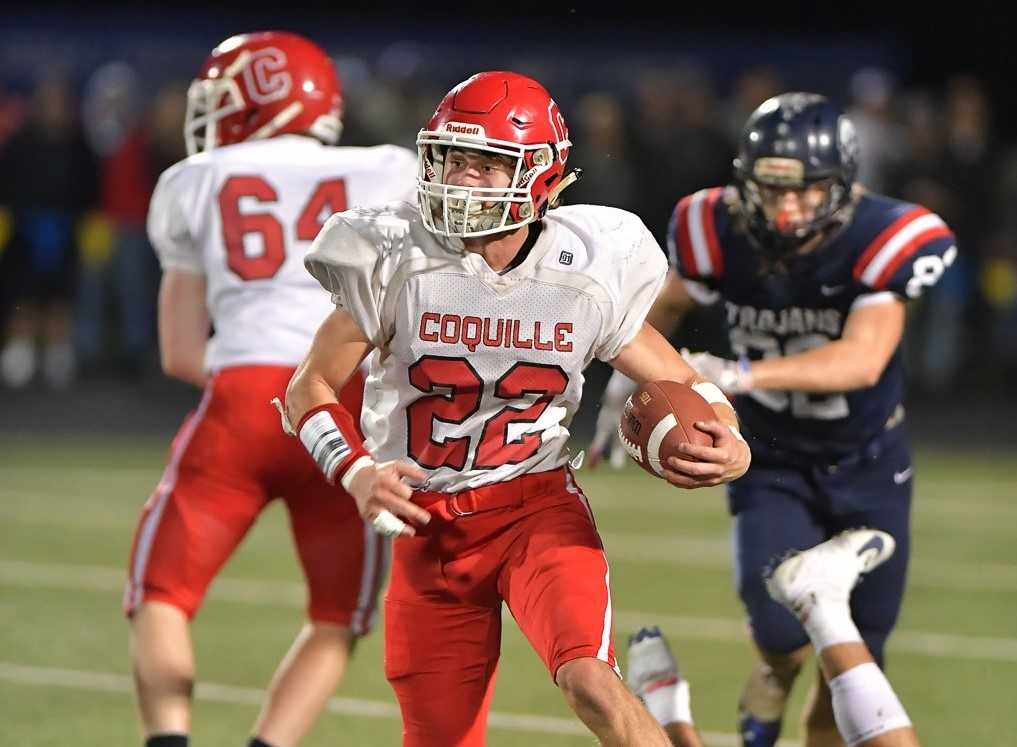 KENDRICK MURPHY, for OSAAtoday
COTTAGE GROVE – Coquille rode the back of senior Gunner Yates to its first football championship since 1970 on Saturday.
Yates rushed for a state championship-game record 388 yards and five touchdowns on 23 carries as the fourth-seeded Red Devils (10-1) defeated No. 2 Kennedy 38-28 in the OSAA/OnPoint Community Credit Union 2A final at Cottage Grove High School.
Yates scored on runs of 55 and 26 yards in the first half and 74, 61 and 48 yards in the second half for Coquille, which amassed 505 rushing yards, also a championship-game record.
"My offensive linemen and my offensive coordinator put me in a position to be successful," said Yates, who rushed for 2,203 yards and 34 touchdowns in nine games this season. "It means the world to bring it back to our community, not just for the team, but for everybody else."
Red Devils coach David Thomason reflected on the magnitude of what his team accomplished. It was Coquille's second-ever appearance in the final.
"I'm a history teacher in the building, and the history of this is not forgotten. This is a really big deal," Thomason said. "Not just for our players and coaches who have worked so hard but for our whole community. This is a major deal. And I can't be more proud of these guys bringing a title home to Coquille."
Coquille's season began under a cloud as the team had to wait 38 days between its first and second games due to COVID issues. But the Red Devils persevered and made a playoff run that included an 8-6 semifinal win over top-seeded and reigning state champion Heppner, ending the Mustangs' 29-game winning streak.
They added the capper Saturday by knocking off Kennedy, the 2018 champion and 2019 runner-up.
The Trojans (11-2) appeared to be in control early as Riley Cantu threw touchdown passes of seven yards to Brett Boen and nine yards to Luke Beyer for a 14-0 lead in the first quarter. But Yates ran for two scores to make it 14-14 at half.
Coquille took a 20-14 lead on a 10-yard run by Brock Willis in the third quarter. Kennedy regained a 21-20 lead two minutes later when Cantu found Stephan Salinas for a 32-yard touchdown pass.
That's when Yates cut loose for three long touchdown runs to put Coquille ahead 38-21 by early in the fourth quarter. William Schaecher ran for a three-yard touchdown as Kennedy drew within 38-28 with 6:34 left, but the Red Devils drained the rest of the clock to seal the win.
Willis added 116 yards on 18 carries for Coquille, which did not throw a pass. Cantu completed 25 of 38 passes for 266 yards and Beyer caught eight passes for 68 yards and one score for Kennedy.