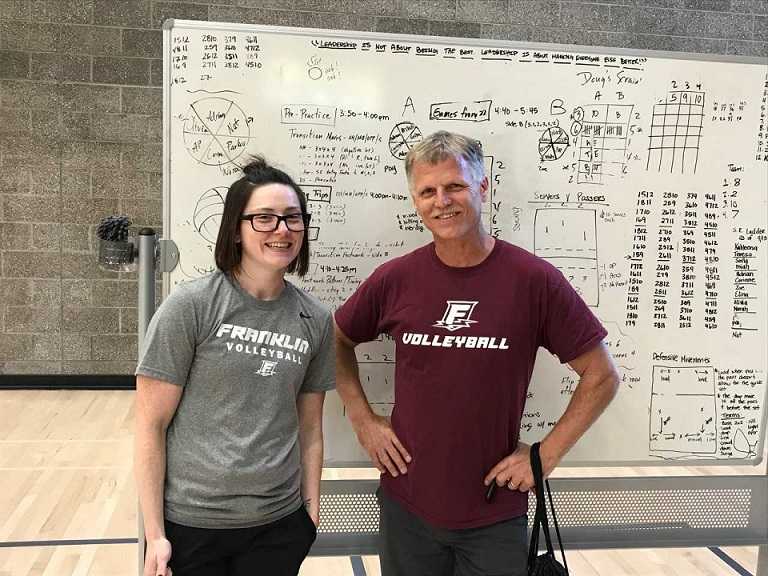 When April Kaelin returned to Clackamas, her alma mater, to assist in the volleyball program last year, she was excited about the opportunity to learn under her former coach, Jim Stultz.
So when Stultz resigned as the Cavaliers' coach after last season and looked into the job opening at Franklin, Kaelin's coaching future was in limbo.
"Then Jim said to me, 'I think you should apply for the head-coaching position at Franklin,'" Kaelin said. "He knew that I would follow him."
The coaches have reversed roles in making the switch to Franklin this season. Kaelin is the head coach and Stultz – who is No. 9 on the state's all-time list with 614 wins, including six state titles – is an assistant. Kaelin is banking on his expertise as she tries to transform the Quakers (4-12), who haven't made the state playoffs since 2003.
"One of my last contingencies on taking the job was that I could pick his brain whenever I wanted to or needed to," Kaelin said.
It's a much different role for Stultz, who is assisting for the first time.
"It's actually been really fun," Stultz said. "I can coach without really worrying about anything else. I don't take anything home. As a head coach, it was 24-7.
"The hardest part is, as the assistant, you can't stand up and coach. At the beginning of the season it was like, 'You need to tell your assistant to sit on the bench.' But I'm doing better."
Kaelin, a 2007 Clackamas graduate, spent nearly a decade away from the game before serving as a volunteer coach for a recreational league and realizing that she "got part of my life back." The positive feedback she received was the impetus behind her starting the Portland Roses Volleyball Club in 2016.
"Everyone kept asking, 'Do you have a club?'" Kaelin said. "I looked into the groundwork of what it would take to start a club. I really jumped into it blind."
The club, which practices at the Wattles Boys and Girls Club in Lents, started with one team in its first season and mushroomed into three teams last year. The majority of the players come from southeast Portland, but some come from as far away as Camas and Oregon City.
Kaelin is hoping to add an 18s team next year.
"It was kind of backwards in how it was built," she said. "I built it so kids could have a safe place to play volleyball and do something they love, because that's what volleyball always was for me. I do want it to be a vehicle for Franklin kids, but I also don't want to out the kids who have already committed to us in that way."
Franklin is making steady progress this season. The Quakers, who won 12 sets last season, have won 17 this year and have two matches remaining.
"One of the big things that's happened this year, which everyone is excited about, is our kids are competing," Kaelin said. "It's nice to see that kind of evolution already in Year 1."
It helps that Stultz, who teaches in the district at Woodmere Elementary, is by her side.
"It's been fantastic. I love Jim," Kaelin said. "He's always been a huge inspiration for me. Something I found really admirable is that he never had to yell at you to get you to perform at your best."
Stultz said that Kaelin "has the right temperament" for the job.
"She's patient and real positive," Stultz said. "The girls respond really well to her. She just loves it, can't get enough of it. She reminds me of me when I started."
Power pack
At 5-foot-2, LouElla Taufer plays big for 2A Delphian. She is a pinpoint setter, is one of the team's best passers and diggers and is second in aces.
But it's what Taufer does at the net that is the most impressive. The junior leads the Dragons with 160 kills, hitting at a team-high 34 percent.
"She gets up there," coach John Kertchem said. "She's a phenomenal athlete. She gets a bunch of kills from dumps, but she also spikes."
Taufer's hitting catches opponents off-guard. When they target her with serves, she often makes a pass, gets the ball back and puts it away.
"She'll smash it down," Kertchem said. "They figure out after a while not to serve to her. At the beginning, it's a surprise."
Taufer is from Clearwater, Fla., but is in her third year at Delphian, an international boarding school on 700 acres between Sheridan and Williamina. She plays club and beach volleyball in Florida, gaining experience that has been invaluable to the Dragons (9-13, 7-7 Tri-River Conference).
"We're in the middle of the pack, and the only reason we're there is because of her," Kertchem said.
Lorenz marker
Central Catholic coach Rick Lorenz reached another milestone last week when his team defeated Gresham, giving him his 1,300th career victory.
With two more wins Saturday, Lorenz is 1,302-200 in 43 seasons of coaching, the last 30 at Central Catholic. He is Oregon's all-time leader and No. 8 in the nation.
"I'm most appreciative for a great staff, supportive administrators and parents, and student-athletes willing to work hard and grow as young adults," Lorenz said.
Lorenz's teams have played in 23 state championship matches, winning 11.
Jesuit flexes
Top-ranked Jesuit reaffirmed that it is the team to beat in 6A with a strong showing in the West Linn Tournament on Saturday.
The Crusaders won all three of their matches, finishing with a 25-16, 25-23 victory over No. 3 Central Catholic. In that match, senior Rose Booth had 11 kills and two blocks, senior Alyssa Hughes had 10 kills and two blocks, sophomore Alison Buchholz had 34 assists and senior Erin Foley had 12 digs.
Jesuit (23-4) is unbeaten in Oregon this season, winning all four of its matches against Central Catholic (22-3) and No. 2 Sunset (19-3). The Crusaders are 24-0 in sets since returning from the Nike Tournament of Champions in Phoenix on Sept. 22.
Booth has a team-high 311 kills this season. Hughes is next with 185.
In Saturday's tournament, Jesuit also beat Valley Catholic 25-17, 25-19 and Wilsonville 25-9, 25-11. Valley Catholic is ranked second in 4A and Wilsonville is No. 6 in 5A.