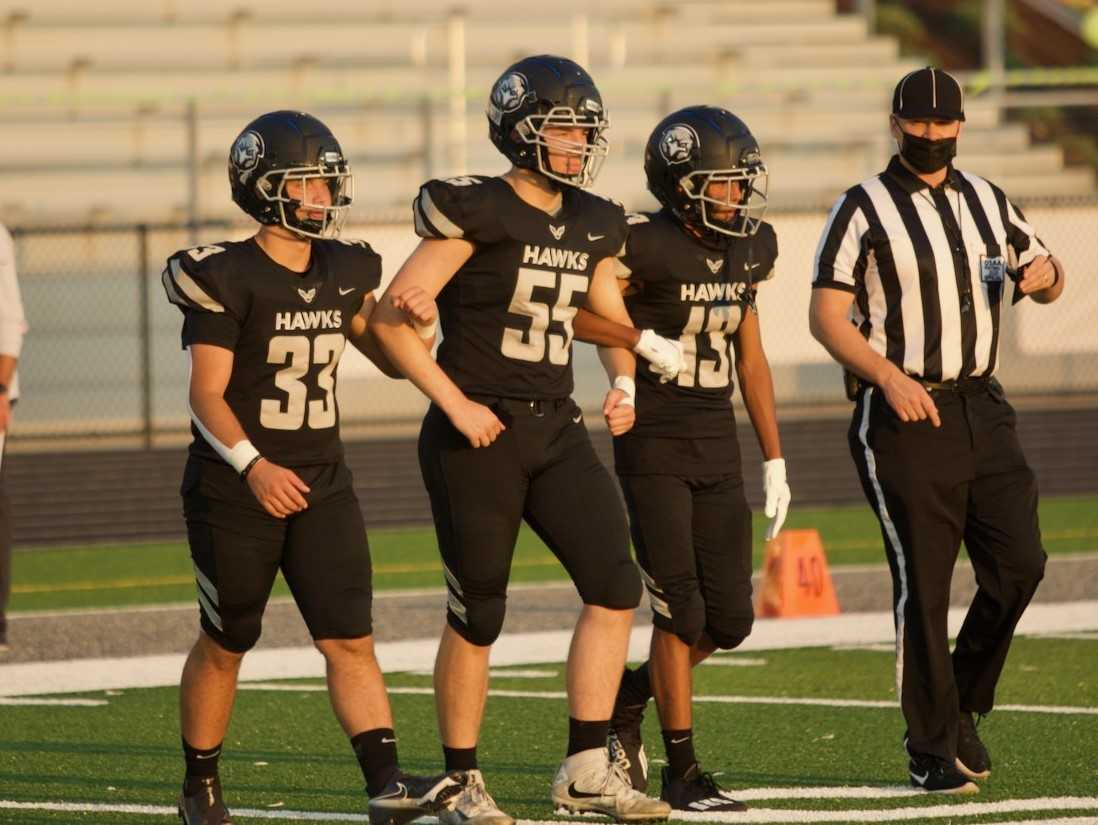 It wasn't reflected on the scoreboard, but for a Nelson football team making its varsity debut, Friday night's home game against Barlow was a victory in itself.
The first-year Hawks – who lost 41-0 to the Bruins, a 6A semifinal team in 2019 – finally got a chance to put on their uniforms and play in their brand-new stadium before the Happy Valley community.
"It's a beautiful setting. I'll take that place over anything in the state," Nelson coach Aaron Hazel said. "The atmosphere was fantastic. It's a community that comes out for their kids.
"It wasn't as great as I think it can be once school starts, but it's a beautiful place to be. We'll get that thing rocking and rolling, and it's going to be a great time for the people of Happy Valley."
Nelson – which has one senior on its roster, starting lineman Ben Baker -- had difficulty matching up with the older, more experienced Bruins. The Hawks inherited players from the Clackamas program, but none of them started for the Cavaliers in the spring.
"Barlow is a conference contender, and they're single-wing, and they just ran it down our throats," Hazel said. "We made mistakes, and there are some things we need to fix, but when you boil it down, we had 15- and 16-year-olds playing against 17- and 18-year-olds. That goes a long way on the physicality side.
"It was a bear of a Week 1 opponent."
The first half of the schedule is brutal for the Hawks. After playing Gresham in Week 2, they meet top-ranked Central Catholic and No. 6 Clackamas back-to-back.
"We've got our work cut out for us in these first four weeks," Hazel said.
Nelson's best chance to score Friday came just before halftime when the Hawks reached Barlow's 25-yard line, but couldn't capitalize. Junior quarterback Alex Nita showed promise, however.
"He's a gamer," Hazel said. "He made some plays he hasn't made in practice in the last month. The most encouraging thing was we moved the ball in spurts. We kind of shot ourselves in the foot. There are some things we can absolutely fix between Week 1 and Week 2.
"What's awesome to see is when one of our guys has success, the whole sideline goes crazy. They love each other so much. That's going to go a long way for us."
The Hawks have 60 players in their program and dressed 34 on Friday. They started five sophomores and played two freshmen, quarterback Avirey Durdahl and right guard Tavaris DeRoest.
"The nice thing is all but one of our kids gets another shot at those guys next year," Hazel said. "A lot of them get two more shots, and a couple get three more shots."
Lakeridge smothers Bowmen
Unranked Lakeridge's 42-21 home win over No. 7 Sherwood in a 6A nonleague game was among the surprises of the first week.
Pacers second-year coach Spencer Phillips and defensive coordinator Art Cabalin had never gone up against the wing-T before, but their team was more than up to the task against the Bowmen, who played their first game under former Newberg coach Kevin Hastin.
Lakeridge sorted through all the misdirection to hold Sherwood to 150 rushing yards, a substantial improvement over the last time the teams met in 2019, when the Bowmen rushed for 612 yards in a 50-13 win.
"Our defense was rock solid," Phillips said. "I was super impressed with them."
Senior linebacker Zac Waible (6-3, 220) racked up 15 tackles and got plenty of support from seniors Jonathan Curry, Jack King and Dallas Kuenzi and sophomore Ethan Biondine.
"They kept everything in front of them," Phillips said.
Lakeridge's offense did its part, racing to a 28-7 lead in the first quarter. Sherwood took a 7-0 lead, but it took the Pacers only three plays to answer on a 60-yard touchdown pass from junior Ryan Oliver to 6-5 sophomore Joey Olsen.
Oliver passed for 212 yards – with 100 going to Olsen on six catches – and the running game thrived behind senior Jake Reichle (6-3, 200), who rushed for 210 yards and four touchdowns on 27 carries. Reichle finished with 380 all-purpose yards.
The Pacers, who made a surprise quarterfinal run in 2019 despite a 5-7 record, finished 2-3 in the spring and were flying under the radar heading into the season.
"I love being the underdog," Phillips said. "It kind of makes me happy when people put that stuff out there. Sherwood's a really good team, whatever that says about us. I think our team just realized that we are a good team, and we can play with anyone."
Sun not setting on Apollos
It was hard to know what to expect this year from Sunset, which is coming off one of the best seasons in school history but lost several key players from a 6-0 team.
Friday's 48-6 win at No. 8 Tigard is a strong indicator that the ninth-ranked Apollos will be a contender in the 6A Metro League.
"I think we as coaches kind of questioned it a little bit, too," Sunset coach Damien Merrick said. "You always start with the quarterback and the guys on the O-line, and we lost our guy at quarterback and some pretty darn good offensive linemen. We definitely had some pretty big holes to fill."
Senior Grady Newsom, the successor to Kyle Jaekel at quarterback, had a solid debut by throwing for 140 yards and three touchdowns, two to junior Hayden Hurley. Senior running back Caleb Kim picked up where he left off in the spring by rushing for 107 yards and three touchdowns on 16 carries.
"Not that he had poor vision before, but I think his vision is improved," Merrick said of Kim. "Typical of a young guy at running back, he always tried to force things, but now he's a little bit better with the patience. He lets those blocks happen."
Sunset has six new starters on offense, and four of them are linemen.
"The reality is we're not the same up front," Merrick said. "We're a little bit more undersized and we're going to have to rely on our athleticism. It's probably not going to be the same as it was a year ago. We'll have a tough time with a big, physical, stout defensive front as far as just blocking straight ahead, one on one."
Badgers make 1A statement
One of the bigger wins of Week 1 was posted by 1A Powder Valley.
The Badgers went on the road Thursday for a 42-14 win over perennial state power Dufur in a battle of teams sharing the No. 2 ranking in the OSAAtoday 1A preseason coaches poll. The win avenged a 48-36 home loss to Dufur in the spring.
Senior quarterback Reece Dixon and senior Clay Martin each ran for two touchdowns, senior Case Olson returned a kickoff for a score and senior defensive end Kaden Krieger racked up seven sacks in the win.
"We feel we turned the tables," Powder Valley coach Josh Cobb said. "We played their game of controlling the clock, which we've never really done before. We were able to do that because of our line."
The Badgers start four juniors on the line, led by junior Colt Cobb (6-2, 210), the coach's son. The 5-foot-8, 160-pound Dixon makes the offense go with his running and passing.
"Reece Dixon has an uncanny way of breaking tackles," Josh Cobb said. "He plays bigger than he is. Leading up to this year, his football sense has gone through the roof. He makes smart choices."
Olson's 90-yard kickoff return up the sideline gave Powder Valley a 22-14 lead at half. The Badgers' defense came through in the second half, and Dixon and junior Cole Martin added long touchdown runs in the final minutes to ice the game.
"We played very clean, not very many penalties," Josh Cobb said. "Our defense played fast and aggressive."
Powder Valley brought back six offensive starters from a team that finished 4-2 in the spring, capping the season with a 70-58 win over 2019 state champion Adrian/Jordan Valley.
Josh Cobb said the win over the Antelopes "was a huge win for our boys. They learned that they could run and play with some of the best."
Powder Valley's only state title came in 2003. Are the Badgers ready to break through this season?
"We do feel we have a shot. We don't talk about it," Josh Cobb said. "It is Powder Valley's best team in a long time. We have a lot of tough seniors."
Josh Cobb, in his third season as Powder Valley's coach, played on Dufur's 1995 state title team. It was the Rangers' second state title under coach Jack Henderson, who has won a state-record 10 state championships.
"I learned a lot from Jack," Josh Cobb said.
Santiam Christian wins 3A showdown
Santiam Christian won the 3A title in 2019 and went 5-1 in the spring, but faced many questions after being decimated by graduation this year.
With only two returning players in starting roles, the Eagles more than answered the bell in their opener Thursday with a 20-16 home win over Amity in a nonleague game. Santiam Christian and Amity were ranked second and third, respectively, in the OSAAtoday preseason 3A coaches poll.
"I thought we played really well to hang in there with Amity, because they're tough," Santiam Christian coach Matt Bain said. "They're big, strong and physical. We had a couple guys who hadn't done much, and we weren't sure what they were going to bring to the table, and some of them really stepped up.
"I was real impressed with our kids. We're a young group. We're totally new."
One of them was junior quarterback Jared Mehlschau, whose brother, Luke, was a standout linebacker on the 2019 team. Mehlschau took over the spot for senior Ely Kennel – an Oregon State baseball commit who has decided to focus on that sport – and responded in the opener by completing 23 of 35 passes for 238 yards and three touchdowns, all to 6-5 senior Jackson Hughes.
"He was lights out," Bain said. "He made great decisions, put a couple audibles out there. He did a couple things that won the game for us."
Mehlschau left with an leg injury in the second quarter but returned and played the rest of the game with a noticeable limp.
"He gutted it out," Bain said. "He was very limited with what he was able to do. He carried the mail with one leg. It was amazing to watch."
Santiam Christian is hoping to get some reinforcements in the coming weeks as junior running back Jayden Christy and and senior linebacker Heston Bain return from injury.
Highlights from Week 1:
6A
Stryder Todd-Fields returned the opening kickoff 98 yards for a touchdown and scored on a 73-yard catch to lead Central Catholic past Camas (Wash.) 28-17. Solomon McDaniel returned an interception 16 yards for a touchdown for the Rams. … Jaden Poulschock rushed for 183 yards and two touchdowns and returned a punt for a score and David Douglas forced four turnovers to beat Centennial 31-6. … Liberty raced to a 28-0 lead in the first quarter and thumped Aloha 56-0 behind Hiro Diamond, who threw four touchdown passes and ran for two scores. … Bend dropped Grants Pass 27-7 as Malachi Nutter rushed for 193 yards on 30 carries. … Jack Layne threw four touchdown passes – two to Justice Lowe – In Lake Oswego's 40-7 win over Mountainside. … McNary brushed off South Medford 35-13 behind Tyler Copeland, who threw three touchdown passes, two to Gunner Smedema. … Ky Hoskinson ran for two touchdowns and threw a 52-yard scoring pass to Braden Woods for McMinnville, which defeated Wells 19-8. … Chase Harmon completed 18 of 23 passes for 234 yards and two touchdowns as West Linn defeated Jesuit 17-3. … Sheldon's Brock Thomas rushed for 150 yards and three touchdowns and threw for 247 yards and two scores in a 36-29 win over Glencoe. Crimson Tide quarterback Royce Fasel ran for 273 yards and three touchdown and threw for a score. … Brooks Ferguson threw three touchdown passes to Zach Dodsen-Greene as West Salem outlasted Newberg 34-29. Dodsen-Greene had six catches for 159 yards. … Tualatin traveled to California to defeat Menlo-Atherton 44-33, getting a big game from Jackson Jones, who threw for 233 yards and three touchdowns. … Sam Leavitt threw four touchdown passes and Jordan Fisher rushed for 196 yards and two scores as Westview blanked Oregon City 49-0. ... Daschel Smith passed for two touchdowns and Carter Boyles ran for two scores in South Salem's 42-0 win over Jefferson. The Saxons held the Democrats to 121 yards. ... Sophomore Cayden Eckel rushed for 150 yards and two touchdowns to propel Roseburg past Summit 23-7 at Cottage Grove.
5A
Austin Mills threw four touchdown passes as Churchill edged Eagle Point 35-28. The Lancers intercepted five passes. … Pendleton stopped a two-point conversion attempt with 1:20 to preserve a 27-26 win at Southridge. Payton Lambert rushed for 139 yards and three touchdowns for the Buckaroos. … West Albany's Marcus Allen rushed for 110 yards on 25 carries, including the go-ahead, four-yard touchdown in the fourth quarter, in a 21-17 win over Beaverton. The Beavers had taken a 17-14 lead in the fourth quarter on an 88-yard punt return touchdown by Kyron Albright. … South Albany held off Franklin 21-14 as Kaden Younger connected with Tyler Siebert for the go-ahead touchdown pass. … Josiah Davis ran for three touchdowns as North Salem turned back Roosevelt 48-28. … Canby held off Dallas 26-20. Tyler Konold scored touchdown rushing and receiving and Koby Kessler returned an interception for a score. ... Crater overran North Bend 31-0 as sophomore Shane Wood threw three touchdown passes and Caden Lasater had three interceptions, returning one 90 yards for a score, and a touchdown catch. ... Ridgeview held off 4A Crook County 26-20 in overtime. Jeremiah Schwartz and Eric Pendergrass each ran for two touchdowns and Palmer Smith made a clinching interception in the end zone in overtime.
4A
Marshfield's Dom Montiel completed 19 of 30 passes for 267 yards and four touchdowns and ran for a score as the Pirates topped Mazama 35-20. … Carter Greene threw five touchdown passes in the first half, three to Conner Chase, and Lucas Tuski returned a kickoff for a score in Marist Catholic's 49-12 win over Sweet Home. … Vale blanked Parma (Idaho) 25-0 as Tanner Steele ran for two touchdowns and passed for two scores and John Wolfe scored on a catch and punt return. … Caleb McDonald scored touchdowns rushing and receiving for Estacada, which handled Stayton 38-8. … North Valley tipped a potential go-ahead field goal in the final minutes to hold off St. Mary's 21-20. North Valley took the lead midway through the fourth quarter on a 35-yard touchdown pass from Jaydon Twedell to Brady Huff. … Henley built a 20-0 lead in the first quarter and rolled past Ashland 35-14 in a game moved to Willamette High School due to poor air quality. Shaw Stork passed for two touchdowns and ran for two scores for the Hornets. … Seaside held North Marion to 11 total yards and three first downs in a 55-0 win. The Seagulls, who led 48-0 at half, rushed for 381 yards, getting 113 from freshman Jake White. ... Cascade rolled over Baker 36-0, scoring all of its points in the first half. Blake Lewis rushed for 150 yards and two touchdowns, Colin Smittle returned an interception 95 yards for a score and Jacob Hage had two interceptions for Cascade. ... Charles White had five catches for 111 yards and a touchdown as Banks topped Gladstone 24-0.
3A
Nate Arce and Justin deSmet combined for 241 rushing yards and Lucas Ashley returned a fumble for a touchdown to lead Dayton past Clatskanie 42-12. … Jace Johnson completed 16 of 21 passes for 246 yards and five touchdowns, two to Isaac Real, to propel South Umpqua past Springfield 39-7. … Thomas Mentes ran for three touchdowns and Adan Diaz returned a kickoff 100 yards for a score in Sutherlin's 46-6 win over Phoenix. … Stone Ware ran for three touchdowns and caught a scoring pass to lead Rainier past Salem Academy 46-7. ... Gabriel Ward scored five touchdowns as Junction City turned back North Eugene 39-13. Ward returned the opening kickoff for a touchdown, rushed for 165 yards and two scores and threw two touchdown passes.
2A
Caden George and Cameron Proudfoot returned interceptions for touchdowns as reigning 2A champion Heppner extended its winning streak to 19 with a 19-0 win over Toledo. … Brody Ballard rushed for 162 yards and two touchdowns and Trent Bateman caught six passes for 92 yards and two scores as Monroe topped Reedsport 26-8. … Weston-McEwen's Blane Peal completed 14 of 18 passes for 203 yards and three touchdowns, including a 75-yard strike to Theo White, to overwhelm Culver 43-6. … Jefferson beat Scio 36-20 behind Jace Aguilar, who threw two touchdown passes to Elisha Stelly and ran for two scores.
1A
Adrian beat Camas Valley 46-8 at Crook County in a game that was halted in the middle of the third quarter due to poor air quality. Conley Martin rushed for four touchdowns for Adrian. ... Bonanza turned back Tulelake (Calif.) 38-13 as Tanner Mestas ran for 150 yards and two touchdowns and Adrian Mohica returned a kickoff for a score. … Mohawk got a 90-yard touchdown run from Elijah Wytcherley in its 40-32 win over Glendale. … Perrydale took advantage of six turnovers in a 32-24 win over Ione/Arlington, which dressed 10 players. … Austin Ford caught three touchdown passes and returned a punt for a score as Pilot Rock dispatched Cove 46-6. … Powers broke away from a 6-0 halftime lead to dominate Prospect Charter/Butte Falls 39-6 in a 6-man game. ... Elkton defeated North Douglas 44-32 in a 6-man game behind Nathan Rausch (12 carries, 193 yards, three touchdowns), Cooper Anderson (15 for 17 passing, 280 yards, four touchdowns) and Anthony Alimenti (six catches, 148 yards, three touchdowns). North Douglas' Palu Rayon-Wilder rushed for 253 yards and four scores.