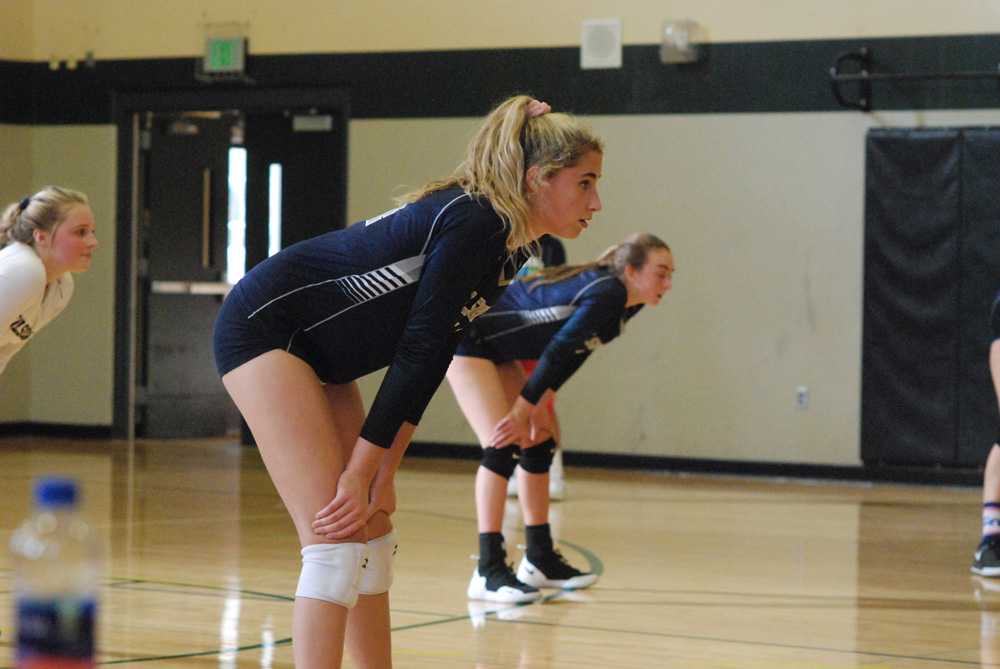 Every other week during this COVID-shortened season, we'll talk some Oregon high school volleyball. This is the place!
Can't be beat!
A little more than two weeks into the season and 40 girls volleyball teams in Oregon have yet to taste defeat.
Of the undefeated teams, 1A Jewell has the most wins at eight, six teams (Roseburg, South Albany, West Albany, Santiam Christian, Alsea and Camas Valley) have won their only match, and 1A Powder Valley has been the most impressive. Over the past week, the 7-0 Badgers have defeated nemesis St. Paul, the team that beat them in the state final the past two seasons; Union, which finished fourth in 2A in 2019; and Burns, the traditional 3A power, which came into Monday's match 7-0.
Eagles get started…finally…with a win
Two-time reigning OSAA 3A champion Santiam Christian won its match yesterday at Harrisburg. What makes that news is it was the Eagles' first match of the season.
"We started late, as our county (Benton) has been in extreme risk up until two and a half weeks ago," said coach Kelli Fitzpatrick.
Santiam Christian has five seniors, but only two with significant experience. Four sophomores start, including Kennedy transfer Meah Carley; making this generally a very young team. So it's understandable that the Eagles would not play clean in their first match. They were extended to four sets by Harrisburg (3-4).
"The girls started out a little rattled as they've only been practicing in their positions together for the last two weeks," Fitzpatrick explained. "That's not a lot of time for a young team to get into a rhythm."
Fitzpatrick said that her goals for the season including ensuring that the players have fun, given that they've been preparing since June; and that the seniors develop the leadership skills necessary to leave the young program better when their time is up.
Challenging a tough schedule
Cascade Christian, which won the 3A title in both 2016 and 2017, has aced the early part of its 2021 slate. The Challengers stand 6-0, with a win over 6A South Medford.
"Our fast start has really shown me that we are where we wanted to be heading into this season and that our persistence and resilience has really paid off," said head coach Rob Kleker. "We have a large group of senior athletes (7) mixed with some young kids as well (3 frosh and 2 sophomores). The ability of these kids to mesh early has been the key to our success."
Kleker said that senior Hannah Stanfield and freshman Maddie Todd have been instrumental to the team's success so far. Stanfield, an outside hitter, has been a rock star passing serve and defending.
"She has an amazing knack for seeing the ball and anticipating where it is headed," he said. "This allows her to seemingly always be in the right spot at the right time."
Todd moved into the starting lineup at middle blocker because of an injury and has made the most of her opportunity.
"She came up big for us and is a player who can step in at nearly any position if needed and perform," Kleker explained.
Volleyball sweet for Sweet Home, home or away
Sweet Home has started off the season with five straight sweeps heading into today's tilt at 5-1 Sisters. We asked head coach Mary Hutchins the secret to the Huskies' success. She asked the same question to her players.
Adaira Burger wrote: "I believe our team is successful because of the relationships we have with each other. The chemistry makes the games so fun. The tears at the end of the season will not just be because it's over but because it's our last time playing all together."
Teja Abbott said: "I think our team is successful because we all have the same goal and drive. We have expectations for each other as a team and hold each other to them at games."
Bailee Hartsook shared: "I think our team is successful because of all the years we have played together and our relationships off the court."
As for the match up today with Sisters, all are expecting a very tough challenge.
"Both teams have strengths and weaknesses and are two smaller town teams full of kids who love to compete and play volleyball," Hutchins summarized.
Triple double-doubles for Saxons in win
South Salem remained undefeated in 6A with a 3-1 road win over Silverton on Tuesday. Setter Laila Leaks led the way with 35 assists and 14 digs while also adding four aces. Two outside hitters, Kayleigh Carpenter (12 kills; 14 digs) and Araeya Watanabe (12 kills; 12 digs), also had double-doubles for the Saxons, who travel to play Central tomorrow.
Wildcat strike
Can anyone touch Wilsonville in 5A this season? The Wildcats, led by senior pin Clarissa Klein, are 5-0 and have yet to drop a set. They swept Scappoose on the road on Monday despite playing without two starters.
Something good's Bruin at B-H
Before this season, Brookings-Harbor had gone more than a decade without a league win, according to head coach Lorinda Shew, who is in her third year as head coach. The seasons would consist of working very hard and getting some pre-season and non-league wins but being unable to break through that ceiling and get a match win in the Far West League. That changed on March 9, when the Bruins snuck by Douglas in five sets. Last Thursday, B-H swept St. Mary's of Medford. Two straight league wins for Shew's squad in the midst of a four-match unbeaten streak!
Seniors Gracie Harms, Sierra Fitzhugh and Shelby Jirsa lead the team and will lead the Bruins into tomorrow's league match at vaunted Cascade Christian.
"The girls are ready to challenge them," Shew predicted.
Emphasis on "success" as Hambly proves able successor to legendary Rick Lorenz
This is the first year in more than 30 that Rick Lorenz isn't coaching the Central Catholic Rams. But with seven new players and a new coach in 10-year assistant Kayla Hambley, Central Catholic has opened 5-0. So same old, same old, I guess…
"Taking over the Rams Volleyball program has been a great experience," Hambley said. "I feel so fortunate to have been mentored by Rick Lorenz as a coach in his program. Many of the coaches on our staff have been coaching at CC for 30+ years, and having them by my side to guide me through the transition and offer support has been a huge blessing."
A teacher in the school, Hambley said that her focus with her team is on what she calls her "three pillars:"
*Process over product
*Courage over comfort
*Grit over quit.
"As a team, we spend time outside of practice discussing what these mean to the team on and off the court Even with 7 new players to the team this year, we all seem to be clicking well. From my perspective, the players and I are connecting and they are responding well to my coaching style."
Hambley expects the team to adopt a growth mindset moving forward, to work hard and adapt to any changes this unique season throws at her players.
Hambley said that Monday's home win over Barlow was especially sweet.
"It was the first home game that we have been able to have fans in the gym," she explained. "Watching our player's parents, siblings, etc., cheer and share in the joy of competition and love of sport brought tears to my eyes. The families sacrifice and provide so much support behind the scenes. It was a beautiful moment to see their smiling, proud faces as our team took the court."
Setting the tone for the crusade
The Jesuit Crusaders are off to a 6-0 start thanks in large part to the setting tandem of Peyton Griffin and Alison Buchholz. The seniors are combining to average more than 12 assists per set and are orchestrating an incredibly balanced attack. OH Amanda Henry is the team's kill leader, averaging 3.4 terminations per set; but Jesuit has five more players, including Griffin, middles Tess Masingale and Maddy Dowdall, and pins Lizzy Patterson and CeAnna O'Loughlin, averaging between 1.5 and 1.9 kills per set.
Nose-bleeders
Jumping 10-feet on approach remains a lofty goal for most volleyball players. If you get enough air to touch a regulation basketball rim, you have the ability to hit over blockers and pick your own spots. That makes you a very dangerous scorer on the court!
In this space, we will recognize those Oregonians who have achieved that lofty mark. We will add to it in each Volleyball Notebook as coaches tell us about the players who have reached rare air. Here's where we stand currently in the 10-Foot Club:
Emily Bourne, 6-0 Sr. OH, Santiam Christian
Sophia Gregoire-Salagean, 6-2 Soph. OH, Newberg
Clarissa Klein, 6-1 Sr. OH, Wilsonville
Audra Wilmes, 6-2 Sr. OH, West Linn
If you are a HS coach and want to add someone to the list, by all means email me, [email protected], put "10-foot club" in the subject line and provide the info in the manner shown above.
Mensa Mensa
By email I have now twice asked the almost 200 varsity head coaches on my email list to tell me who the "smarty-pants" players – those with 1500+ SATs or 34+ ACTs – on their respective teams. So far, we have no players who meet or exceed the SAT or ACT requirements but we did have one coach email us about her player who scored 5 on the AP U.S. History team. We see you senior setter Ellie Cantu of currently unbeaten Kennedy HS, the 2019 2A state champs.
[If you are a varsity volleyball head coach and did not receive my email, and it isn't in your spam folder, use this link -- http://eepurl.com/dCGYov -- to get on our mailing list and receive email notifications and requests from us at OSAAtoday]
College-Bound!
In this space, we list those players, in the current senior class and younger, who have signed National Letters of Intent or have made a commitment to attend a college or university of their choice. Congrats! I have two currently playing college sports. It can be so demanding but at the same time is so rewarding.
Here's who we have so far. We will add to this list in subsequent notebooks as we receive notifications.
Teja Abbott, 5-9 Sr. RS, Sweet Home -- Bushnell University (Beach volleyball)
Brooklyn Bevacqua, 5-10 Jr. S, West Linn – San Diego Christian
Emily Bourne, 6-0 Sr. OH, Santiam Christian – Oregon State
Alison Buchholz, 5-9 Sr. S/RS, Jesuit -- Washington and Lee
Brooklynn Dechent, 5-10 Sr. MB, Ridgeview – Bushnell University
Maddy Dowdall, 6-0 Sr. OH/MB, Jesuit – Chapman University
Caitlin Gay, 5-7 Sr. OH/libero, Canby – Univ. of Idaho
Brynna Geibel, 5-8 Sr. OH, Newberg – Cleveland State University
Katie Graham 6-0 Sr. MB - Horizon Christian Tualatin - Simpson University
Peyton Griffin, 6-0 Sr. S/RS, Jesuit – Cal State East Bay
Bailee Hartsook, 5-11 Sr. OH, Sweet Home – Western Oregon University
Ally Henry, 5-4 Sr. libero, Ridgeview – Western Oregon University
Amanda Henry, 5-11 Sr. OH, Jesuit -- Trinity University (TX)
Savannah Hutchins, 5-5 Sr. S, Sweet Home -- Linn Benton Community College
Makenah Jackson, 6-1 Sr. MB, Central Catholic – Univ. of Idaho
Clarissa Klein, 6-1 Sr. OH/RS, Wilsonville – Saint Mary's University
Matty Ladd, 6-0 Sr. OH/MB, Cottage Grove – Carroll College
Mackenzie Leith, 5-9 Sr. OH, Mountainside – Univ. of Puget Sound
Sydney Marshall, 5-10 Sr. RS/MB, West Linn – Concordia-Irvine (Beach volleyball)
Daley McClellan, 6-0 Sr. OH/DS, Canby – Univ. of Oregon
Josie Nealon, 5-0 Sr. libero/DS -- Central Linn -- Chemeketa Community College
Shelbey Nichol, 5-11 Sr. MB, Sweet Home -- Linn Benton Community College
Ainslie Ridgway, 6-1 Sr. OH, McMinnville – Corban University
Ellie Rush, 5-5 Sr. S, Sisters -- Valley City State University
Jadah Schmidtke, 6-1 Sr. MB, South Albany – Corban University
Jazmine Smith, 5-10 Sr. MB/OH, McMinnville – Montana Western
Lily Snook, 5-7 Sr. libero, West Linn – Portland State
Anessa Stotts, 5-6 Sr. OH/DS, Sisters -- Bushnell University (Beach volleyball)
Emily Warmenhoven, 5-11 Jr. OH, West Linn – Belmont University
Audra Wilmes, 6-2 Sr. OH, West Linn – Univ. of Washington
Sydney Wilson, 5-8 Sr. OH, Heppner -- Walla Walla Community College
Graci Zanona, 5-4 Sr. libero/DS, Sweet Home -- Linn Benton Community College