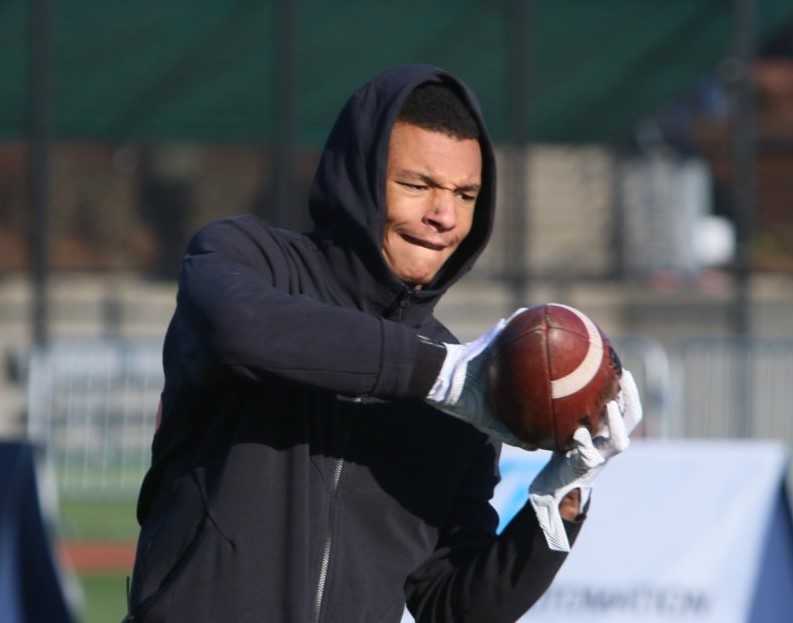 The run-up to the high school football season is typically marked by hot summer practices.
But nothing about this season, which starts this week, is typical.
Reigning 6A champion Central Catholic, which faces rival Jesuit in its opener Friday at Hillsboro Stadium, was in uncharted territory on its frozen-tundra practice field a couple weeks ago.
"We had the truck on the field, pulling a sled behind it, trying to break up the snow and ice," Rams coach Steve Pyne said. "We probably did about eight miles in loops."
Ready or not, though, Oregon high school football is finally going to take the stage this week, and Central Catholic-Jesuit counts as a marquee game in any season. The Rams have won three state championships since 2013, and the Crusaders have won four state titles since 2000, the last one in 2015.
On the surface, the matchup should have plenty of juice considering Jesuit was the only Oregon team to beat the Rams in 2019, rushing for 485 yards in a 42-26 win at Hillsboro Stadium in Week 5.
But it's hard to predict the intensity level for Friday's game.
Both teams were hit hard by graduation and rely on young, inexperienced players. Both teams are trying to get into game shape after an historically long layoff. Players will be wearing masks to comply with state COVID-19 protocols. And without fans in the stands, the atmosphere is sure to be lacking.
Given that there is no state championship this season, the teams also will enter with a much different approach.
"We're looking at it like this is a glorified spring practice," Pyne said. "We never get to do this in Oregon. So how can we get our seniors an opportunity to play, and gets some film, for those who have aspirations? And they'll all play. We don't have a single senior that won't play. And then we'll develop our young guys and get them ready to go for next fall."
Jesuit coach Ken Potter said his team is looking at the season as a chance to play six games.
"And that's phenomenal in the situation that we've had this year," Potter said. "So let's enjoy the competition, enjoy getting out there. Let's be as well prepared as we can. Let's not over-stress about things. We're not going to have hours of film study. We're not going to do that kind of stuff."
It's been difficult for coaches and players to stay ready during the six-month delay to the season. And now that it's here, it's going to take a while before it feels anything close to normal.
"I feel more like a process manager than I do a football coach," Potter said. "Just trying to handle what we're allowed to do, what we're not allowed to do, keeping kids safe, doing all the COVID precautions.
"And then you're like, 'Oh, yeah, I have to coach, too?' I'm relying a lot on my assistant coaches to get the coaching done, and I'm just trying to manage."
Central Catholic graduated most of its main weapons from 2019, including a four-year starter at quarterback in Cade Knighton and an electric receiver in Silas Starr, now at Stanford.
But the Rams have plenty of young talent. Junior linebacker Emar'rion Winston has committed to Oregon. Riley Williams, a 6-foot-7, 235-pound sophomore tight end, already has offers from Oregon, Oregon State and Arizona State. And junior receiver Jordan King (6-3, 205) is ready to break out.
"I think he's hands-down the best receiver in the Northwest, if not the West Coast," Pyne said of King. "He's every bit as good as Silas, if not better."
After a wide-open battle at quarterback, Central Catholic has settled on junior Luke Johnson to start Friday. Freshman Cru Newman is expected to see playing time.
"Cru kind of reminds me of a combination of Cade Knighton and Aidan Wilder," Pyne said, referencing former Rams quarterbacks who started as freshmen. "He's one to watch over the next few years."
Jesuit lost all but two starters on offense and 1 ½ starters on defense from its 2019 semifinal team. The two returning on offense are senior linemen Charlie Pickard (6-4, 285), who has accepted a preferred walk-on opportunity at Oregon, and Declan Quillin (6-2, 290).
Junior quarterback Tatum Lewis, who did not take a varsity snap last season, will start Friday. The Crusaders graduated a deep stable of running backs, led by Kade Wisher (2,485 rushing yards), so they need some new blood to emerge.
Potter said the offense sputtered in a scrimmage last week.
"When it was over, we looked at each other and said, 'Should we change the offense?'" Potter said. "We couldn't move the ball against the scout team. I don't know what our strengths are. It's a typical cliché, but I'm hoping we can line up right and run plays, and maybe kind of find if we have a strength."
Pyne said he expects his players to be excited to face Jesuit, but the level of execution is another matter.
"It'll probably be an ugly, ugly football game," Pyne said. "You're going to have kids that are out of shape. You're going to have soft-tissue issues. You're going to have fumbles and penalties, all that stuff. I guess whoever can curtail that a little bit might have an upper hand."
Jesuit has a 23-15-1 edge in the overall series. The Crusaders have won four of the last five meetings in the regular season, although the Rams beat Jesuit in the 2016 quarterfinals.
"It's a lot of kids who grew up knowing each other, and we get to go play a football game," Potter said. "I don't think that the significance of it this year is very huge, other than it's a football game and we both get to play."
A look at some of the other top matchups for Week 1:
Games are Friday unless otherwise noted
(2019 records)
West Linn (8-4) at Tualatin (9-3): The Lions and Timberwolves, 6A quarterfinalists in 2019, square off in a battle of Three Rivers League teams. West Linn has one of the state's top running backs in senior Gavin Haines (1,620 yards, 21 touchdowns in 2019), who has accepted a preferred walk-on offer at Oregon State. Tualatin is reloading after graduating seven first-team all-league players. West Linn won 34-20 at Tualatin in 2019.
Sherwood (8-3) at Newberg (8-3): Newberg has made big strides in its three seasons under coach Kevin Hastin, who in 2019 led the Tigers to their most wins since 1960 and a second-round playoff appearance. But Sherwood remains the gold standard in the 6A Pacific Conference, winning at Newberg 35-14 in 2019 in a game that ultimately decided the conference title.
Scappoose (7-4) at Wilsonville (8-3): In 2019, Wilsonville rolled over Scappoose 50-14 at home in a game that proved to be the difference for the title in West division of the 5A Northwest Oregon Conference. Both teams made it to the state quarterfinals. Wilsonville senior receiver Payton Dart was first-team all-state in 2019, when he had 12 touchdown catches.
Pendleton (6-3) at Parkrose (7-3): The debut of Parkrose coach Brian Jackson, a former assistant who takes over for the Keanon Lowe, now an assistant at Nebraska. In two seasons, Lowe ended the Broncos' 23-game losing streak and led them to a co-title with Pendleton in the East division of the Northwest Oregon Conference. Parkrose won 30-19 at Pendleton in 2019.
Silverton (10-2) at West Salem (6-5), Saturday: Silverton, which made the 5A semifinals in 2019 before falling to eventual champion Thurston, gets an early test against the 6A Titans, who were runners-up in the 6A Mountain Valley Conference and won a playoff game. Silverton has a dangerous dual-threat quarterback in junior Jordan McCarty.
Henley (7-2) at Mazama (7-2): The season opens with a big Klamath County rivalry game. Mazama has won six consecutive 4A Skyline Conference championships, scoring a touchdown with 11 seconds left to beat visiting Henley 14-10 for the title in the 2019 regular-season finale. The Vikings have won six of the last seven meetings, closing Henley's advantage in the series to 16-12.
Clatskanie (8-3) at Rainier (9-3): One of the best rivalries in 3A, known to locals as the "Highway 30 Hootenanny." It's the first of two meetings this season -- the other is March 19 -- and both will be eight-man contests due to Clatskanie's low numbers. Clatskanie won at home over the 2018 state champion Columbians 13-8 last season, on its way to running the table in the Coastal Range League. The Tigers fell in the state quarterfinals and Rainier reached the semifinals.
Kennedy (10-2) at Santiam Christian (13-0): Two of the most successful programs in recent seasons go head-to-head in a rare matchup. Santiam Christian is coming off a perfect season in which it won the 3A title, its second championship. Kennedy won the 2A title in 2018 and was runner-up last year.
Yamhill-Carlton (9-1) at Knappa (9-3), Thursday: Can 3A Yamhill-Carlton build off the momentum of a breakthrough 2019, when it posted its most wins since 1971 and won the PacWest Conference title? The Tigers are sure to get some resistance from the Loggers, who won the 2A Northwest League and reached the state semifinals in 2019.
Pilot Rock (6-3) at Dufur (7-4): The game has decided the title in the West division of 1A Special District 3 the last two seasons. In 2018, Dufur dominated 46-8, but Pilot Rock won 50-30 on the Rangers' field in 2019. In the 2019 playoffs, Pilot Rock lost in the first round and Dufur fell in the quarterfinals, ending a run of four consecutive state titles.
St. Paul (12-1) at Hosanna-Triad: St. Paul, the 1A runner-up the last two seasons, makes the six-hour trip to Klamath Falls for the opener. Hosanna Christian and Triad – who finished 1-2 in the Mountain Valley League in 2019 – have merged schools to form Crosspoint Christian, but will play as Hosanna-Triad this season before taking on the new name in the fall. Hosanna Christian went 9-1 last season, losing to eventual champion Adrian/Jordan Valley in the 1A quarterfinals.