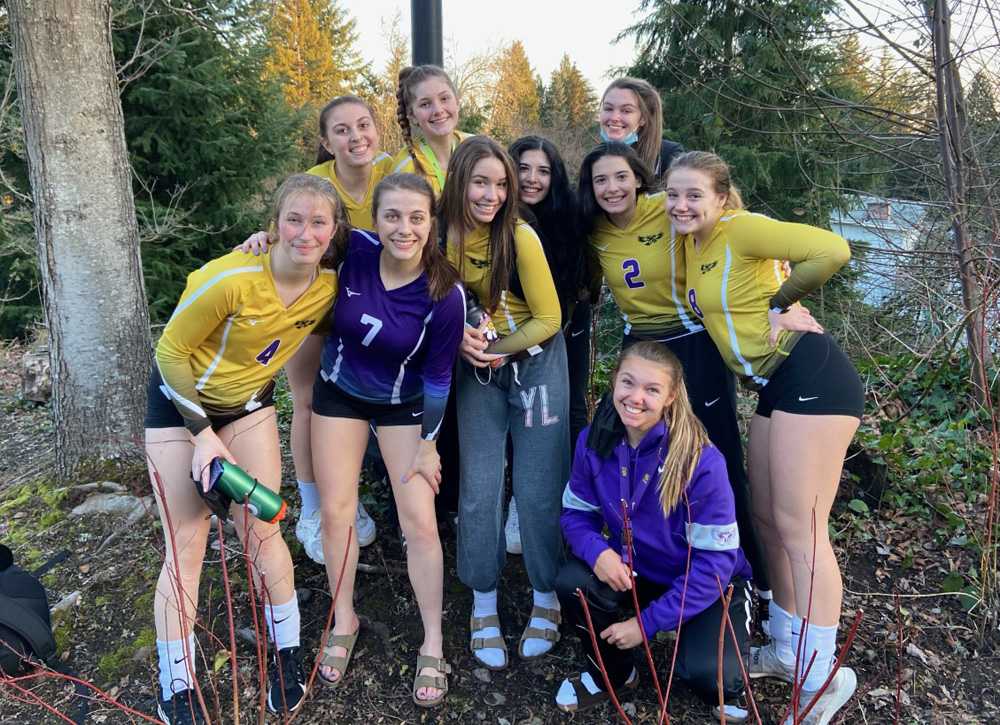 Every other week during this COVID-shortened season, let's talk some Oregon high school volleyball. This is the place!
Hawking the headlines
On Monday, the first volleyball result of the current school year was posted in the Beaver State: Horizon Christian (Tualatin) 3, Riverdale 0.
Oregon is one of 11 states by my count that deferred high school volleyball to the winter or spring months and the first, again by my count, to start back up again.
The match was in the 3A classification. Horizon Christian was paced by its outside hitters, Alyssa Smith and Reagan Anderson, who came out swinging and were scoring at will. The Hawks have three freshmen on varsity for the season, including setter Sam McDonald, who handed out a slew of assists and scored a ton of points on her serve.
"We had a blast at Riverdale," HC head coach Jay Lazaro said. "The Riverdale coaching staff was very accommodating and welcoming. The players were working hard and competing for every point."
It was a little different with all of the COVID precautions in place. Lazaro said that it was especially difficult trying to talk to his players while masked.
"I had to shout for them to hear me, so the other team would hear everything I would say," he explained.
Caped Crusaders?
Jesuit gets its season underway today with a Metro League tilt versus Southridge. By all accounts, the 2021 Crusaders are the best team in Oregon since the 2015 Jesuit squad that went 38-0, won the Nike Tournament of Champions in Phoenix and finished second nationally. Teresa Zimmerlee's team, which won the Oregon 6A title in 2019, returns two players, S/RS Peyton Griffin and libero Maisie Alexander, who were on the six-strong 6A All-State First Team in 2019. The Crusaders return two more, 6-3 MB Tess Masingale and setter Alison Buchholz, who were on the second team. The team also brings back HM All-State OH Maddie Dowdall, a physical attacker whose season deserved at least Second Team accolades. Add another fine defender, Hannah Nguyen; a savvy senior hitter in Amanda Henry and one of the state's best sophomores in hitter Isabel Patterson and you begin to see the picture developing of a team that will be hard-pressed to lose this season.
Lincoln Project
Newport head volleyball coach Dr. Vicky Roller shared this reflection from Oregon's Central Coast:
"I want to share with you a COVID challenge that we have tried to turn into something awesome for Lincoln County Volleyball.
"Lincoln County School District is made up of four high schools: Toledo (2A), Waldport (2A), Taft (3A), and Newport (4A). For the last couple of years, Newport High School has clawed its way to becoming a competitive team in the Oregon West Conference. We started a club team last year, Oregon Coast Juniors. We have had several girls play in a quads league in Salem. And we have been in the gym every chance we can get.
"Over the past several months we have seen our season continually pushed back. However, our focus remained the same: when the time comes to play we will be ready.
"As our season approached we were told we would be playing a Lincoln County-only league. This was somewhat of a letdown because we believed this was our year to be a force in our league. We had prepared for two years and believed we would finally be competitive with powerhouse schools in our league like Sisters and Sweet Home.
"Nevertheless, she persisted. Moving forward with a Lincoln County league, our focus has shifted. We want our girls to play for the love of the game. We have focused on creating a season filled with community and fun. So fun that we posted a TikTok that has over 100,000 views (https://vm.tiktok.com/ZMe6WCccQ/). We will finish this year with more laughs and memories than we could have ever imagined.
"But next year.......we cannot wait to rejoin the Oregon West Conference."
Alsea You Sometime?
Katie Sapp has a very strong 1A program at Alsea with experienced seniors, like Jessica Carlisle, Ariyah Bishop and Bailey Ellis, and a slew of talented underclassmen. The Wolverines are ready to play…and shine. Unfortunately, Benton County is not.
According to Sapp, nearby Oregon State University is running a testing research program that brings the county's total test numbers up. Given Benton County's size, "just a few positive cases puts us in the extreme risk category," she said.
"This is very frustrating for us as we've been open for full in-person instruction since August, with our high schoolers in session for most of that," Sapp added. "Added to that our boys are outside playing full contact football. I've got some very frustrated teens."
"We are allowed to practice with six girls at a time in our single gym," she continued. "We are not allowed to run a libero in this group as it has to be the same six per cohort per day. It's nuts, and fairly impossible to actually connect with athletes and for them to bond. We can't host, due to the metrics, and we can't travel, due to the metrics. We are looking for ANYONE who may want to help us find a way to get these girls on the court playing games!"
Bye Beyer
Laura Beyer, who led Kennedy to the 2A title in 2019, has left the program to Jessica Schmidtman, who was an assistant coach for the Trojans for the previous seven seasons.
Oh Sweet Home!
Sweet Home finished runner up in 4A in 2019 without a single senior on the court at the state tournament. This was supposed to be the Huskies' year, with eight seniors and three juniors.
COVID isn't the only thing to throw a monkey wrench into head coach Mary Hutchins' plans.
"During the off-season, three starters sustained significant injuries," she said. "They are in various stages of recovery. One is still not cleared to play."
Notwithstanding the setbacks, Sweet Home remains poised to play.
"Everyone is super excited to be back in the gym and playing and competing together," Hutchins explained. "We played outside on the turf field in the fall when indoor competition was not allowed. The players have all continued to attend outdoor workouts and anything they could do to improve their skills safely during the 'off season' to be as prepared as possible if the chance to play was presented.
Sweet Home, which has five signed to play college ball, plays its first match of the season today at Stayton.
Milestone coaches
There are five active coaches entering this Season 2 with 500 or more career victories. They are:
Teresa Zimmerlee of Jesuit, who has 717 against 140 losses;
Paula Toney of Burns, who has 598 against 156 losses;
Donna Romtvedt of Bonanza, who has 586 against 273 losses;
Bruce Myers of Central, who has 553 against 253 losses; and
Anna Baltrush of Creswell, who has 507 against 184 losses.
Romtvedt and Myers have recently been the subject of "Alphabet Stories" for their respective schools.
Milestone hitter
Burns senior Allie Hueckmann will play basketball in college, but she currently ranks 11th on the Oregon career kills list with 1,093. In this abbreviated season, she could get all the way to sixth place before her career concludes.
Nose-bleeders
Jumping 10-feet on approach remains a lofty goal for most volleyball players. If you get enough air to touch a regulation basketball rim, you have the ability to hit over blockers and pick your own spots. That makes you a very dangerous scorer on the court!
In this space, we will recognize those Oregonians who have achieved that lofty mark. We will add to it in each Volleyball Notebook as coaches tell us about the players who have reached rare air.
For starters, we have only one:
Audra Wilmes, 6-2 Sr. OH, West Linn
If you are a HS coach and want to add someone to the list, by all means email me, [email protected], put "10-foot club" in the subject line and provide the info in the manner shown above.
Mensa Mensa
By email yesterday, I asked the 187 high school varsity head coaches on my email list to tell me who the "smarty-pants" players – those with 1500+ SATs or 34+ ACTs – on their respective teams. So far, we have no names to include in our list, but we will and then we will add to it.
[Incidentally, if you are a varsity volleyball head coach and did not receive my email, and it isn't in your spam folder, use this link -- http://eepurl.com/dCGYov -- to get on our mailing list and receive email notifications and requests from us at OSAAtoday]
College-Bound!
In this space, we list those players, in the current senior class and younger, who have signed National Letters of Intent or have made a commitment to attend a college or university of their choice. Congrats! I have two currently playing college sports. It can be so demanding but at the same time is so rewarding.
Here's who we have so far. We will add in subsequent notebooks as we receive notification.
Brooklyn Bevacqua, 5-10 Jr. S, West Linn – San Diego Christian
Emily Bourne, 6-0 Sr. OH, Santiam Christian – Oregon State
Brooklynn Dechent, 5-10 Sr. MB, Ridgeview – Bushnell University
Caitlin Gay, 5-7 Sr. OH/libero, Canby – Univ. of Idaho
Bailee Hartsook, 5-11 Sr. OH, Sweet Home – Western Oregon University
Ally Henry, 5-4 Sr. libero, Ridgeview – Western Oregon University
Makenah Jackson, 6-1 Sr. MB, Central Catholic – Univ. of Idaho
Clarissa Klein, 6-1 Sr. OH/RS, Wilsonville – Saint Mary's University
Matty Ladd, 6-0 Sr. OH/MB, Cottage Grove – Carroll College
Mackenzie Leith, 5-9 Sr. OH, Mountainside – Univ. of Puget Sound
Sydney Marshall, 5-10 Sr. RS/MB, West Linn – Concordia-Irvine (Beach volleyball)
Daley McClellan, 6-0 Sr. OH/DS, Canby – Univ. of Oregon
Ainslie Ridgway, 6-1 Sr. OH, McMinnville – Corban University
Jadah Schmidtke, 6-1 Sr. MB, South Albany – Corban University
Jazmine Smith, 5-10 Sr. MB/OH, McMinnville – Montana Western
Lily Snook, 5-7 Sr. libero, West Linn – Portland State
Emily Warmenhoven, 5-11 Jr. OH, West Linn – Belmont University
Audra Wilmes, 6-2 Sr. OH, West Linn – Univ. of Washington