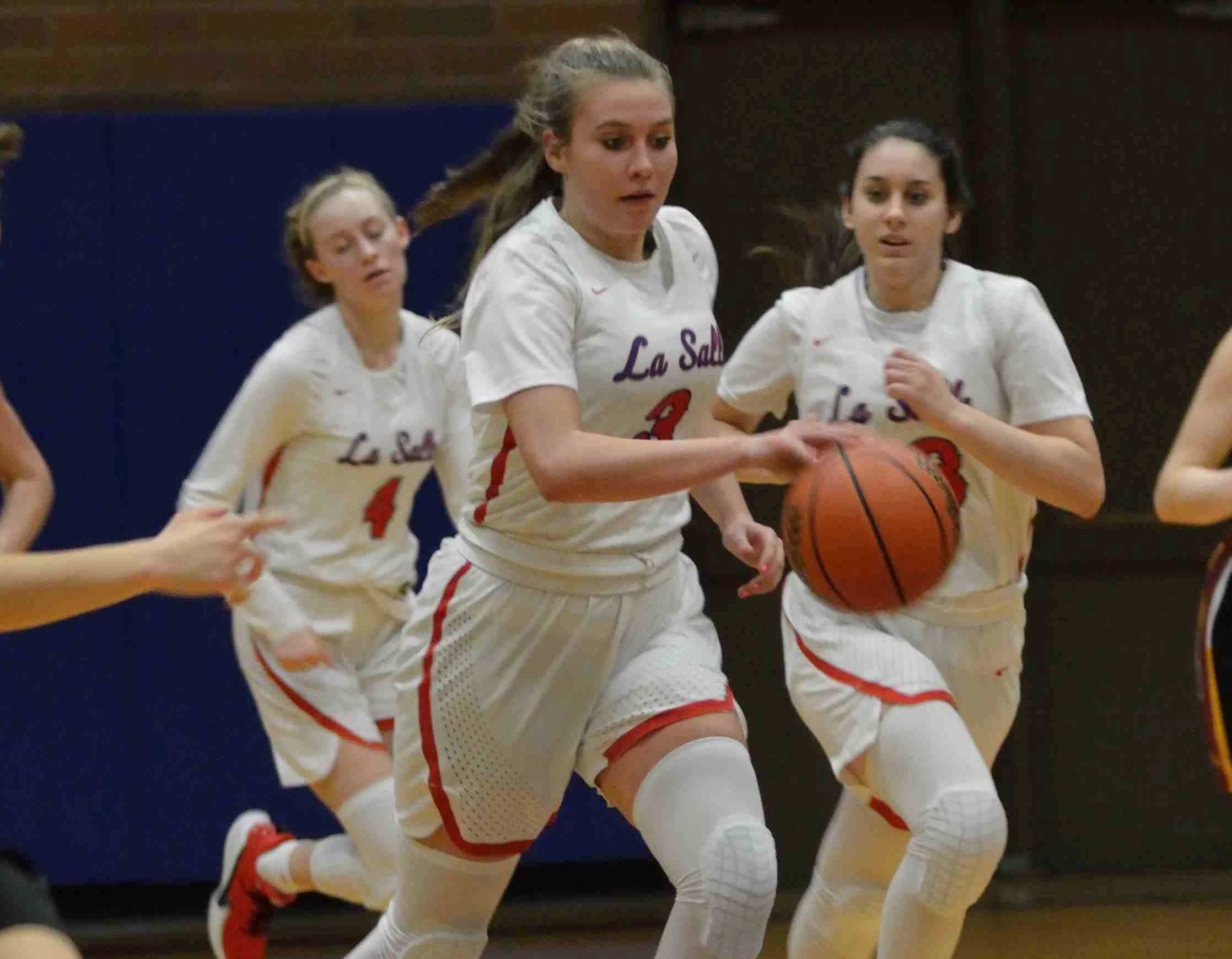 For sisters Addi and Taycee Wedin, their only high school basketball season together at La Salle Prep was a disappointment.
In 2017-18, both were less than full strength as they recovered from ACL injuries for the Falcons, who lost in the 5A final.
But it appears as if the sisters will get a chance to make up for it in college.
Addi, a point guard heading into her senior year, has committed to play at Saint Mary's. She will follow Taycee, who set a West Coast Conference single-season record for three-pointers as a sophomore for the Gaels last season.
"I'm so happy I get to play with her again," said Addi, who played in 12 games in 2017-18. "I didn't get to play with her much my freshman year, so it's going to be cool to experience that again."
The prospect of the sisters reuniting on the court also is thrilling for their mother, La Salle Prep coach Kelli Wedin.
"I love it. I'm so excited," Kelli said. "They haven't even got to complete a healthy season together ever. It's a re-do, a do-over. Hopefully they stay healthy."
The 5-foot-11 Addi received about a dozen Division I offers. She chose Saint Mary's over UC Davis, but also seriously considered Loyola Marymount, Pacific, Nevada and Montana.
"A lot of people ask me if it's just because Taycee goes there," Addi said of her decision. "That definitely was a big bonus for it, but the coaching staff, I love all of them.
"I feel like with them I had the strongest connection. I know the team pretty well. It honestly reminds me of La Salle. It's kind of like a family feeling in that culture, and that's a big thing for me. I know when I'm there I'm going to feel good about it all."
Addi received the offer from Saint Mary's last summer and committed last month. Kelli said that Saint Mary's was "super constant and consistent" throughout the recruiting process.
"It's been like a year of getting to know them beyond Taycee," Kelli said. "When the quarantine started, they really went above and beyond to let Addi know how much they wanted her, and the value they saw in her."
Addi led La Salle Prep to the 5A title as a sophomore, averaging 20.8 points, 4.6 rebounds, 2.6 assists and 2.3 steals. As a junior, she averaged 20.4 points, 4.3 rebounds, 2.1 assists and 2.2 steals as the Falcons reached the state semifinals before the tournament was canceled due to COVID-19.
It was a frustrating finish for La Salle Prep, which was preparing to meet Northwest Oregon Conference rival Wilsonville in the final four at Gill Coliseum.
"The moment we got home from Gill, Addi didn't really even take a day off," Kelli said. "She's been kind of relentless in this time. She works out a ton."
Addi is playing for Cal Stars for the second summer in a row. She participated in four training camps in California and played in two tournaments in Iowa and one in Minnesota. She will play in Idaho this week.
"It's nice to be able to play because I really didn't know if we were going to get that chance," Addi said. "It's always a challenge. There's always uncomfortable situations, but I always learn so much."
One of her Cal Stars teammates, Mackenna Mastora of St. Joseph Notre Dame in the Bay Area, also has committed to Saint Mary's. Addi, who has come to know several of the Gaels through Taycee, will have a comfort level when she joins the team.
"I'm excited for all four years there," Addi said.
Saint Mary's has been an ideal fit for Taycee, who is "just thriving," according to Kelli.
"My heart is just full when I think about her now," Kelli said. "She's just so comfortable with who she is, and she's so confident, as this young woman right now. We feel that Addi's going to get that same experience, and what a blessing it is."
It's possible that the sisters could get two seasons together if the 2020-21 season is canceled due to COVID-19.
"That would be incredible," Kelli said. "It makes me feel a little bit less bummed about this year."
Deep shooting is a common thread for the Wedins.
Kelli (Dufficy) scored 47 points in a game for Franklin and was one of the nation's top three-point shooters in college at Nevada. Taycee, the state record-holder for career three-pointers (359), set the WCC record with 104 three-pointers last season. Addi, a career 53-percent field-goal shooter, has made 41 percent of her three-point attempts (146 of 352) at La Salle Prep.
The youngest sister, Ella, also is a sharpshooter. The 6-foot wing connected on 40 percent of her three-point tries (61 of 153) as a freshman last season.
"Her shot is so good," Addi said of Ella, who is playing with the Cal Stars U16 team this summer. "She reminds me a lot of Taycee. They both have that shooter's mentality. I'm trying to get to that, too."
Could Ella be heading to Saint Mary's, too? Kelli said the Gaels coaches have joked about it.
"They definitely made it known that they're watching," Kelli said. "Who knows?"