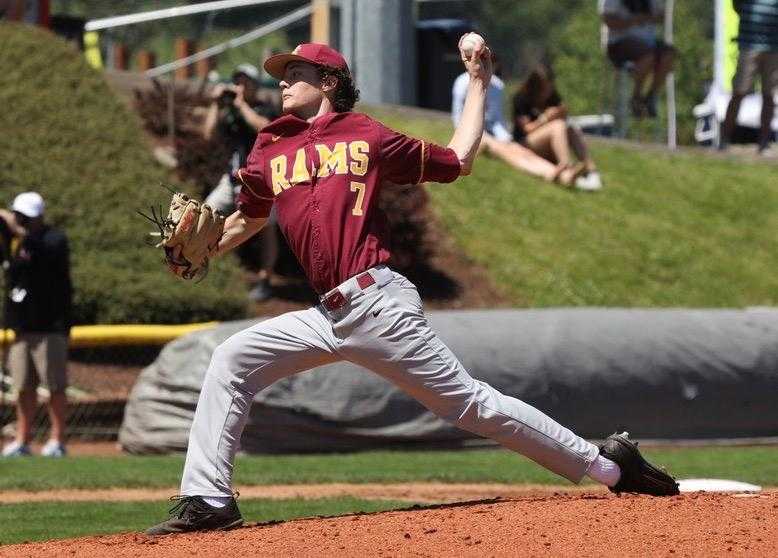 Last year, during a dominant junior season, Central Catholic left-handed pitcher Dylan MacLean began exhibiting many of the traits of a professional baseball prospect.
"His ability to attack right-handers across the plate on the inside half, and then throw off-speed away, it's a lot of what professional teams like to see, with those wood bats in their hands," former Central Catholic coach Brian Grant said.
The tall, angular MacLean had terrific command, to go along with steely poise and competitiveness, in pitching the Rams into the 6A final. But to really get the attention of pro teams, he needed one more thing: velocity.
That started to develop in the offseason, and by February, MacLean, who threw in the mid to upper 80s mph last year, was touching the low 90s. The uptick was enough to create a buzz in scouting circles for MacLean, who catapulted to No. 195 on MLB's list of prospects available in this month's draft.
"I think that was kind of the final box everybody was waiting to check," Grant said.
It was apparent just how much MacLean's stock had risen when Texas selected the 6-foot-4, 190-pounder in the fourth round with the 115th overall pick.
"Being drafted by an MLB team is a dream come true," MacLean said. "To have it happen this year, with my senior season canceled and not getting the chance for one more shot at state championship with my Central Catholic teammates, is pretty amazing, and I feel very fortunate that the Texas Rangers drafted me."
Grant said he wasn't surprised that MacLean went at 115 because "he checks a lot of boxes" and has vast potential.
"The one thing about him that I told scouts and recruiters is Dylan has not really started to hit that man-body yet," Grant said. "The hard part, I knew, for the scouts was that he didn't get his senior year to showcase the stuff a little bit more, as to where he was at. They were going off his projectability. He projects extremely high."
Now MacLean, who has signed with the University of Washington, has to decide between a career with the Huskies or going pro. Considering his draft slot has a $502,300 value, he has a lot to think about.
"This is a win-win scenario in my mind," MacLean said. "I have grown up watching Pac-12 baseball, and the opportunity to play at the University of Washington is a fantastic option. The Washington coaches are great and have believed in me and been very supportive. The incoming class of baseball players at UW is a great group. with some very talented players, and the education at UW is very good.
"On the other side, the dream and goal has always been to play professional baseball, and the way things have unfolded this spring has definitely made me appreciate the moment and made me feel like anything can happen at any time."
MacLean became Central Catholic's ace as a junior and went 10-1 with a 0.51 ERA. In 78 innings, he allowed 39 hits, struck out 128 and walked 16.
Grant marveled at how MacLean held up under pressure. He threw a five-hitter to beat Clackamas 1-0 in the 6A semifinals and tossed four shutout innings in the state final, a 2-1, 13-inning loss to Jesuit.
"The one thing he always brought to the table was the flat-out ability to pitch," Grant said. "He can locate with three pitches on both sides of the plate, and really attack the zone. He was consistent, 70 percent or above, on first-pitch strikes."
MacLean has been "training like a madman" in the past year, according to Grant, and has physically matured. Heading into the draft, though, it was unclear if a team was willing to spend a valuable pick on him.
"With the draft only being five rounds this year, it was hard to pin down how the draft would play out," MacLean said. "There were quite a few interested teams after last summer, and a lot of great area scouts that were in contact, but it was tough to tell what would happen."
As it turned out, his upside was too much for at least one Major League team to overlook. Texas sees something in MacLean that Grant has seen for a a while.
"Personally, I believe the kid's going to pitch in the big leagues one day," Grant said. "I've always kind of had that in the back of my mind with him, that when he got going, and really started growing into that body, that stuff really started taking off, and everything else was in place.
"I knew this day was going to come. It's a little sooner than everybody kind of anticipated, but I knew it was coming eventually. I'm just proud of all the work he's put into the game and craft and that it's all starting to come together for him."
MacLean said he will decide about his future after talking it over with his parents, coaches and a few close friends.
"There are great reasons and positives on either side of the decision, and in that sense, I feel like I am in a lucky position," MacLean said.