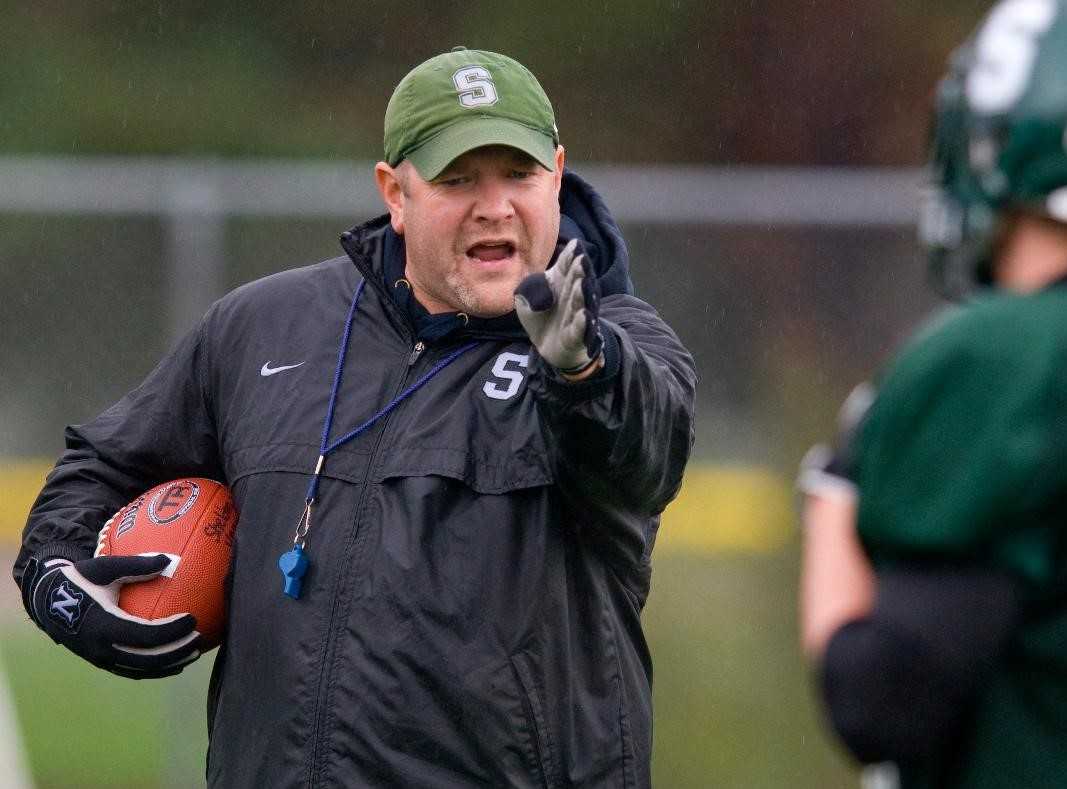 Since resigning as Sheldon's football coach three years ago, Lane Johnson has been perfectly happy away from coaching.
Johnson, who guided the Irish to a 6A title in 2012, had moved to Florence and was teaching half-time at Marshfield in Coos Bay. A self-described "old-school Oregon athletics fan," he had the time to sample small-school games at places such as Reedsport, Harrisburg, Monroe and Oakland.
"It was really fun," he said.
He also went to games at nearby Siuslaw, where his nephew, Sam Johnson, took over as coach last season. Impressed by the young coach, Lane has agreed to return to the sideline, joining Sam's staff as an assistant.
"I'm looking forward to it," Lane Johnson said. "I still don't miss coaching football, but I think I can help Sam and I think I can help the Siuslaw football program, so I'll give it a go."
Lane Johnson, 56, has coached on five big-school state title teams.
He assisted for 11 seasons at Glencoe, where he helped the Crimson Tide win a championship in 1994. He won three state titles during his 14 seasons as defensive coordinator at Sheldon before taking over as head coach in 2011. In six seasons as the Irish's coach, he went 67-10, finishing as 6A runner-up in 2011 and champion in 2012.
Sam Johnson, a 2014 Siuslaw graduate, helped the Vikings make a dramatic turnaround last season. Siuslaw, which went 3-21 in the previous three seasons, improved to 6-4, losing in the first round of the 3A playoffs.
"I went to the Siuslaw games last year, and just in discussions with Sam, he said he'd be stupid not to ask me," Lane Johnson said. "I think he thought I'd say no. But after a couple of discussions with him, I'm going to do it.
"I told him, 'I think I can help. I still think I have some value.' I think he needs somebody. There are some things that if he had a chance to do them over, he probably would. But he's certainly got it headed in the right direction. I'm very proud of him."
Sam Johnson reconnected with Siuslaw's winning tradition, even bringing back the veer offense. His rapport with the players was the main selling point for Lane to join him.
"The kids absolutely love him," Lane said. "I went down on the field after one of the games and Sam was talking to the team, and I just watched those kids look at him, and you could tell, he's got them. He had those kids completely locked in."
Siuslaw's staff also includes Andy Johnson, who is Sam's father and Lane's brother, as well as Nick Johnson, the son of Lane's oldest brother, Rocky.
Coaching is in the family DNA. Lane's father, John, was the coach at Marshfield (1979-87), where Lane and his brother, Marty, played quarterback. Marty coached Sheldon to three state titles in 14 seasons (1997-2010) before Lane took over as the Irish's coach.
Marty's son Jordan, who played quarterback at Sheldon and Montana, assisted at Cottage Grove for three seasons – along with Marty – before joining the staff at Sheldon last year.
Lane Johnson returned to Marshfield as a half-time teacher last year after receiving a call from district superintendent Bryan Trendall, his former high school basketball teammate. He said he had an opportunity to assist at Marshfield under coach John Lemmons.
"I probably would've done it had Sam not gotten the Siuslaw job," Lane Johnson said. "John Lemmons is a really good guy. I teach right next door to him and we talk football a couple times a week. I told him that I feel this loyalty to Sam, and I'm not going to do the Marshfield thing, even though it was intriguing to me."