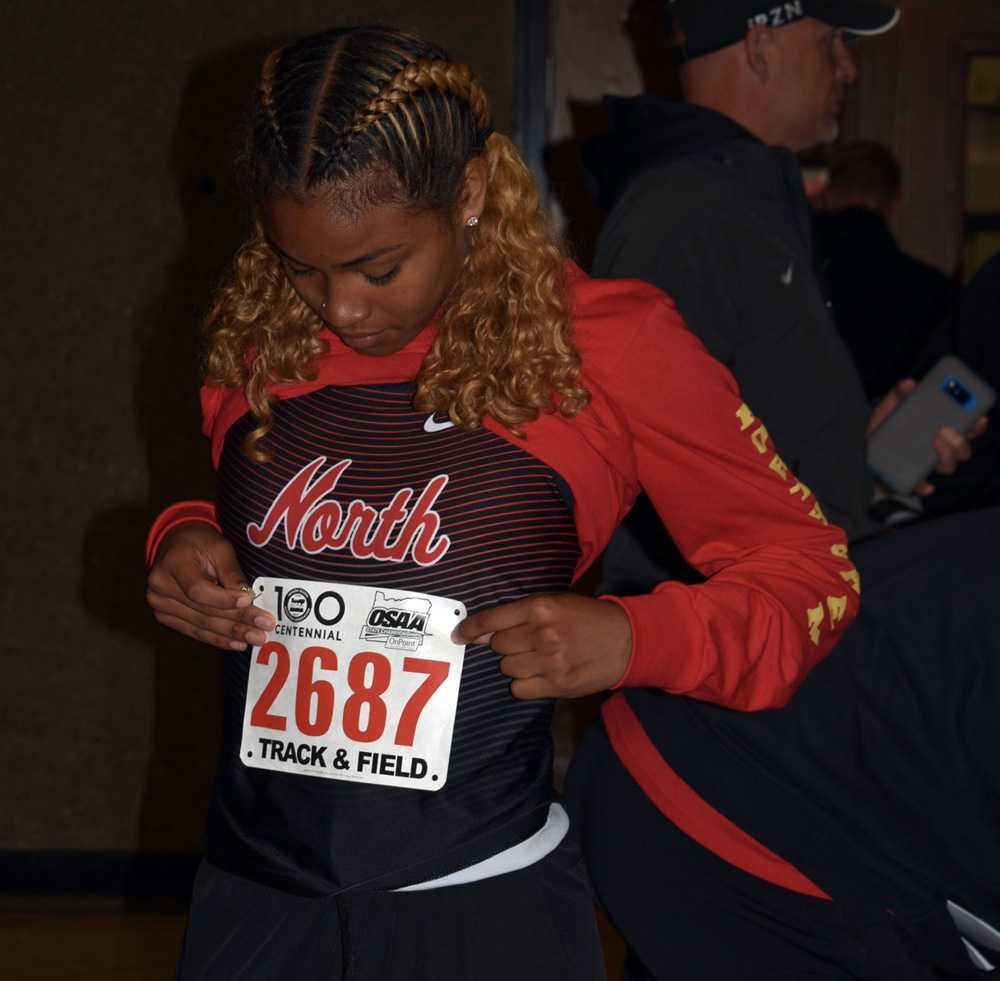 [Editor's note: "Take Five" is a recurring feature designed to offer a quick look at some of Oregon's most interesting high school sports standouts. This spring, Take Five will focus exclusively on seniors, whose final high school seasons have been disrupted by the coronavirus and may never actually occur. Today, let's get to know Maliyah Thompson, a sprinter and hurdler for North Salem. Thompson has been an individual state champion, a state champion in the 4x100 relay both at the 6A and 5A levels and part of a state championship team during her team with the Vikings. We asked Thompson to answer five questions from the 25 we posed to her. We hope you enjoy her responses.]
OSAAtoday: What was your first big success as an athlete and how did it impact you?
Maliyah Thompson: My first big success as an athlete was winning a state title with my 4x100 team. The love and support that we had throughout the season was amazing, and it was such a great feeling to win because it took a lot of convincing our coach to let that team be a thing, and we had worked so hard to prove that it was the right decision. The next year was even better because our relay team won state again, but I had won an individual state title in my all-time favorite event, which is the 100m hurdles, so that feeling was even greater. Our team took home the state title, and that has probably been my biggest success in this sport because I got to experience that moment with the ones I've trained hard with all season, and it's what we had been working towards the whole time, so to make it happen was such an exciting time.
OSAAtoday: What kind of coach gets the best out of you?
Thompson: The kind of coach that gets the best out of me is a sarcastic coach. I've learned this throughout my high school career. My coaches and I bust jokes at each other left and right, from the start of practice all the way to the end. When someone isn't laughing or joking with another, that's when we know something is off. But that's rare. It keeps our practices fun and it strengthens our connection together because it allows us to understand what we like and dislike, and that helps with the training process.
OSAAtoday: What's the single funniest thing you've ever seen in your spring sport?
Thompson: There have been hundreds of funny moments but one that is at the top of the list came during one of our practices before districts. I was working on blocks and I decided that I was gonna prank my coaches into thinking I got hurt. I let some of my teammates know beforehand so they could react in a way to also scare the coaches. So I went out of my blocks, and after a few strides, I pretended I pulled my hamstring. I started reaching back for my hamstring. I began limping, and eventually fell to the floor. The looks on all the coaches' faces were priceless, and I even freaked out the distance coach and his athletes. My hurdle coach reacted the funniest because he kind of just stood there like, "What do we do now?" knowing that we only had a couple days until districts and I wouldn't be cleared to run. My sprint coach saw the end of it so he was pretty worried too. Once the joke was over we all laughed it off and it was a good one.
OSAAtoday: What's the wisest thing a coach ever said to you?
Thompson: One of the wisest things my coaches have said to me, along with one of the most helpful things is, "Run your own race." Being a hurdler, there are many things that can cross my mind and ruin the race for me before it has even started, but I always hear my coach in my head telling me to run my own race. It helps me focus on MY lane, and no one else's, making it seem as if I'm going out there to race myself. Thinking about this gives me more motivation to go out there and attack the hurdles. It also allows me to realize that it doesn't matter if someone is ahead of me or right next to me because if I stay focused on myself, my hurdles, and my race, that can help me fix up what I need to, and possibly even win.
OSAAtoday: If you could be any professional athlete for a week, who would it be and what would you do?
Thompson: If I could be a professional athlete for a week, it would definitely be [American hurdler and sprinter] Sydney McLaughlin. She is my FAVORITE and she's so beautiful, and she seems like she just has so much fun. I probably wouldn't do anything special, just relax and soak in how cool she is. I'd also go run the 400m hurdles while I'm her for a week because you wouldn't catch me running those on any other occasion.
Read other Take Five articles published in connection with the 2020 spring season: