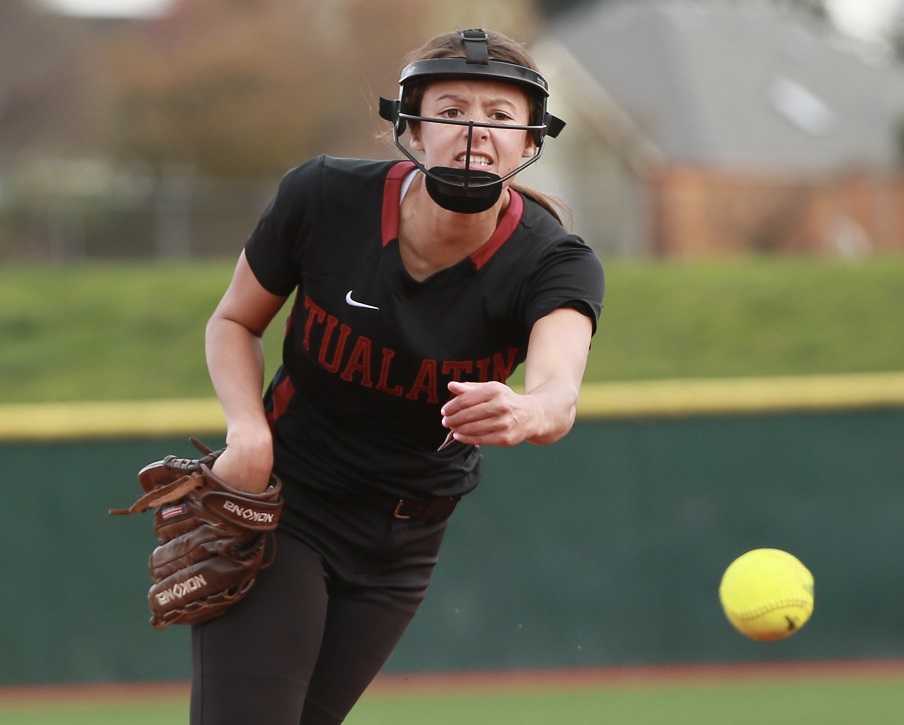 All things being normal, Tualatin would be starting a softball season full of promise Wednesday with a nonleague game at Clackamas.
The Timberwolves, 6A champions in 2018 and runners-up last year, have a loaded team that was voted No. 1 in the OSAAtoday 6A preseason coaches poll last week.
But after the OSAA decided last week to suspend spring sports contests and practices through March 31 due to concerns about the coronavirus, everything came to a screeching halt for the Timberwolves.
"The practices were good. The girls were coming together and looking really crisp," Tualatin coach Jenna Wilson said. "They're ready to rock, for sure, so this came at a pretty tough time."
The hardest part for spring sports athletes and coaches is not knowing what lies ahead. Will the season get started April 1? If not, could it be pushed back again? What would be the latest viable starting date for spring sports? At this point, nobody has the answers.
In the meantime, athletes and coaches are in limbo as they try to find ways to stay ready for when – or if – they get the green light. The period is especially difficult for coaches, who must take a hands-off approach.
"Coaches should not be involved in anything that's going on," OSAA executive director Peter Weber said. "If kids want to get together and do stuff, certainly we're not able to stop that.
"A lot of districts are shutting down their facilities, so people won't be able to use their facilities. But a coach getting one or two kids together to do something, they can't do that. We would consider that a practice."
Wilson offered as much guidance as she could at Tualatin's last practice.
"The biggest part was just to stay safe," Wilson said. "Of course they asked, 'Can't we get together on our own and run our own practice?' We can't use our facilities. I made sure to let them know that. I don't want to condone any kind of organized practice just because I don't think it's worth it right now.
"Our pitchers and catchers, I know they'll work together. I'm not worried about that."
Wilson said she is hopeful that no coaches will try to skirt the rules.
"I truly think that doing the right thing shakes out for the best for everybody," Wilson said. "So I'm not concerned. If someone wins because they did some practicing but it could put kids in danger, people will figure it out, and that coach that broke the rules probably won't be there the following year."
In addressing his athletes Friday, Summit track coach Dave Turnbull encouraged them to practice social distancing and to stay fit on their own, but also had a sobering message.
"We said that it's likely we're going to lose a big portion of the season, if not all of it, and we wanted to prepare them for that, so it's not going to be a complete shock if it does happen," Turnbull said. "And then if it doesn't happen, it'll be a welcome surprise."
In Turnbull's case, one of his best athletes happens to be his daughter, Asha, a senior who could climb near the top of the state's all-time list in the triple jump this season. Turnbull is permitted to coach her during the break.
"I kind of laughed as I was walking out of school, like, 'This is weird, I can't coach anyone right now except for my own daughter,'" he said. "We need some training in order to get her to 40 feet. We were hoping maybe she would chase the state record."
When the OSAA staff met Friday, one of the main topics was the spring championship schedule for activities: solo music, speech, choir, band and orchestra.
Solo music's championship cutoff date is Tuesday, with speech next on April 11 and the others on April 18. The speech championships were set for April 23-25, with the rest scheduled for the first half of May.
"What are we going to do with the cutoff dates? Are we going to qualify the same way?" Weber said. "We're going to reach out to some of those groups and get some input. We can regroup as a staff and figure out maybe where we go from there."
The OSAA could make a decision on spring activities before March 31, according to Weber.
As for spring sports, many options are on the table. Much will hinge on when the schools re-open.
"We certainly haven't locked into if we can't start April 1, then the whole season is done," Weber said. "We haven't gotten to that point. Our hope and our goal is that we're still going to be able to have an abbreviated spring season and spring championships. If that isn't able to happen, then we'll make a decision."
The OSAA has yet to discuss the latest viable start date for spring sports.
"Some of that could vary by activity," Weber said. "They're also staggered in terms of when their championships are. The tennis season was already going to be shorter than the baseball season. So we haven't gotten that far to say, 'Hey, if we don't have tennis by a certain date, then we just can't have tennis.'"
The golf state championships are May 18-19, followed by tennis (May 21-23), track (May 28-30), baseball (June 5-6) and softball (June 5-6).
Turnbull said that if track athletes could get a month of training, a state meet would be viable. He said he might even move the Summit Invitational, set for April 18, to later in the season to bolster the schedule.
As he parted with his athletes Friday, though, he made a personal pledge.
"I said that even if they cancel the season on us, if they allow us to practice, I will be out there every single day practicing, even if we can never compete against anyone else," Turnbull said. "I looked up and all the kids were nodding their heads. I said, 'I can't wait to get back to school. We'll have a great workout. We'll be a family again.'"