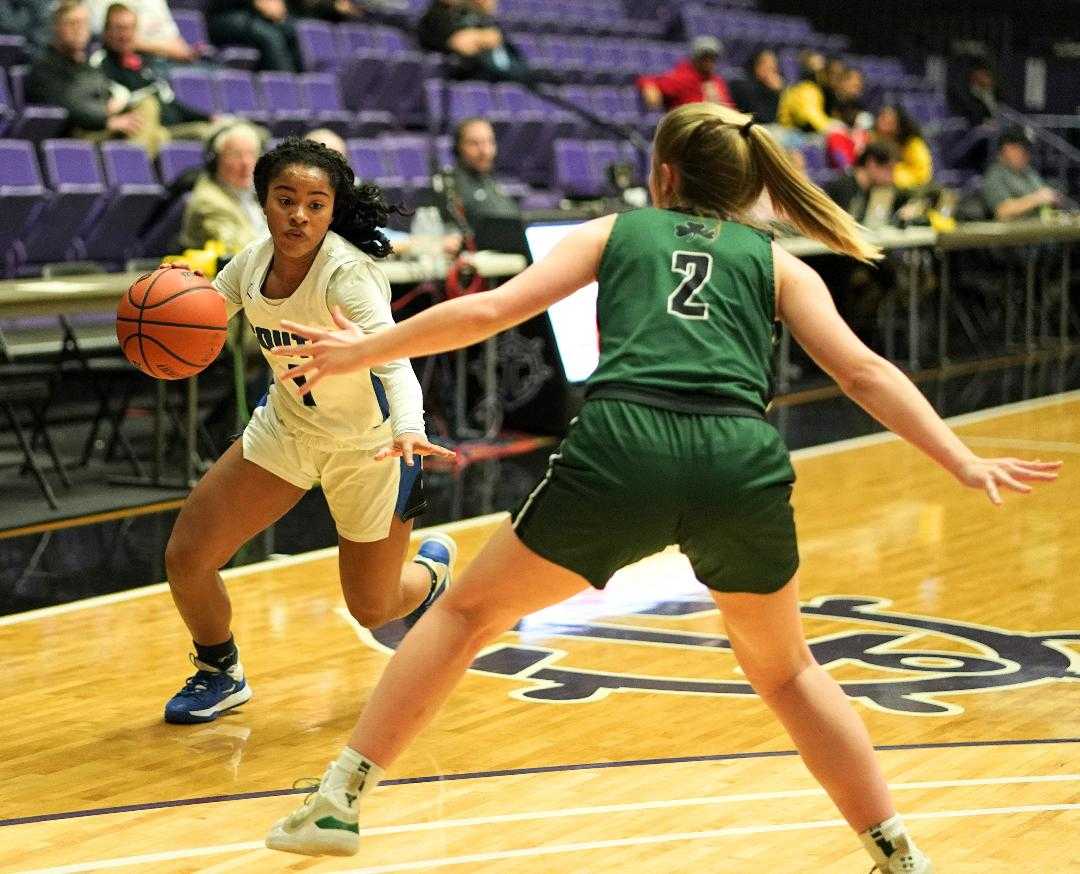 PORTLAND – On a night when South Medford's 6A-leading offense sputtered in its most important game of the season, Toni Coleman provided just the right kind of fuel.
The jet-quick, 5-foot-4 junior guard – who entered averaging 9.4 points – dominated with her perimeter defense and exploded for 26 points to spark the second-seeded Panthers to a 56-47 win over No. 7 Sheldon in the quarterfinals of the OSAA/OnPoint Community Credit Union 6A girls basketball tournament Wednesday at the Chiles Center.
Coleman made 11 of 20 shots and added six rebounds and five steals as she repeatedly came up with big plays with the game hanging in the balance. She scored 11 of the final 23 points for the Panthers (25-3), who pulled away in the fourth quarter after trailing by four points late in the third quarter.
"I love playing defense. Steals, fuel," Coleman said. "And I love scoring, hyping my team up. I feel like that brought us together, helped us pull out this win at the end."
Coleman's contribution was crucial considering South Medford's top scorers this season – senior Bella Pedrojetti (14.0 points) and junior Kaili Chamberlin (13.4 points) – combined to shoot 3 for 14 and finished with four and 10 points, respectively.
"Her mentality was just there. She was ready from the start of the game," Chamberlin said of Coleman. "Warm-ups, she was focused, she wasn't messing around. She knew what she wanted to get done."
By improving to 3-0 this season against Southwest Conference rival Sheldon (22-6), the Panthers earned a semifinal date against No. 6 South Salem on Friday. The win ended a streak of four quarterfinal losses since South Medford reached three consecutive finals from 2012 to 2014. They are pursuing their first title since 2012.
"It's revenge for us," Coleman said. "We went home with two losses at state last year, so this is our comeback. It meant a lot for us to win."
For a while, though, it appeared as if the Panthers might get stuck on that familiar quarterfinal hurdle. Despite beating the Irish 72-58 and 70-60 in both conference meetings, they could not find an offensive flow and finished shooting 38 percent from the field (19 for 50), including 1 of 9 from three-point range.
South Medford coach Tom Cole was having flashbacks to 2015, when the Panthers entered the tournament with the No. 1 overall seed but lost to 52-51 in the quarterfinals to Southwest rival Roseburg, a team it defeated by 18 and 12 points in conference play.
"I hated the matchup from the very beginning," Cole said of playing Sheldon a third time. "Any time you have to play a quality opponent three times, it's difficult. We've been bitten by that at a state championship before. For some of our kids who have been more consistent to not have great games, but to beat a very quality Sheldon team, it was a good win."
Chamberlin sensed the Irish up their intensity Wednesday.
"They came out harder this time," Chamberlin said. "They were more prepared, because they didn't want to lose again, and they felt the loss for those two times in conference."
Coleman scored 15 points to help South Medford build a 26-18 lead late in the second quarter, but Sheldon answered with a 10-0 run to lead 28-26 at half. Irish senior guard Aly Mirabile scored seven consecutive points and freshman forward Beaux Bruegman hit a three-pointer to cap the surge.
Sheldon led 36-33 in the final minute of the third quarter when South Medford made its move. Coleman got it started by driving the length of the floor for a buzzer-beating layup to make it 36-35. Chamberlin drilled a three-pointer, Coleman scored on a drive and junior Emma Schmerbach made two free throws to finish a 9-0 that gave the Panthers a 42-36 lead.
A few minutes later, Coleman drove for another basket to complete a 7-0 run that opened a 51-40 lead with 3:15 remaining. The Irish, who shot 32.1 percent (18 for 56), could not answer against South Medford's swarming perimeter defense.
"It was a gut-check," Cole said. "We worked really hard to get to this point in the season, and we knew that we didn't play a very good first half. But we also knew if we could get back into it defensively, get some transition buckets, we could turn things around, and that's exactly what happened."
Chamberlin said the Panthers "were getting a little nervous, but I feel like we pulled it out as a team. We came together and we knew that we could win, because we have twice."
Sheldon, which lost in the semifinals last year, got 12 points and eight rebounds from Bruegman and 11 points and four steals from Mirabile. The poor shooting and 21 turnovers proved costly, though.
"They made more plays than we did," Irish coach Brian Brancato said. "They got that lead to six, and they're too tough defensively.
"It's the best we've played them. They didn't rush us as much offensively as they had in the past. But you've got to make shots to keep up with teams like that. Hats off to South Medford."
In the game's aftermath, the Panthers learned that the tournament will continue without spectators due to health concerns about the coronavirus.
The news hit especially hard for South Medford families and supporters considering many of them made a five-hour trip to see the team play.
"A lot of family came, so it kind of sucks not having them there the next couple days," said Coleman, whose parents, brother and cousins were in attendance Wednesday. "It's obviously going to be tough, but we're going to have our team, so we're going to support each other and do what we did today, and cheer on the bench and on the court."