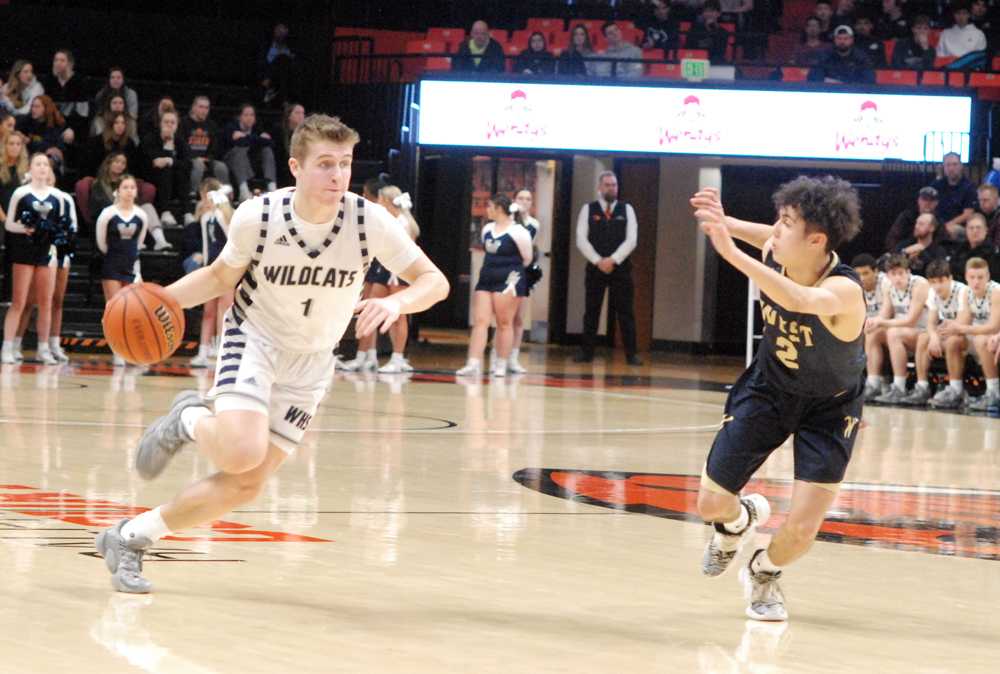 CORVALLIS: It took only 12 seconds for Wilsonville to make an emphatic statement in Wednesday afternoon's quarterfinal game at the OSAA/OnPoint Community Credit Union Boys 5A State Basketball Championships in Corvallis. Senior wing Dakota Reber got behind West Albany's 2-3 zone defense, took a perfect pass from Keegan Shivers and soared for an alley-oop dunk. The defending state champions scored three more quick baskets -- two on drives from point guard Gabe Reichle and a triple from Shivers – to take a fast 9-0 lead and never trailed in their 61-42 win over West Albany.
"We wanted to set the tone with a big play early and just kind of get going," said Reichle.
Wilsonville led by 10 after one quarter and West Albany never got closer than seven the rest of the way. The defending champions finished the game shooting 75 percent from the field and assisted on 17 of 24 made field goals.
"We're real happy," said Wildcat head coach Chris Roche. "That's a good team we just beat. They have five good players: two big posts, a slasher and two good guards and they fit together well. We knew it would be a hard contest. I thought we executed pretty well on offense."
"That's a really good basketball team," said West Albany head coach Derek Duman. "They're a really good program, which is why they've been in the state championship the past five years. Everybody on the floor can score for them and they're all 6-2 or taller. We have some big kids as well but when their 6-6 is elevating over our 6-2 with a hand in his face and scoring there's not much more you can do defensively. You just have to tip your cap to them."
Despite the final margin, the game tightened up considerably three minutes into the fourth quarter. After baskets from Reber and Andrew Classen extended Wilsonville's 15-point bulge at the end of the third quarter to 16, 48-32, West Albany scored eight straight, including two baskets from rugged post TJ Zimmerman; to pull within 48-40. The Bulldogs had a shot to cut into the lead further, following a Koby Ruiz steal, but his three-point shot was off the mark. Wilsonville responded with a 9-0 run of its own, starting with baskets in close from Shivers and Reber, to take its biggest lead of the game, 17 points, with less than two minutes remaining.
"I thought we continued to compete to the very end," said Duman. "Our guys made a run like I knew we could. It just wasn't quite enough. We were one basket away from me calling time out to catch our breath. I think we kind of lost our wind after that big run. I would have liked to have seen us down six with two minutes left. I think it would have been a fun finish but I'm really proud of our guys."
Wilsonville coach Roche also was proud of how his players responded to the West Albany challenge.
"The 9-0 run showed toughness," he said. "Just when it looked like it was getting tough, we responded. That's been a characteristic of this senior group their whole way through. They usually respond real well to tough situations."
Zimmerman finished with 14 points to lead West Albany, which was making its first state tournament appearance in six years. He scored six first-quarter points to help the Bulldogs rally from the 9-0 hole to get within 16-9 late in the period. Wilsonville held the ball for the final minute as West Albany packed in its zone and made the Bulldogs pay when Reber drilled a long wing three at the buzzer.
The Reber shot would have been the dagger for most teams but not West Albany, which cut the lead to seven immediately thanks to Austin Stanaway's deep three to open the second period. Wilsonville responded with eight straight points, including a triple from Classen and a gorgeous give-and-go between Reichle and Classen that led to Reichle's monster jam. The Wilsonville lead hovered between 11 and 15 points the rest of the half. Justin Henderson scored on consecutive possessions for West Albany to cut the lead to 11 but Reichle scored on a drive on the last possession of the half to help the Wildcats take a 31-18 lead to the break.
The two teams played evenly in the third quarter, with Wilsonville going to the fourth up 15. Wilsonville led by as many as 16 in the third thanks to Shivers' three pointer to open the scoring. West Albany got as close as 12 after another Zimmerman hoop.
Twice early in the fourth quarter West Albany cut Wilsonville's lead to 12, first on another deep three from Stanaway and then on Ruiz' slash to the hoop. But Wilsonville countered with those baskets from Reber and Classen to go up 16 and set up the exciting final push between the two teams.
Reber finished with 20 points to lead Wilsonville, which has yet to lose to a 5A team this season. Classen finished with 16 points and four assists, Reichle had 15 points, four assists and four steals and Shivers contributed eight points, six rebounds, six assists and three steals in a strong performance.
The win takes Wilsonville into tomorrow's 5A semifinal with favored Churchill, a 70-47 winner over Crook County in the first quarterfinal. It will be a rematch of last year's championship game, which Wilsonville won, 67-58. Roche said that beating the Lancers will be a tall order.
"We're going to have to meet their intensity," he said. "When you lose to a team here before, especially in the championship game, there's an intrinsic motivation that's there. They want to get us back. They'll be ready. So we're going to have to match their intensity and show uncommon poise against really good athletes. If we can do that maybe we'll be able to hang around. If we can't, it's going to be a really tough game."
In other boys 5A quarterfinal games:
No. 1 Churchill 70, No. 8 Crook County 47: Churchill senior wing Brian Goracke scored the first 11 points of the game and finished 7-for-7 in the first quarter with three three-pointers in the Lancers' win. The top seeds led 23-10 after one and expanded their lead to 18 in the second thanks to the instant offense of senior reserve Isaiah Wallace.
Crook County, making its first 5A state tournament appearance ever, rallied to within 11 at halftime on a Kevin Sanchez-inspired 9-2 run, but two early triples by Evan Pia to open the third quarter followed by a Goracke fast break dunk, off of a beautiful Samaje Morgan feed, restored Churchill's comfortable lead, something it maintained the rest of the way.
Goracke finished with a game-high 23 points and added eight boards for Churchill.
"I wasn't forcing anything, " said Goracke of his hot start. "All the shots were open. I just shot them with confidence and knocked them down."
Wallace contributed 15, Pia 12 and Silas Bennion 10. Morgan scored only two but had a terrific outing with eight assists and four steals.
Kevin Sanchez did a lot of the heavy lifting for Crook County. The Intermountain Conference POY was the only Cowboy to score in double figures. He had 18 plus seven rebounds and three assists. Jesse Sanchez had three triples to account for nine points. Post Caleb Arnold finished with eight.
No. 3 Crater 76, No. 6 South Albany 43: Nate Bittle happened. The 6-11 junior, one of the top players in his class in the nation, delivered a triple double for the Comets in just 23 minutes of play. He had seven points and five rebounds less than four minutes into the game as Crater established dominance in the paint that would continue for the balance of the contest. Bittle finished with 35 points (14-of-24 with five treys) and 15 rebounds and tied his 5A state tournament mark, set last year, of 10 blocked shots.
Behind Bittle and 6-6 senior Kruger Edwards, who had 12 first-half points, including four monster dunks; Crater led by 26 at halftime. Hunter Chubb, who had three triples in the first half, dialed long distance again in the third quarter as the Comets extended their lead to 40 going to the fourth. Crater's lead got as big as 42 in the final period before the RedHawks found success against Crater's reserves.
Edwards supported Bittle's big night with 16 points and nine rebounds. He added a fifth rim rocker in the fourth quarter. Chubb also had 16 along with six assists.
Ayden Foster was South Albany's top player in the first half, with nine points and six rebounds. The team's leading scorer, Isaiah Gilliam, finished with a team-high 13 points, all in the fourth quarter.
No. 2 Silverton 75, No. 7 Willamette 34: In his season preview, Silverton coach Jamie McCarty asserted that his team could really shoot it. Silverton, showed that Wednesday evening, dialing long distance four times, from four separate players, in a 14-0 start and never looked back. Lucas Roth opened the scoring with a three-ball for the Foxes and Jordan McCarty, Nathan Brown and David Gonzales all hit from downtown in the devastating opening sequence. Elisha Thompson broke the run with a layup for Willamette, but Silverton responded with seven straight to close the quarter, including a trey from Trysten Wertz, the fifth Fox player to hit from beyond the arc in the quarter.
Ejim Akuma gave Willamette a second quarter spark off the bench and point guard Jose Yanez hit twice from long range, but the best the Wolverines could do was avoid going further down. Silverton seemed to answer every Willamette foray with one of its own and took a 20-point lead to the locker room.
Owen Cote, who sat out most of the first half after picking up two early fouls, scored eight Silverton points in the third quarter as the Foxes lengthened their lead to insurmountable levels.
Gonzales, the two-time Mid-Willamette Conference POY, scored 20, with seven rebounds and five assists, to lead the Silverton attack. Grant Dunn added 12, Brown and McCarty 11 apiece, Cote eight and Roth seven for the Foxes, whose lead ballooned to more than 40 in the final period.
Akuma finished with seven for Willamette as did the team's leading scorer Luke Smith, who did have 10 rebounds.