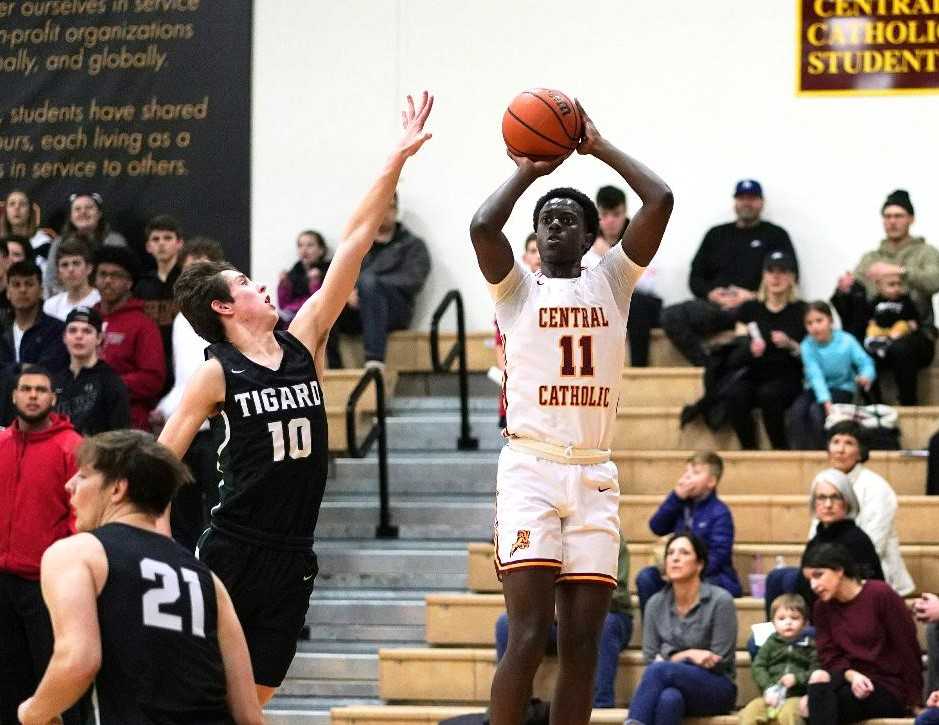 PORTLAND – It might not be exactly how they envisioned getting there, but the Central Catholic Rams are going back to the 6A boys basketball tournament.
The No. 5-seeded Rams (19-7) earned their spot Saturday night with a 58-43 home win over No. 12 Tigard in the 6A playoff round of 16. They advance to a Thursday quarterfinal against No. 4 Clackamas, which beat them in both Mt. Hood Conference meetings this season.
After spending three weeks at the top of the OSAAtoday 6A coaches poll early in the season, it's been a bumpy road for Central Catholic. The Rams suffered seven losses. They did not win the Mt. Hood title. And along the way, they lost standout senior guard Isaiah Amato, who is out for the season after suffering an avulsion fracture to his ankle Feb. 14 against Clackamas.
Through all that, though, the Rams persevered and made it to their desired destination.
"The biggest thing is we're hitting our stride right now at the right time," junior guard Darius Gakwasi said. "We definitely had a couple losses, but in a sense, those built character for us. So we know what it's like to lose, and we don't want to do that when it really matters.
"Once you get to the tournament, everything resets. We're ready for that."
Gakwasi scored 22 points and 6-foot-7 sophomore Luke Johnson added 17 points – 13 in the second half – for the Rams, who are eager to redeem themselves for last year, when they lost to eventual state champion Jesuit 64-38 in the quarterfinals.
"I think we've got a great chance," Johnson said. "We've got a lot of seniors. They've been there before, they know what it's like. We're not nervous. We're just going in there with a good mindset."
Against Tigard, the Rams took the lead for good midway through the first quarter. They pushed it to 24-12 early in the second quarter, led 29-18 at half and opened a 37-19 cushion early in the third quarter.
The Tigers (16-10), who lost in the quarterfinals last year, had difficult finding a rhythm against Central Catholic's defense. Tigard shot 26.7 percent from the field (12 of 45), including 3 of 21 from three-point range.
"That's the most we've been locked in on defense for 32 minutes since the Les Schwab," Rams coach David Blue said.
The defensive catalyst was guard Jordan King, the newcomer in the starting lineup in place of Amato.
The burly 6-3, 200-pound sophomore, an emerging star in football, met the challenge of guarding Tigard 6-3 junior wing Drew Carter, who entered averaging 24.5 points per game. Carter went 2 for 11 from the field and finished with nine points.
"He is so good at defense," Johnson said of King. "His physicality, no one can really match that. And he's just getting bigger and stronger. It's going to be tough to match up against him. And no one can mess with him on the football field."
Blue praised King's intensity and preparedness.
"That guy, he's a man," Blue said. "He's locked in. His mindset, his competitive greatness, it's unmatched. You talk about being a 24-hour pro, that's how he is, 24 hours a day. School, on the football field, he's taking care of business."
Gakwasi said of King: "He's not a sophomore anymore. He's thinking like an upperclassman."
Carter, who scored 34 points in an opening-round win over David Douglas, had four points through three quarters as King got up close and personal.
"He was just face-guarding me, that was pretty much it," Carter said. "And then whenever I got the ball, everyone kind of collapsed. Central Catholic had a great defensive scheme. They played their butts off. Hats off to them, they're a really good team."
Gakwasi was the driving force on offense. He scored 10 points in the first quarter – hitting back-to-back three-pointers – to get the Rams started, and provided the highlight of the night in the fourth quarter when he threw down a dunk over a Tigard defender.
"I attempted it, but I didn't know if I was going to make it," Gakwasi said with a smile. "I was glad to see it go in."
Gakwasi also led Central Catholic with 21 points in a win over Canby in the opening round. He is averaging a team-high 16 points this season.
"Tonight he was special," Blue said of Gakwasi. "Since Isaiah's been hurt, he's had to take his game to another level, and he's done it."
The Rams have had to join together to pick up the slack for Amato, who is headed to Eastern Washington. They are 5-0 since Amato's injury, which happened when he slipped on a wet spot on Central Catholic's floor.
"We've responded as well as anybody could," Gakwasi said. "Everybody is realizing that if we want to still achieve our goals, that they have to really grow up. I think that's exactly what everyone's done."
Senior wing Steven Long scored 10 points to lead Tigard. It was a disappointing finish for the Tigers, but considering they started a freshman, three juniors and a senior, they have reason to be excited about next season.
"I'm feeling great about the future," Carter said. "Sad to see the seniors go, but I think coming back next year, it's a really good group. We'll just build off this and we'll be totally fine."