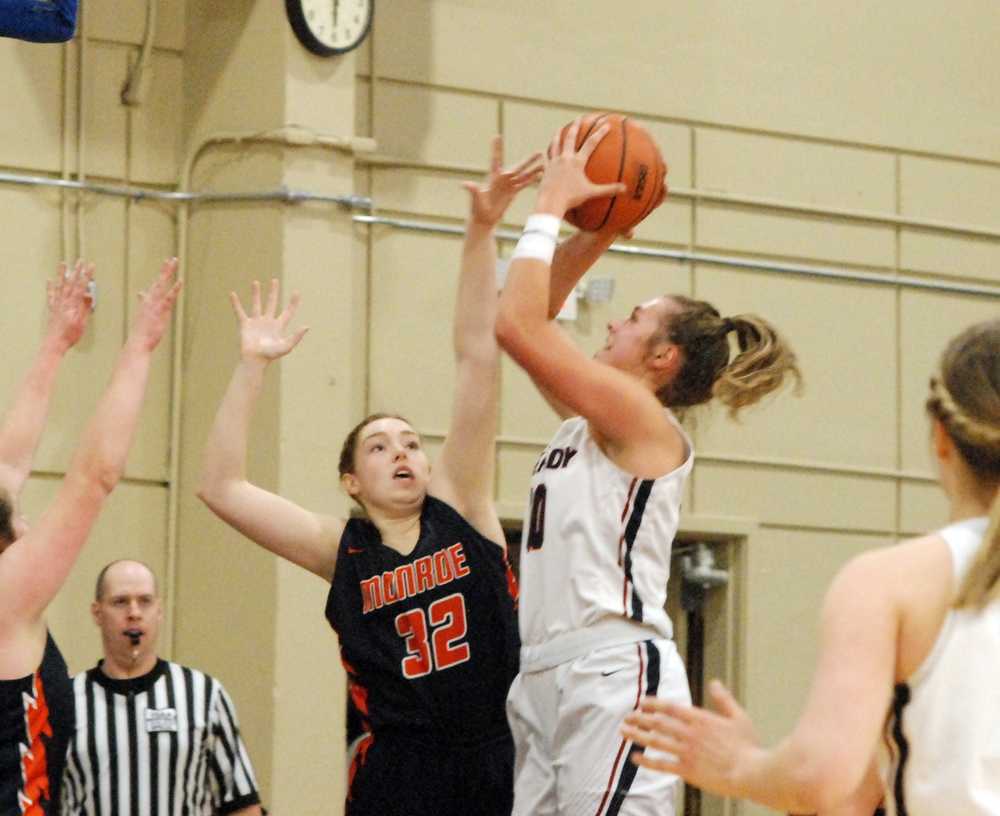 PENDLETON: The Kennedy Trojans won their second 2A title in three years, defeating the Monroe Dragons, 48-26, in the OSAA/OnPoint Community Credit Union Girls Basketball Championships played at the Pendleton Convention Center Saturday evening. Kennedy did it by shredding Monroe's 1-2-2 zone defense with precision passing, which led to wide open looks, especially in the paint for 6-2 senior Sophia Carley, which the Trojans converted again and again.
"We get hit with so much zone throughout the season as teams try to pack it in on Sophia," Kennedy coach Kerry Hall explained. "Our girls have gotten so used to it.
"We were swinging the ball fast and looking at weak side and just really communicating with each other to know where everyone is," said junior guard Ellie Cantu, who had numerous assists.
"They know passing is what you have to do to attack the zone," Hall added. "We actually struggle more with man because we don't get manned up very often. The girls felt pretty comfortable today facing the zone and it showed. They started moving the ball and knew what to do. "
Monroe scored the first basket of the game and the last basket of the first quarter. Unfortunately for the Dragons, Kennedy scored the 17 in between. The Trojans' robust first quarter advantage was the story of the half and, as it turned out, the game in a contest pitting the 2018 champion Trojans against the 2017 champions from Monroe.
Kennedy not only was strong pounding the ball inside to Carley but also on the defensive end. Monroe shot just 33% for the first half and had eight turnovers.
"The girls came out ready to play and it was lock down defense once again," said Hall. "Like I said the other night defense wins championships and I truly believe it was what won it for us tonight."
"I think it started with our defense," Cantu added. "When our defense is good everything just flows from that. We just left everything we had out there."
Carley had 11 points at halftime, a 29-15 Kennedy lead, and Cantu added 10 as Kennedy worked hard to get everyone involved. Hailey Arritola was terrific at the point for Kennedy. She drilled a corner three and had four assists for the Trojans, who led by as many as 18, 22-4, early in the second quarter.
Tyler Warden was a bright spot in the first half for Monroe. After scoring the game's first basket, Warden was quiet until midway through the second quarter, when back-to-back triples helped the Dragons surge to within 25-15. Cantu responded with a 3-ball of her own and hit a free throw to push the lead to 14 at the break.
Cantu said that she was confident at halftime that the night would end well for her team.
"I thought we were going really good and momentum was on our side," she explained. "I knew if we kept that pace up we would have it."
Kennedy was dominant again in the third quarter, especially Carley who had nine of her game-high 20 in the period. Kennedy's lead grew to 23 in the third and 25 in a listless fourth quarter for both teams.
Monroe coach Tony Parker said that tonight wasn't the best effort for his Dragons.
"We came out a little flat, got down early and couldn't power our way back in," he explained.
Parker said his team's been playing zone with great success all year and it's what the Dragons went with again tonight.
"It's what we came here with and what we stuck with," Parker said. "It's just hard to deal with Sophia being 6-2 inside. We just don't have that kind of size to match up. We were trying to put pressure on the ball and trying to slide a guard in front of her to see if we could knock some balls away but it just didn't work tonight. It's just one of those things."
Parker said that Carley also hurt Monroe on the other end as well.
"She was really hurting us on the defensive end because we just couldn't get to the paint like we're used to," he explained. "The height really affected our shooting inside."
Monroe finished the game shooting just 20.5 percent on 9-of-44 shooting. Warden finished with a team-high eight points. First Team All-Tournament pick Mirtha Lopez added seven and Young chipped in with five.
Carley, the only unanimous All-Tournament pick, led Kennedy with 20 points, 13 rebounds and three blocked shots. She and Catherine Butsch, who was credited with four points on 2-of-3 shooting, are the only seniors on this team.
"She's unbelievable," said Hall of Carley. "She's such a great leader and good example for everyone. She's kind to all the girls and one of the most humble kids you'll ever meet. She's willing to do anything to help her teammates get better and help them win. You don't see many kids like that. It's really going to be hard not to have her next year."
Cantu had 16 points to complement Carley's scoring. The Trojans had seven players score in the game, including freshman wing Meah Carley.
The basketball championship was the second in three years for Kennedy, the third title overall for many of the girls and the fourth for Carley. Kennedy won a state title in softball in 2018 and five members of the basketball team also celebrated a state volleyball championship this past fall.
Cantu said winning basketball this year was probably tougher.
"They were both really hard but I think basketball was harder in the sense that we had to work really hard coming off of what happened last year," she said.
What happened last year was the Trojans were upset by Coquille in the semifinals. Carley said that playing Coquille in the first round this year was helpful.
"We had a whole week to prepare for them and we needed it because they're tough," she said.
Carley, who plans to play volleyball in college, said that all four of her state championships so far have been very special.
"This one was really tough," she said. "We had two really tough games coming in tonight. We had to give everything we had on this court."
In the 3rd/5th game:
No. 5 Bandon 56, No. 2 Union 34: Senior guard Traylyn Arana, a first-year transfer from Glendale, scored off the opening tip, had eight points in the first quarter as Bandon opened up an 18-11 lead and finished with 20 in a game in which the Tigers never trailed. Post Kennedy Turner also was strong early for Bandon, scoring nine and adding seven rebounds, as the Tigers extended their lead to 27-17 by halftime.
Arana, who missed half of the first two quarters with two fouls, produced a three-point play the old-fashioned way to start the second half and Bandon eventually built its third quarter lead to 22 points. Taylar Daggett provided a spark for Union with two long three-point shots in the period but the Bobcats were unable to sustain any momentum against the more athletic Bandon team.
The win caps a 27-2 season for Bandon, which won only 10 games total the previous two seasons combined and had never advanced past the first round of the playoffs over the previous 30 seasons.
"It's so very satisfying," said senior Ashley Strain, whose two early assists helped stake Bandon to a fast lead. "All the hard work we've put in the past few years has paid off. It's very emotional. We've been working for it the past three years. Playing in the state tournament our senior year. It's been on the calendar this whole year."
"It feels great," Arana said. "I've never come this far with such a great team. It was a great opportunity to be part of it."
Turner, Eduarda Reolon and Sterling Williams complemented Arana's 20 with nine points apiece for Bandon. Union, which finished 25-5, was paced by Daggett's 12. Kylie Marriott added nine points and seven rebounds.
In the 4th/6th game:
No. 9 Coquille 51, No. 3 Central Linn 34: Senior Morgan Baird, a Portland State signee, had 32 points, eight rebounds and four blocked shots for Coquille (25-5), which won every quarter Saturday morning in the matchup with the Cobras (23-6). The Red Devils, who were state runner up to Heppner last year, shot 43% from the field to just 26% for Central Linn. Ryleigh Nofziger and Meg Neuschwander scored 10 points each to lead young Central Linn, which had just two seniors on the roster and saw underclassmen score all but three points in the game.