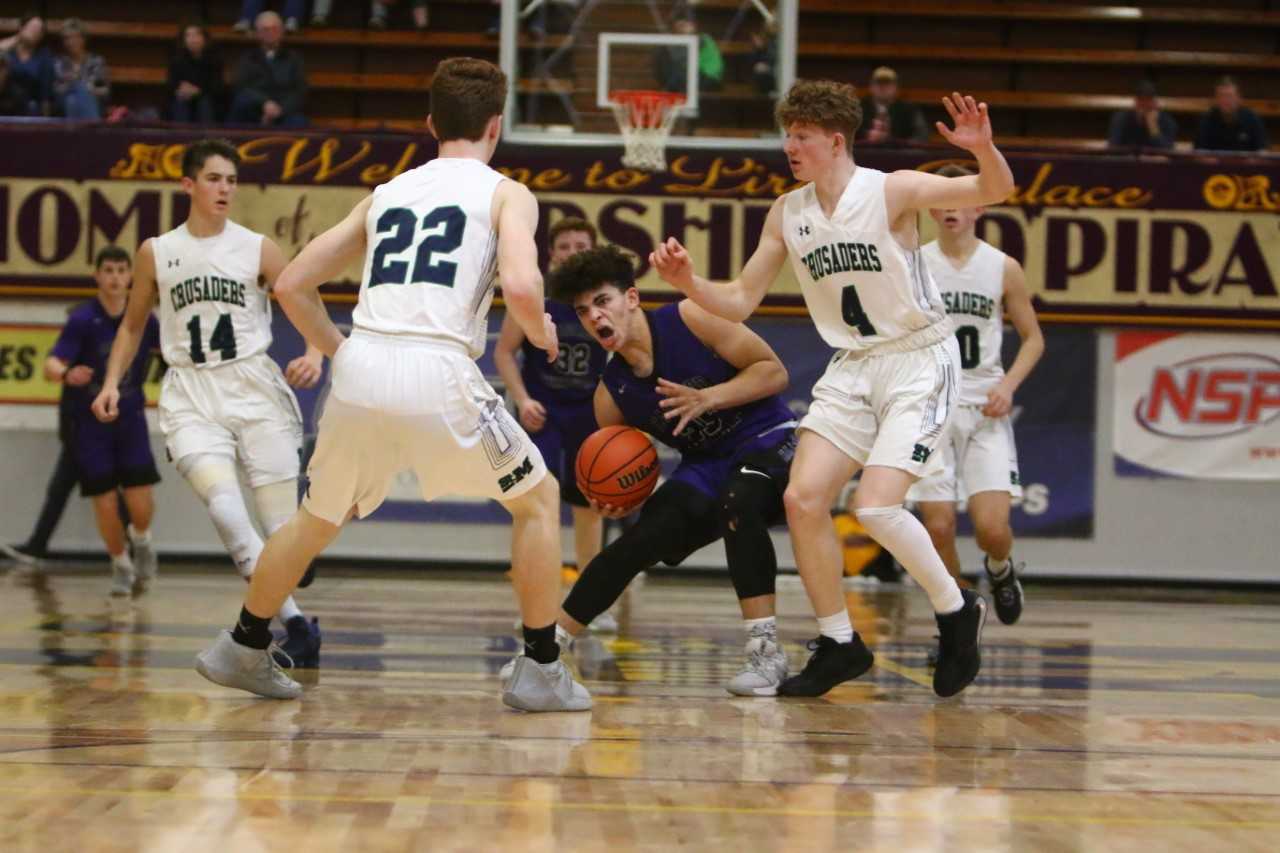 COOS BAY -- In a game filled with massive runs from both teams, No. 9 Oregon Episcopal had the final one in the fourth quarter to pull away from No. 5 Creswell to win 64-50 in the semifinals of the OSAA/OnPoint Community Credit Union 3A boys basketball tournament Friday at Marshfield High School.
The victory gives the Aardvarks a chance to win the first state title in school history Saturday night against No. 10 Cascade Christian. Oregon Episcopal and Cascade Christian were the two lowest-seeded boys teams to make it to Coos Bay.
"No one thought we were going to do this. It's incredible," junior guard Charles Willmott said. "I've been playing with these guys for a long time. I wouldn't have it any other way. It means everything. We are going to keep going, and this is not the last time we are going to win this year."
"It means everything," echoed teammate Luca Pejovic-Nezhat. "It's a lot of hard work we put in over the summer and fall. It's a great way to end our senior year. I'm looking forward to competing and I'm grateful we got here."
Creswell (21-6) came out like a ball of fire in the opening quarter, as all five senior starters were in sync and rolling. The Bulldogs led 13-2 after forcing four OES turnovers in the first four minutes of the game. Mountain Valley Conference player of the year Tyler Frieze led the way with seven points in the opening quarter.
The Aardvarks then upped their intensity, holding the Bulldogs to two points in the first four minutes of the second stanza. Oregon Episcopal (21-7) outscored Creswell 21-8 to take the lead and the momentum into the halftime locker room as Pejovic-Nezhat banked in a 40-foot runner at the buzzer. Six different players got into the scoring column in the second quarter for Oregon Episcopal.
Oregon Episcopal rode the momentum at the start the third quarter, outscoring Creswell 11-2 over the first 2:15 to take its largest lead, 43-28. Pejovic-Nezhat scored six straight points during the run.
Creswell came right back, scoring 16 straight points during the next five minutes to reclaim the lead, 44-43, heading to the fourth quarter. Dallton Dewey scored five points during the run and Austin Gabriel added three inside baskets for the Bulldogs.
"They are a good team. They made runs and we made runs," Willmott said. "We bought in to what coach was saying to us. They had theirs, now it's our turn."
Two key players, one for each team, picked up their fourth fouls during the chaos. Aardvarks leading scorer Willmott and one of the Bulldogs' top playmakers, 6-foot-4 senior Kai Apo, both had to go to the bench.
Fatigue started setting in during the fourth quarter, as the intense back-and-forth action began to take its toll. Aardvarks reserve forward Jakob Wilkins scored the first six points of fourth quarter and controlled the glass on both ends as OES extended to a 49-44 lead, forcing Creswell to call timeout.
Pejovic-Nezhat then scored driving layups on consecutive possessions to push the Aardvarks out to a 55-46 lead with just over three minutes remaining. The Aardvarks were able to close out the victory by making 7 of 9 free throws in the final two minutes.
"We've been a second half team all season," Pejovic-Nezhat said. "We had six games in the regular season where we came back from being down big, that's kind of how we roll."
"They've been very resilient kids all year," OES coach Edward Kirk said. "These kids are tough minded kids."
Oregon Episcopal outscored Creswell 21-6 in the fourth quarter. The Aardvarks had a slight rebounding edge (40-33) and held the Bulldogs to 33-percent field goal shooting for the game.
Willmott led OES with 19 points and was 8 of 8 on free throws. Pejovic-Nezhat added 18 points and a team-high eight rebounds. Senior guard Ryan Monshi added 11 points and Wilkins finished with 10 points and six rebounds.
OES coach Kirk had high praise for Wilkins play off the bench.
"He's very active, all over the place and he knows where to be on the court," Kirk said. "I'm very blessed and lucky to have him."
Frieze led the Bulldogs with 19 points before fouling out late. Gabriel added 13 points and a team-high six rebounds.
"I thought OES did a great job of executing in the half court," Creswell coach Jesse Thomas said. "They limited their mistakes. Every time they needed a big bucket, they made some really tough shots. They executed better, they made more big shots and got more stops. It's a tough game to lose, but I felt like they played better than we did tonight and they deserved to win."
Friday's other semifinal:
No. 10 Cascade Christian 55, No. 6 St. Mary's 40: After falling behind 10-2 early, Cascade Christian (23-5) came roaring back with 17 straight points to take control of the game against St. Mary's (16-10) in a battle of private schools from Medford. Junior guard Donminic Lewis drilled three consecutive long three-pointers to cap the rally, giving the Challengers a 19-12 after one quarter. Cascade Christian continued their strong play into the second quarter, pushing out to a 30-20 lead at halftime.
The Crusaders closed within four points in the third quarter, but the Challengers responded with a run of their own to go into the fourth quarter with a 43-32 lead. Lewis capped the run with a three-pointer from the left corner, his fourth of the game. Cascade Christian kept its composure down the stretch in the final quarter, not letting the Crusaders within nine points the rest of the way.
Cascade Christian forced 30 turnovers, while committing only 13 for the game. Lewis led all scorers with 22 points, adding seven rebounds and four steals. Senior guard Layne Collom added seven points, six rebounds and five steals. Senior forward Tre Foster led St. Mary's with 15 points and a game-high 14 rebounds.
Photos of state championship events are available online from Northwest Sports Photography at 4nsp.com