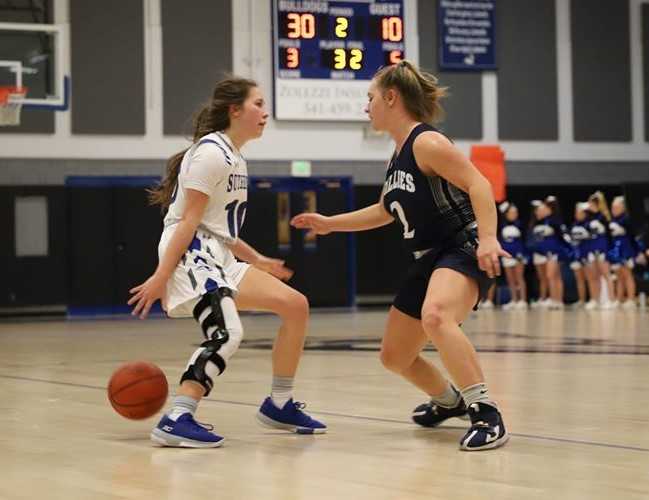 No. 1 seed Clatskanie and No. 2 Sutherlin know enough to focus on their own business in the OSAA/OnPoint Community Credit Union 3A girls basketball tournament this week.
But the teams, who went into overtime when they met in a nonleague game Jan. 20, certainly will be watching each other from opposite sides of the bracket when play begins with the quarterfinals Thursday at North Bend High School.
Reigning state champion Clatskanie rallied from a 13-point deficit to defeat Sutherlin 69-65 in that neutral-site game at Corban University, but the Bulldogs left quite an impression on the Tigers.
"Since I've been coaching the girls, that's the most complete team that we've seen," Clatskanie coach John Blodgett said. "They've got four people that can shoot it, and they've got a good post for our level. If I had to pick a team, I'm thinking they're the ones coming out of that side of the bracket."
The admiration is mutual.
"They're super talented," Sutherlin coach Josh Grotting said of the Tigers. "I've lost a lot of sleep since that game just thinking about how in the heck do you defend those guys. We did a terrible job back in January, something we've got to change. I'd love to get a chance to play them. I see them advancing to the state title game."
Clatskanie made the quarterfinals in 2018 and won its first state title last year. With the nucleus of that team back – led by junior forward Shelby Blodgett and junior guard Olivia Sprague – the Tigers have spent the season ranked No. 1 in the OSAAtoday 3A coaches poll.
"It's been a whole different year," John Blodgett said. "This year, everybody's kind of shooting for you, so you've got a target on your back."
Sutherlin has a much different back story. The Bulldogs won four consecutive 4A titles from 2014 to 2017, including an 84-game winning streak against Oregon teams, but went 11-14 and 14-12 in the last two seasons.
Their fortunes turned dramatically this season with senior guard Kiersten Haines returning after missing last season with a torn ACL, 6-foot-1 junior center Amy Dickover transferring from Far West League foe Douglas and the addition of freshman point guard Micah Wicks.
Haines and Dickover share the team lead in scoring at 13 points per game. Haines is shooting 47 percent from behind the arc and has made 84 three-pointers, including 11 in a school-record 42-point outburst against St. Mary's.
"It killed her to miss her junior year," Grotting said of Haines, a member of the 2017 title team. "With her last year, we probably get into the final eight. She makes a big difference for us."
The Bulldogs also have the Far West player of the year in junior guard Jadyn Vermillion.
Sutherlin lost 50-43 to unbeaten Philomath, which is ranked No. 1 in 4A, and to Clatskanie, a game in which the Bulldogs held a four-point lead and had possession inside the final minute of regulation. Grotting called it a "growing game" for the Bulldogs.
"We just made some uncharacteristically bad mistakes," Grotting said. "The good thing it it was good to go through that."
Grotting said the Bulldogs have some of the same qualities as the dominant 2014 and 2015 teams.
"We kind of have every position you need," he said. "We have a pretty dominant center, a kid that can really shoot the ball well, and the Wicks girl, for a freshman, is becoming, in my opinion, one of the best point guards in the state at our level. But there's a lot of inexperience."
Clatskanie also had a loss that helped it refocus this season. The Tigers fell 40-39 at Willamina in a Coastal Range League game Jan. 21, shocking them back to reality.
"We definitely learned that you can't just show up," John Blodgett said. "It was a good learning experience for us, for sure."
Clatskanie smothered Willamina 43-21 at home in the rematch Feb. 7, and handled the Bulldogs again 61-41 in the league playoffs. It's possible the Tigers could run into Willamina, the No. 4 seed, in the semifinals.
3A boys quarterfinals, Thursday, Marshfield HS
No. 9. Oregon Episcopal (19-7) vs. No. 1 De La Salle North Catholic (19-6): The two-time reigning state champion Knights square off with Lewis & Clark League rival Oregon Episcopal, a team they defeated in all three meetings this season, 63-47, 66-46 and 62-52. De La Salle North Catholic is led by senior guard George Sadi (21.1 points, 7.7 rebounds, 3.0 steals, 3.0 assists), a two-time league player of the year, and all-league junior wing Ubedei McGautha (13.0 points, 6.0 rebounds), a transfer from Catlin Gabel. The Knights – runners-up in 2014, 2016 and 2017 – are making their eighth consecutive tournament appearance. Their only 3A losses this season came against Santiam Christian and Portland Adventist, teams that did not make the tournament. Oregon Episcopal, which has never won a title, lost in the quarterfinals in 2018 but did not qualify last year. Junior guard Charles Willmott (17.4 points, 4.0 rebounds, 89 percent free throw shooter) and senior Luca Pejovic-Nezhat (8.1 points, 7.5 rebounds, 3.4 assists) lead the Aardvarks.
No. 5 Creswell (20-5) vs. No. 4 Amity (20-6): Amity, last year's runner-up, has not won a title since 1938. The Warriors have dropped three games to Dayton, two to Salem Academy and one to Nixyaawii, a 69-59 loss Dec. 20 in a rematch of last year's final. Amity returned two starters in 6-5 junior forward Josh Wart (18.0 points) and 6-3 junior guard Keenan Graham (11.0 points). Creswell is making its first tournament appearance since 2014. The Bulldogs, who last won a title in 2004, are led by the Mountain Valley Conference player of the year in 6-0 senior guard Tyler Frieze (20.3 points, 56 three-pointers) and 6-4 senior guard Kai Apo (15.3 points, 7.1 rebounds).
No. 6 St. Mary's (15-9) vs. No. 3 Salem Academy (19-5): Salem Academy is much improved after finishing 14-12 last year. The Crusaders beat Dayton twice to finish first in the PacWest Conference, but lost to the Pirates 47-41 in the conference playoffs. They feature senior guard Luke Miller, who scored 21 points in a playoff win over Pleasant Hill, and junior forward Benett Bos. St. Mary's is back in the tournament for the first time since winning the 2016 title. Tre Foster (17.8 points, 12.6 rebounds, 2.8 blocks), a 6-5 senior post, is the Far West League player of the year. Senior guard Josh Banton (9.3 points) was selected first-team all-league.
No. 10 Cascade Christian (21-5) vs. No. 2 Dayton (23-6): The teams met twice during the holiday break, with Cascade Christian winning 41-33 at its home tournament and Dayton getting payback a week later by winning 45-26 in a tournament at Salem Academy. Dayton – which has won all five of its titles since 2001, the latest in 2017 – was runner-up in 2018 and lost in the semifinals to Amity last year. Pirates junior guard Dawson Ashley (18.7 points) is shooting 43 percent from three-point range. Cascade Christian senior wing Kiegan Schaan, the quarterback of the state quarterfinal football team, was a Far West League first-team pick. The Challengers lost to Dayton in the 2017 semifinals and to Santiam Christian in the 2018 quarterfinals but missed the tournament last year.
3A girls quarterfinals, Thursday, North Bend HS
No. 9 Harrisburg (20-6) vs. No. 1 Clatskanie (20-2): Reigning champion Clatskanie has the Coastal Range League player of the year in 5-9 junior forward Shelby Blodgett, who is averaging 21.5 points, 17.9 rebounds, 4.4 assists, 4.5 steals and 1.6 blocks per game. In the round of 16, she had 18 points, 30 rebounds and seven steals. Blodgett and junior guard Olivia Sprague (19.8 points, 6.8 rebounds, 5.5 assists, 5.3 steals), both three-year starters, enter the tournament with 1,790 and 1,491 career points, respectively. Harrisburg is in the tournament for the first time in 12 years. Senior guard Sammy Christensen (6.3 points, 3.8 rebounds, 3.8 assists, 3.6 steals) was named first-team Mountain Valley Conference. Hope Bucher (9.1 points, 7.0 rebounds), a 5-9 senior, and Hailee Johnson (8.4 points, 5.4 rebounds), a 5-7 junior, lead the team in scoring.
No. 5 Brookings-Harbor (19-6) vs. No. 4 Willamina (21-6): Willamina, which holds a win over Clatskanie, makes its first state tournament appearance since reaching the semifinals in 2013 and 2014. The Bulldogs have a balanced attack that includes junior forward Kaya McLean (11.4 points, 5.6 rebounds, 46 three-pointers), junior guard Kira Rankin (8.9 points, 2.8 steals) and sophomore guard Piper Shrabel (6.9 points, 4.0 steals). Brookings-Harbor, which lost in the quarterfinals last year, has dangerous three-point shooters in senior Sidney Alexander (11.3 points, 69 three-pointers) and juniors Sierra Fitzhugh (12.7 points, 31 three-pointers) and Lexi Schofield (10.6 points, 34 three-pointers). Schofield had 24 points in an overtime win over Salem Academy in the round of 16.
No. 6 Burns (22-5) vs. No. 3 Pleasant Hill (20-3): Burns, a semifinalist last year, is back behind junior wing Allie Hueckman (17.1 points, 5.2 rebounds, 2.9 assists, 2.3 steals) and junior guard Aundraya Ceja (12.0 points). Hueckman scored 32 points against Santiam Christian in the round of 16. Pleasant Hill, which went 22-4 last year but fell one win short of making the tournament, is making its first appearance since 2004. Junior guard Angeni Yeo (16.1 points, 4.5 rebounds) led the Mountain Valley Conference in scoring. Yeo and senior guard Kaylee Martin (9.8 points, 3.7 rebounds, 2.7 steals) were first-team all-conference picks. Five freshmen have played for the Billies, four of them in starting roles.
No. 10 Vale (17-8) vs. No. 2 Sutherlin (23-2): Vale defeated Burns twice to win the Eastern Oregon League title with a 10-0 record, but lost to the Hilanders 34-32 in the league playoffs. The Vikings went on the road to defeat Oregon Episcopal 48-45 in the round of 16. Of Vale's eight losses, five came against Idaho teams and two were against 4A power Baker. Vale is led by junior guards Matyson Siddoway and Emersyn Johnson. The Vikings lost in the quarterfinals a year go. Sutherlin has four players averaging in double figures in junior center Amy Dickover (13.0 points, 10.0 rebounds), senior guard Kiersten Haines (13.0 points), junior guard Jadyn Vermillion (11.0 points) and freshman guard Micah Wicks (11.0 points, 6.0 assists, 4.0 steals).