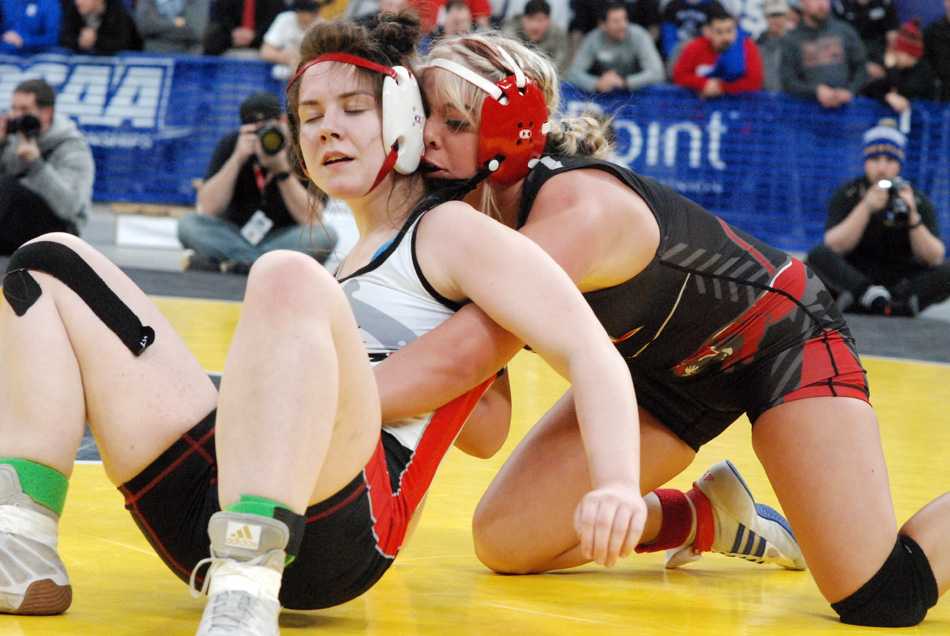 The second officially sanctioned OSAA / OnPoint Community Credit Union Girls Wrestling State Championships proved to be compelling theater all day on Saturday at Veterans Memorial Coliseum in downtown Portland. Thurston edging Bend for the team title was practically a foregone conclusion after the Colts' dominating Friday, leaving the stories of several individual champions to capture headlines.
Junior Sydney Keller of Baker / Powder Valley won a majority decision over top-seeded Emily Alvis of West Albany in the 115-pound division, then turned her attention to Friday, when the 23-2 Baker Bulldogs will play Gladstone in a girls' basketball contest with a trip to State on the line. Keller, you see, is the starting point guard for the No. 2 4A team in the state, a hot team on a 14-game winning streak. The junior has been playing basketball since fourth grade and for three years during high school. She's also been wrestling since she was little, but decided only this year to do both during the same high school season.
"It's been really tiring and taxing on my body," she said. "I just try to pull through every day and give it my best. Since basketball is my primary sport I have to be at that two hours every day. If we have a day off from basketball, I'm up in the wrestling room for two-hour practices. My brother lives an hour away and he'll come home and wrestle with me an hour in the night and an hour at five in the morning."
Keller was the aggressor from the start in the state championship match. She put Alvis on her back midway through the first period and held her there for at least 30 seconds but the referee would not whistle for the pin. Keller kept up the pressure, extending her advantage to 9-0 after two before winning by a 14-2 score.
"It was definitely worth it!" Keller exclaimed afterwards. "It was so great! The best feeling!"
Could Keller be the first girl in Oregon history to win a state wrestling title and girls basketball state championship in the same season?
"We have to get to state first," Keller said. "Then we're going to come at it with all we've got."
Two wrestlers on Saturday were going after their fourth consecutive state titles. Emma Truex of Phoenix got it done with a 4-2 decision over Scappoose sophomore Bella Amaro. Madras' Bailey Dennis, however, was denied in overtime by Olivia Robinson of Glencoe, a match that featured girls each ranked in the top 10 nationally.
"It feels great to be the first girl from Phoenix and the only one repping my team in the finals," said Truex. "I've loved every minute of high school wrestling."
Asked whether she gave any thought to competing in the boys championships, Truex was thoughtful in her answer, saying "I'd like to think I'd be a state placer but going for that fourth time really had a special place in my heart."
At 170 pounds, Dennis, the No. 6-ranked wrestler nationally at 180 pounds; and Robinson, who is No. 4 at 164; battled to a virtual standstill for three periods and into overtime. Each wrestler earned an escape point but neither got close to getting a take down. Both wrestlers were still on their feet in extra time when Dennis was called for stalling to end the match, much to the befuddlement of the Madras coaches.
Two other defending state champions repeated on Saturday. Junior Raina Herzog of Cottage Grove pinned her way through the 235-pound division. Sophomore Tyler Richardson of Vale survived an early scare from Glencoe's unseeded Elbereth Ragsdale to register a first-round pin. Ragsdale got off to a fast 5-0 lead, including a near fall, before Richardson reversed and scored back points of her own to get within 5-4 after a minute of action. The top-seeded Richardson got the pin fifteen seconds later.
"Worried? Oh my God! For a minute there I was," exclaimed Richardson. "Last time I wrestled her she wasn't very quick off the whistle. This time she just came after me. I guess it was all or nothing for her. That was out of nowhere. Thank God I got out of that."
Richardson said that Saturday's title is another that she's going to remember forever.
"It's going to be nice to look back and think, 'Freshman year: state champ; Sophomore year: state champ.' Junior year…senior year…hopefully the same thing."
Two other defending state champions were denied short of the finals on Saturday. Hillsboro's Ayana Medina lost to top-seeded Cailee Hallett of Thurston at 120 pounds. Hallett, who was 23-1 coming to State; led 11-0 before Medina caught fire with seven straight points. The defending champion had Hallett on the ropes late. The top seed finished the match on her back, holding a bridge in the final seconds to avoid being pinned.
Bend standout Charli Stewart also lost, falling to 2018 state champion Taylor Ohlson of Mountain View in another semifinal. Stewart went for a pinning move in the second period but Ohlson reversed her and got back points to lead 6-2 going into the third and held on for the victory.
Oregon City's Emma Baertlein won the first state championship on Saturday, taking the title in the 100-pound division with a 3-0 win over Olivia Flack of La Pine. Baertlein lost in the finals a year ago/
"It feels really good," she said afterwards. "I put in the work all year, spring, summer, pre-season…and it paid off. I wasn't trying to force anything. I just wanted to wrestle smart and do what I know how to do. I knew it was going to turn out okay."
Thurston won the state title by 72-66 score over Bend but did not have an individual state champion. The Colts put three into the finals but could not get any to the top of the podium. At 105 pounds, unseeded freshman Kaylee Annis lost by pin to the dominating top seed Nimo Sheikh of Century in the second round. Hallett lost to Century senior Tyler Rabang by majority decision at 120 and senior Lindsay Burrell lost 3-1to Ohlson at 135 pounds.
Bend actually had a shot to tie Thurston for the state title, but needed Fatima Albarran to pin West Linn freshman sensation Destiny Rodriguez. Instead, the No. 3-ranked wrestler nationally recorded the first-round pin for the first of what should be four state titles before she's done.
Thurston assistant coach Jeff Gardwell said the key to the Colts' team win was strength in numbers. Thurston brought more girls than any team to the state championships and got twice as many into the semifinals as anyone else.
"We won seven out of eight matches the first day and we knew that was key," he said. "The first day the girls showed up and got a lot of pins. We talk about how the bonus points are huge.
"Obviously we wanted to win some state titles. They didn't but two out of three are back and we're excited for that. We have some good young girls, so we're ready to roll. The girls in the finals, one of them was a freshman, another a junior. They got a taste of it. We want them to come back and win individual state titles as well as going back-to-back as a team."
Ohlson's win not only gave the senior her second title in three years, it gave the triplets of Mountain View two state titles in three chances on Saturday. Beau Ohlson was his fourth straight title at 145 pounds. Blake Ohlson reached the 6A finals at 195 pounds only to lose a close decision, 6-3. It was the first time all three were in the finals at state.
"It's like a dream," Taylor Ohlson said.
For Taylor Ohlson, Saturday's win made up for a 2019 finals loss to two-time national champion Alexys Zepeda of Gervais, who did not wrestle this year; and an overtime loss in the District tournament to finish third.
"I didn't have a partner [after Districts] so I had to wrestle the coaches and I think it really helped me," she said.
Asked what it was like being a triplet, Ohlson said, "It's interesting. I love it so much, especially the scuffles. We're truly together as one."