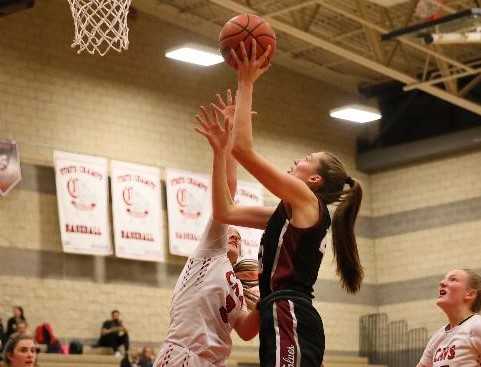 The emergence of 6-foot-3 junior post Natalie Lathrop has Tualatin on the rise in 6A Three Rivers League girls basketball.
Tuesday night, Latrhop punctuated her dramatic improvement with a career performance in a 66-40 home win over St. Mary's Academy, the fifth consecutive victory for the Timberwolves (15-4, 6-3).
Lathrop posted 35 points, 18 rebounds and 10 blocked shots, going 14 for 14 from the field and 7 of 9 on free throws, before exiting with about five minutes left. She broke her previous career scoring high of 27 and eclipsed her own school record of nine blocked shots, which she set last month.
"In 18 years, I've never seen anything like it," first-year Timberwolves coach Wes Pappas said.
Lathrop was an honorable mention all-league pick as a sophomore, when she was a part-time starter. She has blossomed this season, averaging 17.5 points, 9.2 rebounds and 4.2 blocks and shooting 57.1 percent from the field and 61.5 percent on free throws.
"She's having a monster, monster year," Pappas said. "She's made a massive improvement. The kid is killing it."
Lathrop, who plays club ball for Oregon Elite, is evolving into a college prospect. Scouts from Northern Colorado and Loyola Marymount were on hand to watch Tuesday's game.
"She was a little bit under the radar coming into the season," Pappas said. "She's getting some smaller D-I looks. To have those two schools there, and for her to put that line up, it was pretty awesome for her.
"I really think she's a D-I kid. She's going to add strength. That's going to make her even better. She's kind of growing into herself. She's got actual moves that would be effective in college. She's got a super-quick release, and she's really good from 10 to 12 feet."
Lathrop gets most of her points around the basket, scoring on short turnaround jumpers, hook shots and step-throughs. She found a groove against St. Mary's Academy (13-7, 5-4) even though the Blues were focusing their defense on her.
"They had three kids around her sometimes, but she kind of hit everything," Pappas said.
Lathrop is a force in the middle of Tualatin's zone defense, which is holding opponents to 37.1 points per game, down from 48.9 last season and the fourth-best in 6A. She has very good shot-blocking instincts, which were on display against St. Mary's Academy.
"She was just timing then out. It was pretty spectacular," Pappas said.
Tualatin puts its winning streak on the line Friday when it plays host to third-ranked and league-leading West Linn (14-5, 8-1), which beat the Timberwolves 67-45 on Jan. 21.
The game will feature a matchup between Lathrop and West Linn's Aaronette Vonleh, a 6-3 post who is rated as the No. 40 junior recruit in the nation by ESPN. In the first meeting, Vonleh outscored Lathrop 21-12.
"This will be a big test for her," Pappas said. "Our defense is definitely better than it was."