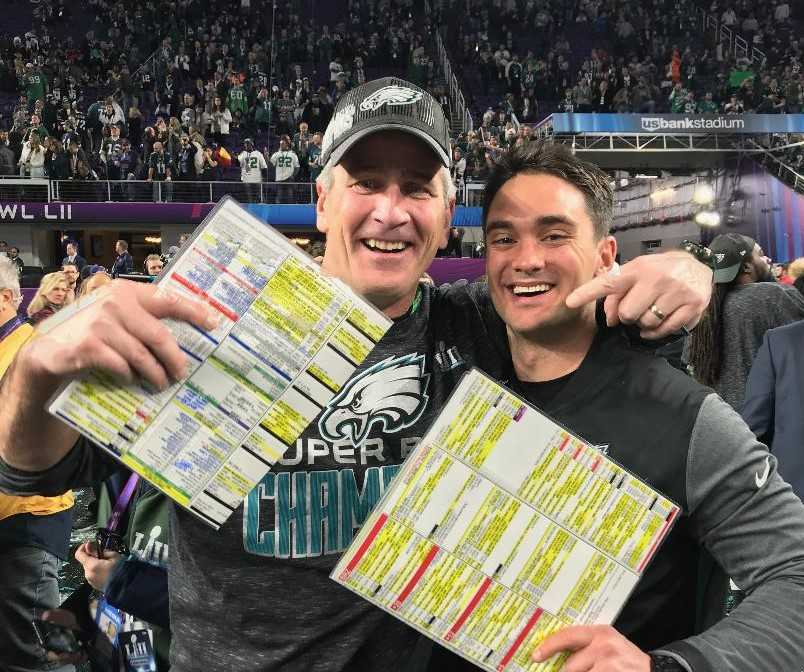 Sure, Spencer Phillips has never been a high school head football coach before. But how many other Oregon coaches have a Super Bowl ring?
"It's with me. I don't let it get too far away," Phillips said.
Phillips – who spent the last four years on the staff of the Philadelphia Eagles, the last two as the assistant quarterbacks coach – is the new coach at Lakeridge.
A 2009 Willamette High School graduate, the former quarterback will get a chance to use the expertise he has gained from assisting in high school, college and the NFL to build his own program.
"When I originally got into coaching, when I was done playing, I had known that I always wanted to be a high school coach because I love working with kids," Phillips said. "There's where I get the most fulfillment in life is mentoring and being around kids, especially being able to do it through football."
Phillips played football at West Los Angeles College, Murray State and Humboldt State. He was a volunteer assistant coach at McKinleyville (Calif.) High School, Compton College and Samford University before landing with the Eagles.
At Samford, Phillips was the position coach for quarterback Drew Pederson, the son of Eagles coach Doug Pederson. Through that connection, he landed a spot on the Eagles staff when Doug Pederson was hired in 2016.
"I was fortunate enough that Doug thought I could do it," Phillips said.
In his first two seasons with the Eagles, Phillips was an offensive coaching assistant, working closely with Pederson.
"I was his right-hand guy," Phillips said. "My first two years there, Doug and I did everything together. So I really got a first-class ticket to really understanding what it takes to run an NFL team."
While Phillips' coaching career took root, he never made a clean break with Oregon, where he was born and raised. He and his wife Keely – a Willamette grad and a nurse at Oregon Health & Science University Hospital in Portland – bought a house in Southwest Portland in 2018 after the Eagles won the Super Bowl.
"Oregon was always home to us," Phillips said. "I came back to Portland every offseason. We spent a lot of time going back and forth."
Last summer – as a speaker at a football clinic in Portland – Phillips said he became better acquainted with Lakeridge athletic director Nathan Stanley, whom he had met through West Linn athletic director Mark Horak.
That relationship with Stanley, and the opportunity to be an off-campus coach, helped lure Phillips to Lakeridge. Phillips said he will run the weight room at Lakeridge but will not have an official teaching position.
"One of the big appeals for me about this job is that it's nonteaching," Phillips said. "So I can be around the kids in a different way, and not necessarily have to focus on teaching a specific curriculum."
Phillips also interviewed for the head coaching job at West Linn, which hired Keanon Lowe late last month. Phillips said he is relishing the chance to coach in the Three Rivers League, widely regarded as the best in 6A.
"I respect the coaches in this area," Phillips said. "I've always followed Oregon football, just because I played here. Just too many things about this opportunity and this area, this is ultimately what I want to do.
"Really, the appeal of Lakeridge was, No. 1, the people I know in the building, and secondly, just the fact that I know I would love to raise a family here."
Phillips will replace interim coach Forrest Sherman, who took over when Elvis Akpla resigned in August to move to Missouri. Lakeridge finished 5-7 last season, going on the road in the 6A playoffs to beat Beaverton and Aloha before falling to rival Lake Oswego 24-21 in the quarterfinals.
Phillips said his offensive scheme will depend on his personnel.
"I've got to see first what our players can do," he said. "I know they lost some really good players. It's going to be fun. We're going to do things that are fun to watch."
Phillips already has hired Art Cabalin, an assistant at California power Servite and his former youth football coach in Eugene, as his defensive coordinator. He believes Cabalin will be instrumental in shaping a winning culture.
"He's one of my best friends," Phillips said. "He's someone I respect and admire so much. Art's been mentoring me my entire life. We have a special relationship."
As for the rest of the staff, "I really hope that most of the guys that are there now would like to stay," Phillips said.