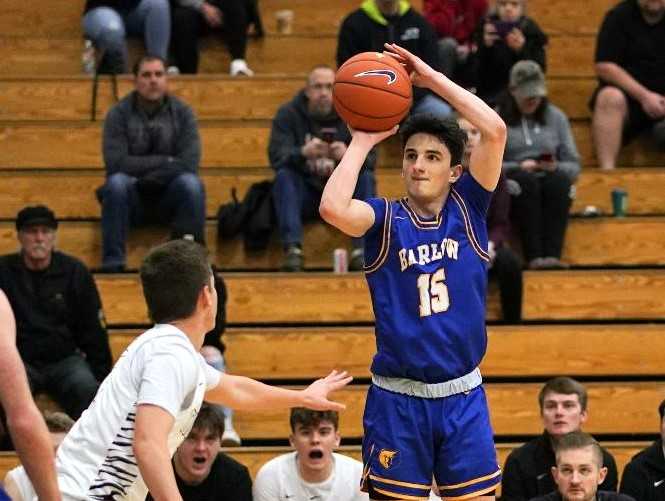 When Freddie Jones left Barlow in 1998, his 1,884 career points was a school record by more than 700 points.
"To be honest, I never thought that record would be broken," Barlow boys basketball coach Tom Johnson said.
It took 22 years, but Jones no longer is on top of the Bruins' all-time list. With a career-high 41-point outburst Friday at Sandy, senior guard Jesse White surpassed Jones by pushing his total to 1,895 points.
Jones, who went on to play at Oregon and in the NBA, and White are the only freshmen to play varsity for Johnson during his 38-year coaching career. But the 6-foot-1 White is the only four-year starter.
"He is very skilled," Johnson said of White. "He scores in a multitude of ways. He can shoot the three, he's got a pull-up and he has the ability to get to the basket.
"The other thing about him that makes him so good is he's so good off the ball. He reads screens really, really well and he does a great job back-cutting. He moves relentlessly."
White has made a school-record 237 career three-pointers, far ahead of second-place Jared Price, who made 156 from 1994 to 1997. This season, White shot 28 percent from behind the arc (24 for 86) in nonleague games but has warmed up to 46 percent (21 for 46) in league games.
"His range is as good as any I've had," Johnson said. "He practices deep threes. People know him well enough now that they get out on him."
White struggled with illness and a quad contusion through the first month of the season, but he has found his rhythm in Mt. Hood Conference play. In seven conference games, he is averaging 30.0 points, raising his season average to 23.9.
White shot 42 percent in nonleague games but is shooting 57 percent in Mt. Hood games. Against Sandy, he made 17 of 27 shots.
"He wasn't happy with the way he was playing earlier in the year," Johnson said. "He's just stepped it up a notch. He's full strength now."
Bruins senior Evan Inglesby, a 6-4 guard, also is making his mark at the school. With a 33-point game last week at Reynolds, he passed Price for third place on the school's all-time list.
Inglesby now has 1,161 points to Price's 1,140. Jake Glisson (2002-05) is No. 5 on the list with 1,068 points.
Since a 75-55 loss at Central Catholic on Jan. 14, No. 7 Barlow (11-6, 6-1) has won six in a row and is tied with No. 5 Clackamas (13-4, 6-1) for first place. The Bruins play host to No. 2 Central Catholic (12-5, 5-2) on Wednesday in a key game.
Johnson is nearing a milestone of his own. With two more wins, he will become the eighth coach in state history to reach the 600-win plateau. He went 40-26 in three seasons at Lebanon before taking over at Barlow, where he is 558-296 in 35 seasons.
"I actually talked to Freddie last week, and it's given me an opportunity to reflect on how fortunate I am to have coached some of the players that I've gotten to coach," Johnson said.
Rising Boomer
Toledo senior guard Conner Marchant continues to climb the state's all-time scoring list. The 6-0 Marchant recently moved into the No. 5 spot with 2,362 points, passing Brad Tinsley (2,331) of Oregon City (2008).
Marchant is averaging 30.4 points per game this season, including games of 43 and 41. He is shooting 49 percent from three-point range, 81 percent on free throws and is averaging 6.9 assists.
Marchant trails only Kevin Love (2,628) of Lake Oswego (2007), Bob "Pudgy" Hunt (2,582) of Knappa (1957), Brian Jackson (2,515) of Knappa (1999) and Drew Wiley (2,394) of McKenzie and Thurston (2008).
Toledo (18-2), ranked No. 2 in the OSAAtoday 2A coaches poll, has the potential to play seven more games. If so, and Marchant maintains his current average, he would challenge Hunt for No. 2.
Cowapa showdown
The hot shooting of junior forward Tyler Exline helped No. 6 Banks overcome No. 2 Seaside 73-60 with first place in the 4A Cowapa League on the line Tuesday night.
Exline made four three-pointers in the fourth quarter as the Braves (13-5, 4-0) outscored the visiting Seagulls 35-16. Exline finished with 23 points and senior forward Jacob Slifka added 19 points.
Seaside (13-4, 3-1) led 26-11 early in the second quarter before Banks rallied to pull ahead 30-29 at half. The Seagulls took a 44-38 lead into the fourth quarter but could not finish off the Braves.
"I was really pleased with how we responded after they took the early lead and competed to get back in the game before half," Banks coach Marc Roche said. "We know that our matchups with Seaside will always be a dogfight, and we need to bring a lot of toughness. It was great to see our group ready for the occasion."
Braden Johnson and Ryan Hague scored 16 and 15 points, respectively, for Seaside.
The teams, who shared the league title last year, will meet again in the regular season finale Feb. 20 at Seaside.
Foxes shoot down West
No. 2 Silverton made nine three-pointers – getting four from senior Trysten Wertz and three from senior Grant Dunn – to subdue No. 6 West Albany 60-51 on Tuesday night, strengthening its hold on first place in the 5A Mid-Willamette Conference.
The visiting Foxes (16-1, 9-0) went on a 7-0 run late in the third quarter to lead 43-36 entering the fourth quarter. They pushed the lead to 14 points and held on for their second win this season over the Bulldogs (12-5, 7-2).
Senior guard David Gonzales scored 17 points and Wertz added 14 points for Silverton, which now holds a two-game edge over West Albany and No. 8 South Albany (14-3, 7-2).
TJ Zimmerman, a 6-4 junior post, led the Bulldogs with 20 points. They also got 16 points from junior guard Luke Killinger, who left late in the fourth quarter with a knee injury.
West Albany suffered a blow in the final minute of the first half when junior point guard Koby Ruiz left the game with an ankle injury.