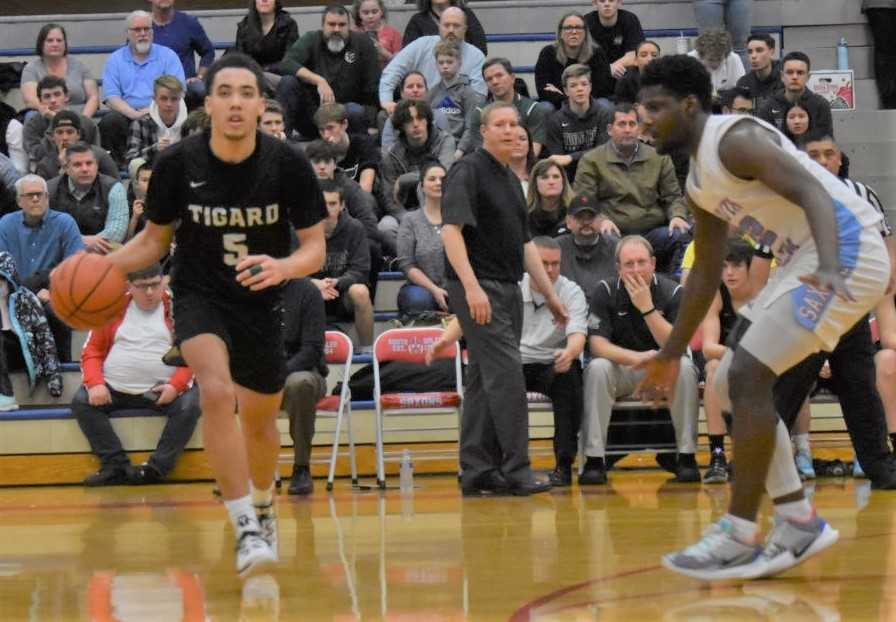 SALEM – No. 4 Tigard got some payback Friday night with a 65-57 win at No. 8 South Salem in a 6A nonleague boys basketball game.
Junior guard Drew Carter scored 30 points to lead the Tigers (10-2), who avenged a 62-48 loss to the Saxons (7-3) on Dec. 20 in the Capitol City Classic.
"This win meant a lot to us. We didn't want to lose to them again," Carter said. "Everyone played a tremendous defense. We talked a lot and it was very physical. Again, we were taking it very personal. We didn't want to lose to this team again."
Tigard jumped to a 27-15 lead in the second quarter and was up 29-22 at halftime. The Saxons chipped away at the lead and finally caught the Tigers at 46-46 when junior Nick Zuro hit two free throws with 6:13 left.
Tigard freshman guard Malik Brown hit a three-pointer to regain the lead and the Tigers created separation again. South Salem got to within 58-55 on a basket by Emorej Lynk with 1:24 left, but Carter made 5 of 8 free throws down the stretch to seal the win.
Brown finished with 12 points for Tigard.
"He does a very good job pushing the ball, and he's doing great for what his age is," Carter said of Brown. "He's very matured at his age. So I think he'll be great throughout the season."
Zuro credited Carter and Brown.
"They've got some good players period," Zuro said. "Drew is a great player. … He's makes tough plays as well along with (Brown). They're both phenomenal players. We did our best to contain them and things did turn out the way we wanted them to tonight."
The 6-foot-7 Zuro, who led South Salem with 18 points, said the loss to the Tigers "fuels the fire" for the Saxons as they head into Mountain Valley Conference play next week.
"We had a really deep conversation in the locker room, and we're going to be more focused in practice," Zuro said. "We're not going to take this lightly. We're going to use this as motivation for sure."
Mental mistakes plagued South Salem.
"Sometimes with the team – and I'm guilty of this -- I take plays off, plain and simple," Zuro said. "I should've gone up and got a few more boards. Everyone is guilty of something, especially me, I take accountability. We just need to keep playing hard. … Just keep playing through it, because we're capable of beating that team."