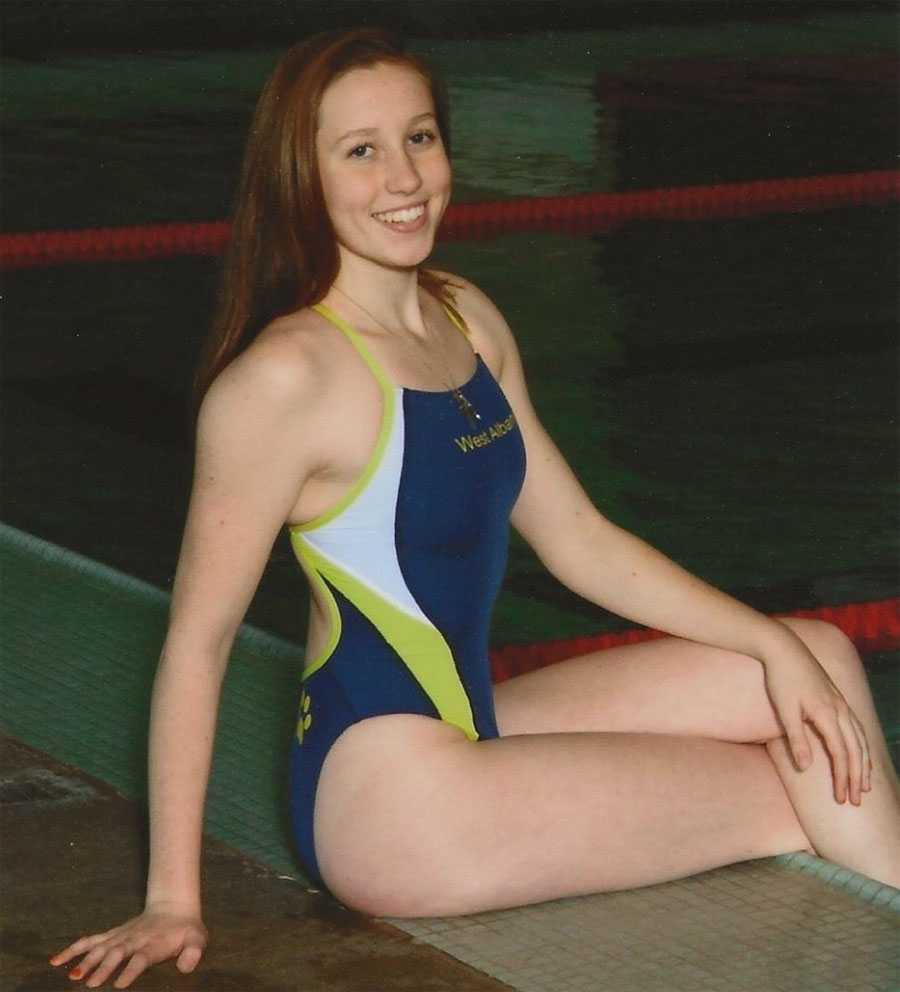 [Editor's note: "Take Five" is a recurring feature designed to offer a quick look at some of Oregon's most interesting high school sports standouts. Today, please meet senior Taylor Kelley, a West Albany swimmer who as a junior made it to the state finals in the 50 free and 100 free as an individual and the Medley Relay and 200 Free Relay as part of a team. We asked Kelley to answer five questions from the 25 we sent to her. This is what she said…]
OSAAtoday: What is the wisest thing a coach ever said to you?
Taylor Kelley: This may not have been an inspirational quote, but it taught me a lot. When I was in middle school, my coach, Babette Romancier (my current high school coach, too), had moved me to our fastest lane, and they were so much stronger than I was. I asked her if I could move down a lane, and instead of her telling me, "no," and that I was being ridiculous like I expected, she said, "Fine. Move down," and then walked off. This really hit me for some reason. She had told me with her actions that she can't make me work hard. That's all on me, and if I want to be successful then it's going to be at my own will. You can have people help you along the way, but how far you go is based on how hard you are willing to work. I ended up staying in the lane because of what she said.
OSAAtoday: What's the most interesting or unusual thing about you?
Kelley: I have my own written language. This one usually throws people off, but when I was younger I wanted to write things without the chance of someone being able to read them, so I started creating my own language. It has developed and changed over the years to become pretty complex, and I still use it to this day.
OSAAtoday: You can blink and be transported to any place in Oregon for a day. Where would you go and why?
Kelley: I would want to be transported to Sisters. I absolutely love that town and I love all the hiking, camping, skiing/snowboarding, and outdoor activities around it. After a long hike of maybe the South Sister or Broken Top, I'd want to go into town and eat at Little Three Creeks and look in all the cool shops. Sisters has it all for me because I love to be outside.
OSAAtoday: If you are reading a book outside of school, we'd like to know what it is and what you like about it.
Kelley: I have recently finished The Other Side of Lost by Jessi Kirby, and I absolutely loved it. It's about a social media obsessed 18-year-old girl named Mari who realizes how fake her life is on social media. She breaks down, and deletes all of her accounts. Mari's cousin and she had shared the same birthday, and were best friends growing up, but her obsession with living the perfect life set them down different paths. Her cousin had passed away a couple months before their 18th birthday, so Mari's aunt sent all of her cousin's hiking gear to Mari for her birthday. With this, she packs up and leaves to go hike the John Muir Trail solo. I loved how accurate it was in depicting emotions that happen on the Trail. It's so authentic and real without being cheesy at all! I relate so much to the main character as well.
OSAAtoday: If you could have one superpower, what would it be and why?
Kelley: I would definitely choose being able to fly. I would save myself so much time and money if I could just fly over to where my next hike is, or I could travel wherever I wanted without having to pay for the gas or tickets. I plan to go to Alaska next summer with some friends, and then going to school in Hawaii possibly, so being able to fly would be both useful and fun.
Read other Take Five articles published in connection with the 2019-2020 school season:
South Umpqua outside hitter Shalyn Gray
Lincoln distance runner Mia Kane
Madras football player Treyvon Easterling
Gladstone soccer player and cross country runner Derek Johnson
Canby soccer standout Ruby Kayser
Exceptional Scappoose athlete Emma Jones
Siuslaw harrier Brendon Jensen
Wilsonville volleyball attacker Lindsey Hartford
Lake Oswego runner Brogan Deem-Ranzetta
St. Mary's Academy long distance runner Fiona Lenth
Heppner hooper Madelyn Nichols
Sherwood swimmer Hunter Stewart
South Salem swimmer Julian Melton