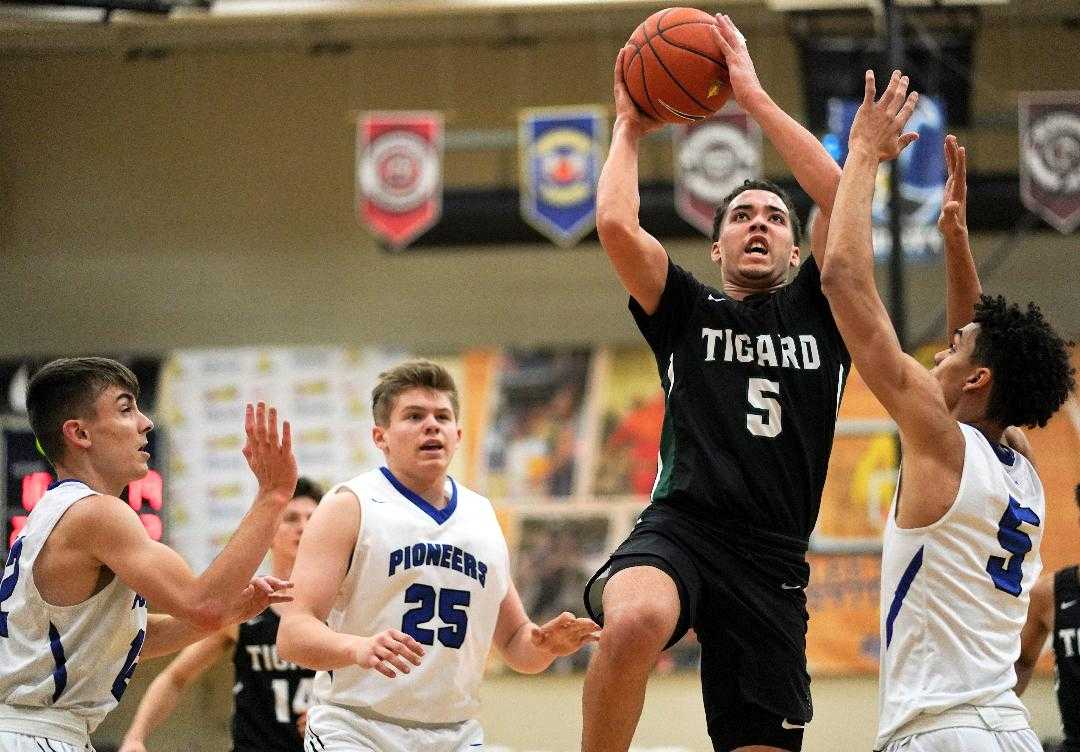 HILLSBORO – Western Christian's boys basketball team has struck an imposing figure at the small-school level in Oregon for the past few seasons.
This week, the reigning 2A champion Pioneers are relishing a chance to show the big schools what they're all about in The Eight bracket of the Les Schwab Invitational at Liberty High School.
Making their first-ever appearance against a 6A team, the Pioneers had mixed success in their opening game Thursday, an 85-78 loss to Tigard that ended their 29-game winning streak. They struggled on the boards for much of the game – giving up 20 offensive rebounds – but showed their grit in the fourth quarter by cutting a 21-point deficit to four points inside the final minute.
All things considered, it was a respectable showing for Western Christian (8-1), enrollment 140, against Tigard (7-1), enrollment 1,776.
"I kind of already knew about them," said Tigard junior Drew Carter, who had a team-high 26 points, seven rebounds and four assists. "We definitely didn't take them lightly at all. Hats off to them. They kept going, they kept fighting. I appreciate that."
Tigard coach Shawn Alderman also tipped his cap to the Pioneers.
"They're really talented," Alderman said. "They've got some pieces, and they play hard. You've got to give it to them. They never gave up. … They got themselves back in the game."
Western Christian, ranked No. 1 in the OSAAtoday 2A coaches poll, has faced 6A competition in the offseason. The Pioneers went 5-3 in a 6A league in the fall, during which they were the only team to beat Lake Oswego.
Seattle Pacific-bound senior guard Payton Richardson and senior guard Alexander Nicoli – the only returning starters from last season – have played at a high level on an AAU travel team that also features Carter.
Thursday, though, their inexperience showed as they struggled to match up with the athletic Tigers.
"We have a lot of kids that haven't played much high-level basketball, not because they can't, because they haven't," said Richardson, who had 27 points. "So we were kind of frazzled, but we fought back. We know we could've had it.
"Tigard's a really good team, but we could've had it if we played like we did at the end the whole time. So we are kicking ourselves a bit because we know our potential and we just didn't meet it today."
The Tigers can't be sold short, however.
Despite graduating four starters from last year's state tournament team – including Stevie Schlabach, the school's all-time leading scorer who is now at Northwest Christian – they have a deep, versatile collection of athletes that is coming together nicely. The rotation includes freshman twins Malik Brown, who starts at point guard, and Kalim Brown.
"I feel really good about it," Alderman said. "We're a young team and we make mistakes, but we do have some athletes, and they fly around."
Carter is the lone returning starter.
"I love this team," Carter said. "I feel like we're super athletic, and we run up and down the court more, a lot faster. I think we'll take that to our advantage. We have the right guys to do it."
The 6-foot-3 Carter has been thriving, averaging about 26 points per game. He poured in 49 points in an 86-80 win over West Salem on Dec. 23.
"He's a special player," Alderman said. "When he plays hard, there's not a lot of people that can stop him. He's doing a good job of being a leader. He can take over the game offensively, for sure."
A brief burst by Carter was enough to give Tigard separation from Western Christian. He scored 10 consecutive points – two three-pointers, a layup and a drive – to give the Tigers a 34-20 cushion midway through the second quarter.
The lead reached 20 points in the third quarter and was at 76-55 with 4:56 left when Western Christian began to rally. Nicoli hit a three-pointer to make it 80-74 with 2:00 remaining and made a jumper to close within 82-78 with 26 seconds to go, but the Pioneers couldn't get over the hump.
Carter led Tigard's balanced attack, which included junior wings Brett Moss (12 points) and Jake Wihtol (nine points), senior post Dylan Berg (10 points, six rebounds) and senior wing Steven Long (nine points), who had a breakaway dunk in the second quarter.
"We played pretty well offensively for three quarters, and then we kind of let down, which we've done a couple of times this year in the fourth quarter," Alderman said. "We're a young team. We're going to do those things. But we've got to start learning."
Richardson continued his stellar senior season with another solid all-around game, making 10 of 16 shots and collecting five rebounds, seven assists, two blocks and two steals. In his two previous games, he scored 80 points.
"Seattle Pacific's getting not only a great basketball player, but just a great young man," Hull said. "Just a great, solid kid."
Richardson is carrying a heavier load this season as the Pioneers integrate new players.
"Really the big difference is we were so explosive last year," Richardson said. "We had so many guys that could take over and hit a shot. This year we still have guys who can do that, just not as many. We have a younger team this year, so we have to focus more on little things, like boxing out, which we didn't do today. That hurt us."
Hull said it took a while for the Pioneers to get into the game Thursday.
"No matter how much you talk about it and prepare … this is Tigard," Hull said. "I think some of our guys might've had their eyes a little bit big. But our coaching staff and our key guys, I don't think so, at all."
Nicoli added 24 points for Western Christian, scoring 16 in the second half. The Pioneers also got 14 points and six rebounds from 6-5 senior post Ethan Halgren, who was limited to 17 minutes due to foul trouble.
Tigard advances to play Mt. Spokane in a semifinal at 7 p.m. Friday. Western Christian meets Sandy at 4 p.m. Friday.
Hull -- who guided Western Christian to the 2A semifinals in 2017 and a runner-up finish in 2018 -- said the tournament is a "great experience" for his team.
"You read about all the 6As and 5As, and it's a great honor for the guys to be able to test their abilities to see if they can match up," Hull said. "It's going to help us in the long run with our chance to maybe repeat."