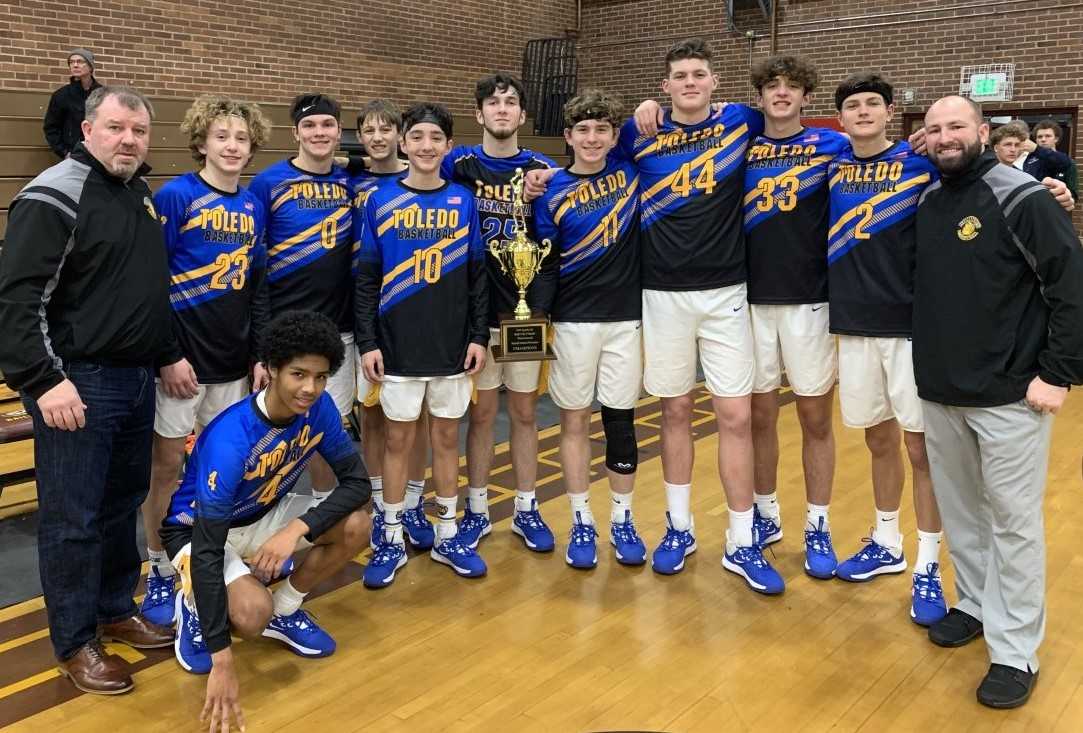 State championship windows don't open very often at Toledo. The 2A school, located 11 miles east of Newport, has never won a state title in any sport.
So the Boomers boys basketball team, which brought back four starters after making the semifinals last season, is hoping to capitalize on a rare opportunity this season.
"In a couple years it's not going to be like this, so it's like, enjoy the ride," Toledo coach Eddie Townsend said.
So far, the Boomers have been cruising. After winning all three of their games last weekend in the Rail City Christmas Classic in Sparks, Nev., they are 8-1, outscoring their opponents by an average of 21.9 points per game. They are No. 2 in the OSAAtoday 2A coaches poll, behind only reigning champion Western Christian.
"It's similar to last year, but we're just a year older," said Townsend, whose team went 27-2 last season. "There's just an inner confidence. Nothing really shakes them."
The Boomers are led by a fourth-year starter in 6-foot guard Conner Marchant, who is averaging 31.8 points and 4.5 assists per game. They also have three third-year starters in 6-2 junior guard Mason McAlpine (15.2 points), 6-6 junior post Jaxon Rozewski (11.7 points, 11.8 rebounds) and 6-3 senior wing Clifton Howard (14.0 points, 6.0 rebounds).
"It's just the continuity that we have," Townsend said. "These kids have all been in a ton of games together. We have a bunch of shooters, we have size, we have length. We've got kind of everything."
Marchant is two points away from becoming the 23rd player in state history to reach 2,000. He is likely to climb into the top 10 this season, and at his current rate, could challenge the all-time mark of 2,628, set by Lake Oswego's Kevin Love (2004-07).
Marchant is shooting 53.8 percent from three-point range (42 of 78) this season. Townsend said he considers Marchant and Western Christian senior guard Payton Richardson as the best players in 2A.
"He's unbelievable. He makes everybody better, including me," Townsend said. "He's just so good with the ball in his hands."
The Boomers are hungry to make up for last season's state tournament, where they fell to Western Christian 67-55 in a semifinal. In that game, Marchant fouled out in the third quarter.
Toledo graduated guard Jaydn Spangler, a two-time second-team all-state pick, but has added two key pieces in Kellen Howard, a 6-3 junior wing who transferred from Waldport, and 5-11 freshman guard Gunner Rothenberger.
Rothenberger comes from basketball stock. He is the son of Toledo athletic director Bart Rothenberger, who coached Mohawk to four state titles, and the grandson of Junction City coach Craig Rothenberger, who is sixth on the state's all-time wins list with 643.
The Boomers dominated in Nevada, beating Lassen (Calif.) 70-52, Incline (Nev.) 72-61 and Wooster (Nev.) 79-55. Incline is the reigning 2A Nevada champion. Lassen and Wooster have enrollments of 798 and 1,666, respectively, dwarfing Toledo's 147.
Toledo has won seven in a row since losing to Sweet Home 61-58 in a tournament in Harrisburg on Dec. 12. The Huskies (8-2) are ranked ninth in the 4A coaches poll.
"We got off the bus late, and it was like, 'We'll be fine,' and they jumped on us," Townsend said. "They're tough, and they wanted it. They knocked down some huge shots. We lost to Sweet Home and it kind of woke everybody up."